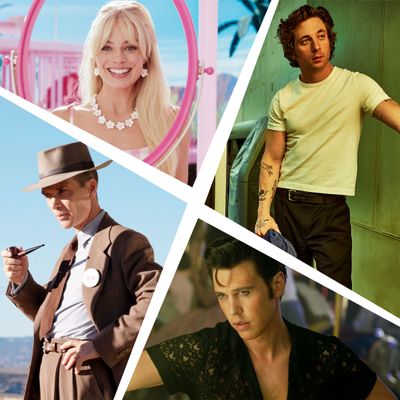 Did you, a dues-paying SAG-AFTRA member, want to dress up as any of these characters for Halloween? Too bad.
Photo-Illustration: by The Cut; Photos: Hulu, Everett Collection
Halloween is different in the land of celebrities. Whereas we are cobbling together disguises from the back of a roommate's closet and a quick dash to Rite Aid, the famouses are equipped with unlimited funds, an arsenal of makeup professionals, and invites to the most elaborate parties. But this year, the wings of our Halloween gods have been clipped. SAG-AFTRA, the actors' union that's been on strike since July, has asked its members to abide by strict guidelines to avoid accidental scabbing on All Hallows' Eve.
On Friday, SAG-AFTRA sent its members an elaborate yet festive handout, informing them that dressing up as characters from most live-action TV shows and movies counts as promotion that's forbidden under strike rules. Instead, actors are encouraged to rely on "generalized characters," such as ghosts, zombies, and spiders. Or they may use animated shows — which are not considered part of the union's "struck content" — for source material. The guild recommends that if members absolutely must turn to the silver (or small) screen for costume inspo, they at least refrain from posting photos on social media, lest their expensively crafted looks inspire interest in evil big-studio-funded entertainment. For what it's worth, though, SAG is only speaking to entertainers in its fold: Musicians and reality-TV stars can presumably use major streamers' IP to their heart's content.
Confusingly, though, it seems SAG-AFTRA's proposed embargo applies not only to shows and movies that are about to come out or have recently premiered, but also to long-wrapped projects that have completed their promotion cycles. For example: Variety reports that The Bear costumes are off the table, as are any and all Marvel references. Don't bother investing in a porkpie hat, because Oppenheimer is among SAG-AFTRA's many outlawed titles.
Still, there is one notable loophole here: the exemption waiver. Per Variety, an actor could dress up as Elvis Presley — provided they're referencing Jacob Elordi's portrayal of the musician in Sofia Coppola's upcoming A24 film Priscilla, which SAG granted a special exception to finish production under strike rules. But going as Austin Butler's non-indie Elvis? Apparently illegal under the terms of SAG's spooky handout, even though evil Warner Bros. and Universal Studios released their biopic in June 2022, well before the strike got underway. Dressing as Elvis, the original, real-life guy? Arguably there's some potential for scabbing here, considering his prolific film career.
It's unclear just how far back SAG-AFTRA's struck content stretches, movie-release-wise — is Freddy Krueger a no-go? — but here are a few costumes that are definitely fine, based on my personal interpretation of the guild's standards:
Better safe than sorry, because negotiations between SAG-AFTRA and the AMPTP (which represents Paramount, Sony, Universal, Disney, Netflix, and other major media players) were suspended last week. The AMPTP recently described their conversations with SAG-AFTRA as "no longer moving us in a productive direction." So for the time being: Worms, yes; Hot Chefs no. Got it?