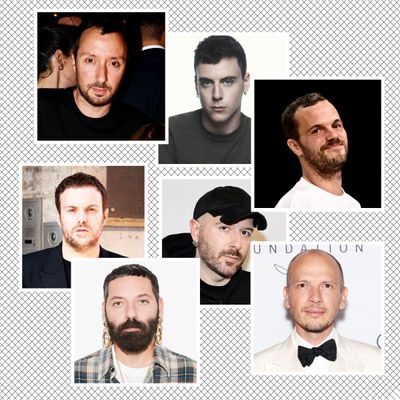 From left, clockwise: Anthony Vaccarello of Saint Laurent, Seán McGirr of Alexander McQueen, Matthieu Blazy of Bottega Veneta, Norbert Stumpfl of Brioni, Demna of Balenciaga, Davide Renne of Moschino and Sabato de Sarno of Gucci.
Photo-Illustration: The Cut; Photos: Alessio Balzoni,
Today, Moschino announced Davide Renne as its new designer who will take over for the brand following the departure of Jeremy Scott. Previously, Renne worked at Gucci for two decades under Frida Giannini and Alessandro Michele. He also possesses an apparently very important attribute: He happens to be a white male. This appointment comes just weeks after many in the industry called for more female designers, highlighting that currently Gucci, Balenciaga, Bottega Veneta, Yves Saint Laurent, Brioni, and Alexander McQueen are all helmed by white men (with basically the same haircut).
This discussion started when, earlier this month, Sarah Burton's final collection at Alexander McQueen brought showgoers and models — like Naomi Campbell, who closed the show — to tears. Our fashion critic, Cathy Horyn, called it "a powerful display of womanhood" and "a tour de force of McQueen tailoring." The Washington Post's Rachel Tashjian wrote that it trumped "nearly everything else that has been sent down a runway in this odd, muted and sludgy fashion season." In her review, Tashjian called for more female designers in a heavily male-dominated industry.
Shortly after, Alexander McQueen's parent company, Kering, announced that Burton's successor is Seán McGirr, who was previously leading ready-to-wear at JW Anderson (he was hired originally for menswear, though Kering's press release notes that womenswear was added to his responsibilities).
McGirr's appointment garnered mixed reactions: a smattering of trepidation and hope at best — McGirr is relatively unknown, a welcome departure from the trending celebrity appointment, and he's worked with megabrands — and a hefty dose of disgruntlement. This is in part because of the announcement's proximity to Burton's final bow but more so as a reaction to a trend among large fashion houses that seems to be taking the industry back in time. Kering's six most notable brands — Gucci, Balenciaga, Bottega Veneta, Yves Saint Laurent, Brioni, and now Alexander McQueen — are all helmed by creative directors who are men and, more notably, not by a single man of color. 1 Granary, an online publication run by students at Central Saint Martins, posted a now-widely-shared infographic of the six creative directors to its Instagram. In the caption, 1 Granary wrote, "We hear so much about 'change,' while diversity and equality are used as marketing strategies every day. But in truth, nothing seems to have evolved."
In the past two years, Kering, which hosts a "Caring for Women" dinner in New York annually, has appointed three white men to lead three of its most coveted brands. So this most recent appointment of McGirr to helm Alexander McQueen (a brand devoted to empowering women — complicated, complex women at that) seemed like a step back to many.
Fashion publicist Tim Fitzgerald tweeted, "This is not a great look for Kering," and fashion journalist Alexandra Hildreth wrote, "McQueen is about the intensity of womanhood through and through, what can a man from JW menswear (eventually women's) offer to this?" José Criales-Unzueta, a writer for Vogue Runway, posted the news to his Instagram Stories with the caption "I think we can hold space to both wish him the best and to be frustrated with a system and industry that seems unable to move forward." Others were more blunt: "Fashion is one big caucasian circle jerk," journalist Louis Pisano wrote.
As an industry, fashion has long been embroiled in issues of racism, classism, elitism, and misogyny. Will fashion ever reflect its consumers?