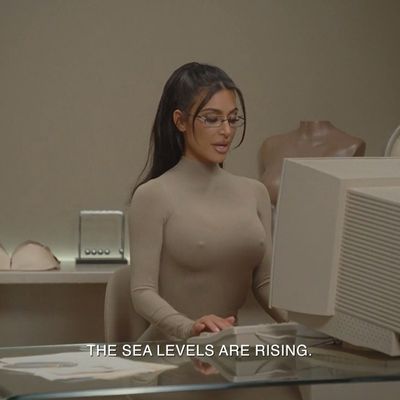 How many times have you been slightly embarrassed by your nipples bursting through your bra and shirt for everyone to see nipple prints? Kim Kardashian is, once again, turning our embarrassment into a product (are we really surprised?). Today, she posted a witty promotional video for Skims' latest drop: the Ultimate Push-up Nipple Bra.
The bra launches on Halloween, which aligns with the spookiness of where we are in society: Is it a stunt? Is she serious? We don't know. But the smoothing and soft push-up bra comes in six neutral colors, which is true to the brand's identity. The design isn't far off from the brand's much-praised bras, except for the built-in faux nipples. For Kardashian, the built-in-faux-nipple bra is apparently a symbol of climate change. "The Earth's temperature is getting hotter and hotter. The sea levels are rising. The ice sheets are shrinking, and I'm not a scientist, but I do believe everyone can use their skill set to do their part," she said in the skit. In this case, Kardashian's skill set is creating essential undergarments, and while the promo video may seem a bit sarcastic, the launch is serious. She continued the skit with quite the tagline: "No matter how hot it is, you'll always look cold. Some days are hard, but these nipples are harder, and unlike the icebergs, these aren't going anywhere." Ironic since, with back-to-back drops, Skims contributes to the decline of our climate, but we digress.
The shapewear and loungewear brand is donating 10 percent of the sales from the nipple bra as a one-time donation to 1% for the Planet, a global network with thousands of businesses and environmental organizations working together to support people and the planet. Some of those businesses include Patagonia, Boxed Water, and Kendall Jenner's 818 Tequila.
While I'm a devoted Skims wearer, I will probably never wear these faux-nipple bras; I get enough harassment as a woman already. But thanks, Kim, for doing your part for the environment.