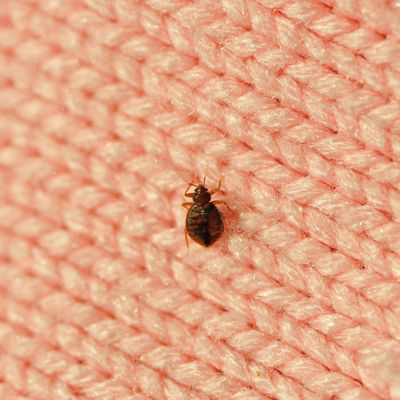 Photo: dblight/Getty Images
What do fashion grifters and bedbugs have in common? They're both apparently incredible at weaseling their way into places they weren't invited at Paris Fashion Week.
The gleaming city of Paris is in the midst of a battle against bedbugs, with videos of the alleged pests crawling all over metro seats, rumors swirling of buyers fleeing their hotels after the insects were found, content creators posting videos of their bug bites, and reports of them surfacing at Charles de Gaulle airport sending the glitterati into a frenzy. Cue: "Don't be ridiculous, Andrea, everybody wants this." This being the hustle and bustle of fashion week and the pride of a spot at the most exclusive fashion shows in the world, but at what cost? Little tiny gremlins crawling betwixt your sheets in exchange for a second-row seat at Loewe?
French officials have begun mobilizing against the scourge of bugs, but with a French health agency reporting that 11 percent of households in the country had an infestation between 2017 and 2022, Fashion Week guests had more to be worried about than Sarah Burton's successor. Paris deputy mayor Emmanuel Grégoire told the population — which included fashion-show attendees, partially made up of the rich and famous for whom most discomforts are escapable — "No one is safe."
Louis Pisano, a fashion journalist attending shows during Paris Fashion Week, told me industry professionals are beginning to take precautions. "At Christian Cowan, a stylist friend told me how he's being extra careful checking looks brands sent to his client, thoroughly steaming things," they said. Pisano themself isn't taking any risks either. Any clothes they wear outside are immediately placed into black bags upon arriving home and thrown into the freezer in hopes of killing any bugs they may have potentially picked up on public transportation. They also have a barrier made of diatomaceous earth, a substance made of fossilized remains of tiny, aquatic organisms typically used for pest control, at the door to their bedroom. They also have been steaming their mattress once a week.
"Everyone is stressed and a bit on edge," Pisano said. "Especially working in fashion because it's a lot of fabric changing hands and moving around the city." It does seem a bit too on the nose that these pests that thrive within upholstery and textiles have descended upon a city and industry week solely predicated on showing, sharing, borrowing, and sleeping on passed-around fabrics across the city.
Now, with Paris Fashion Week drawing to a close, the concern has turned to attendees returning to their own cities with the nightmarish possibility they might be transporting bed bugs home with them. After all, this industry is rife with freeloaders.
Statesiders have taken to social media to share their concerns. "All those Americans over there for fashion week … Jesus fix it," one user tweeted. The emerging publication Byline asked its Instagram followers "Which NYC Fashion editor is most likely to bring bedbugs back from Paris?" Editor Mario Abad, in a seemingly subconscious call to answer, posted a photo to his story on his flight back from Paris with a joking (hopefully) caption: "Bedbugs coming for you New York." Dr. Jim Fredericks, of the National Pest Management Association, issued a warning for celebrities traveling home from fashion week. Could this city or perhaps Los Angeles soon be hot spots for these vermin? After the floods and rats and Eric Adams serving as our mayor, I ask the universe, haven't we suffered enough?
Pisano, who's had the personal misfortune of experiencing bedbugs, and others in the same boat took to X, formerly Twitter, to warn travelers and impart upon them wisdom and advice for staying safe.
"Wash on hot and then throw it in the dryer and then send it to the dry cleaner," one user wrote. "If you have outdoor space (and it's hot) leave your suitcase outside wrapped in a black trash bag. Wash everything on hot. Put Vaseline on the legs of your bed frame because them suckers crawl," said another. Still, some had zero hope in pre-mitigating the situation: "I fear there [is] nothing you can do to stop it. You have [too] much faith in people who do not care." Cool! Anyway, the official advice from the EPA when it comes to clothes is drying your clothes on hot to kill any hitchhikers. Hopefully we won't need to use it.
Megan O'Sullivan, a writer based in New York, is aware of the bedbug hysteria, but has been so preoccupied with simply getting herself from location to location among the madness of the week, that she didn't fully tune in to the fear or potential repercussions of the week until today. She is, though, accepting prayers before she begins her journey home. "This is of course a massive problem, I just personally haven't seen any. If I knew then what my experience was like thus far, I'd still come," O'Sullivan said of attending the week. And while she acknowledges the blissful state of un-suspicion she's been in, she's mentally preparing for the worst.
"We have to be ready to throw out or leave behind our most beloved garments if our civic duty requires it, girls," she said. "No Marni sweater is worth infesting our home!"