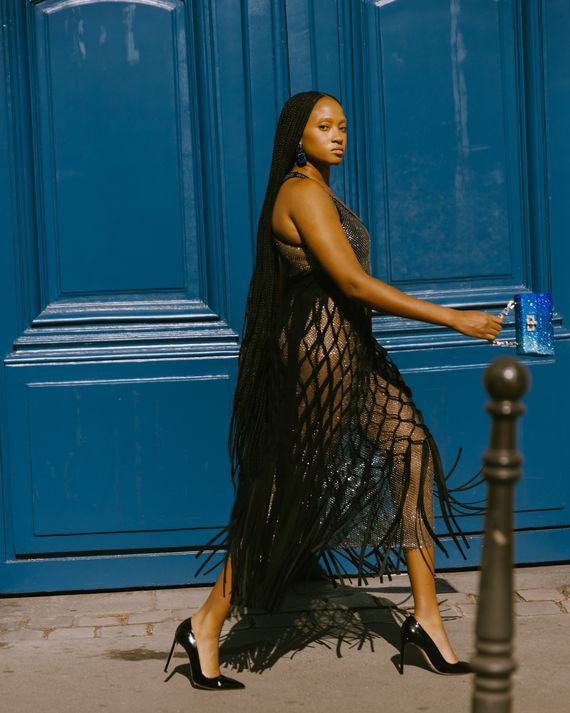 "It's very eclectic," Candace Marie, a social-media consultant and creator, says about her style. And while she might also describe it as "structured," she admits that there's also a sense of drama and sometimes, it verges on gaudy. So it makes perfect sense that Marie is a Fashion Week fixture. In a sea full of monotone looks, Marie stands out with a colorful and playful sense of style with looks like an oversize blazer from Acne Studios paired with a rosette choker; a cropped denim Mugler jacket coupled with short shorts and a tiny Coperni bag; or a rainbow, multicolored gown from Collina Strada and a bright-orange Valentino purse. She has a knack for sourcing clothing from across the spectrum, peppering her closet with high-end Schiaparelli, Chanel, and Givenchy pieces, garments from buzzy labels like the Attico and independent ones like So' Fatoo, and even items from affordable brands like Charles & Keith. She also shops on Etsy and leans on a group Instagram chat with her friends to share new designers.
"I feel like the more I've grown, even just as a person in the industry, I've been able to make it a little bit more of my own and be a little bit more comfortable in my skin with the things that I wear," says Marie.
We chatted with Marie to understand the ethos behind her styling choices, how she discovers new designers to work with, and what it means to be part of the new vanguard of street style.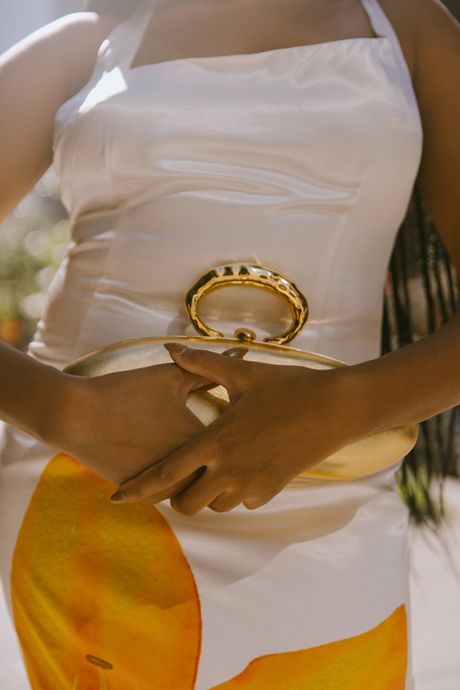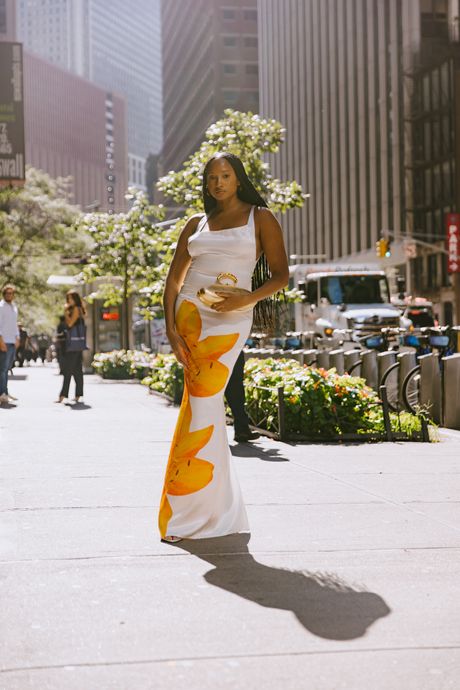 How did you go about finding your sense of style or comfortability with the way that you dress?
I think New York definitely helps. I'm from rural Arkansas, and I'm a pastor's child, too. So I was very much restricted growing up. I didn't even know about the fashion industry, that didn't even exist to me. I just happened to come to New York with my best friend and her mom at the time, and when I came to New York, it was like my eyes were opening. There was so much diversity, so many different types of clothing, and it almost was like this overflow of things.
I'm a finance major too, so everything that I knew was very corporate, working at JPMorgan, working at Bank of America. Suiting still plays a really strong tie within what I wear now, but I think because I have such a strong foundation of knowing good tailoring and what that looked like previously, now I can actually make it my own from a different perspective.
I'm also so big on hair. The hair, it's the No. 1 moment. A lot of times, I feel like the look that I'm wearing is definitely going to complement the hair moment that I do as well. All of those things are cohesive, from the top down.
What made you want to make that jump from a very structured rigid corporate role into the creative fashion world?
I always knew that I wanted to be in fashion, but I didn't think it was possible. Growing up, I remember my mom conversing with me, saying, "Fashion is fickle." I quit my job at JPMorgan; at the time, my parents thought I was crazy. But in my head, I was like, If I don't try, I'll never know.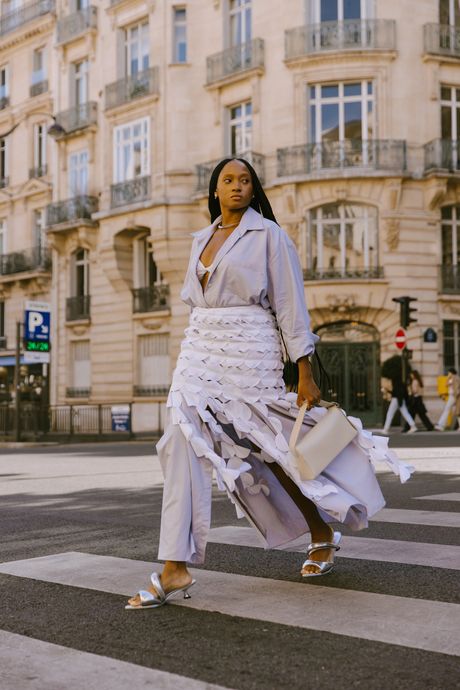 What does acquiring new pieces look like for you? 
I'm the person with 100 tabs open. Then I'll make a list and email the list back to myself at another time to really look it. Just to make sure I actually really want the piece.
How do you find new designers?
It's usually through a PR agency. They will send me a new designer or an invitation to a presentation or a pop-up I've never heard of, and I actually go see it. That's kind of how I discovered Diotima. I'm also the person who will scour Etsy.
What kind of outreach do you do to find emerging designers?
I have a Pinterest situation going on. I keep a folder on Instagram, and throughout the year, if I see something, I save it to the folder like: "Come back to this" or "When you have time." I'm big on scheduling emails to myself where I'm like, "Take a moment to look in this Instagram folder" or "Take a moment to look at this Pinterest." And that way, I feel like it's a bit easier to find designers versus me actually sitting down in one moment trying to find them. It comes organically to me, so it's more so being able to remember the brands.
Also, a few of my friends are in a shared folder on Instagram. It's so genius for when you or a friend are like, "Oh my God, have you seen this?"
How do you know when you've found the right designer or piece to wear? Is there a feeling that you have or is there a style that you're always looking for?
My body is in this changing moment right now. I went through a phase where if I was uncomfortable, I didn't want to wear it at all. I want to feel comfortable in my clothes. I want ease when I'm putting it on. That comes first. But then also I look for a bit of drama. I'm big on suiting and classics, and I usually pair it with something very gaudy. So if I'm looking at certain pieces, I do think about how they stand out.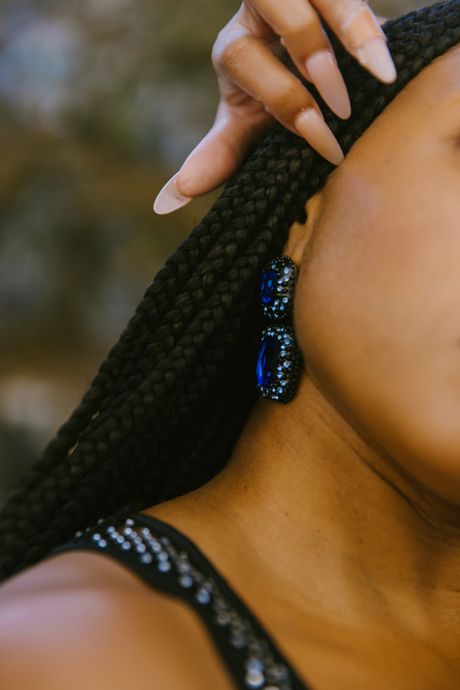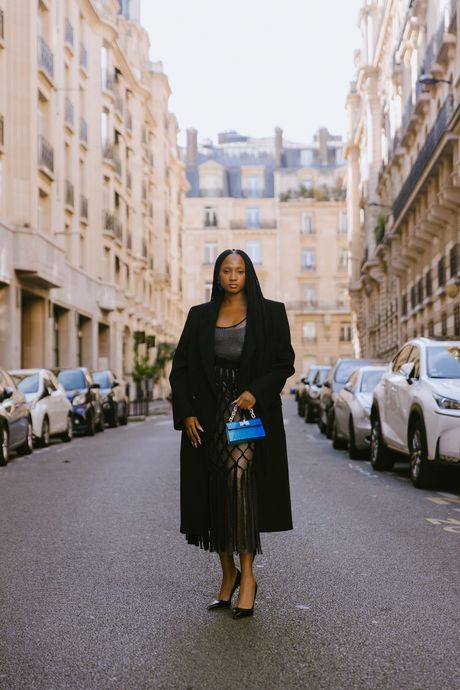 Do you have any favorite brands that you're excited to wear at the moment?
Schiaparelli will always be at the top of my list. They mix the best of both worlds for me — structure with art. But every piece that I wear is comfortable. I've been really liking Acne recently. And there's a newer designer, Ioannes, that I discovered through a random PR agency. I feel like they're going to blow up.
Where do you actually shop and find your clothing?
I'm big on the Outnet. I'm big on Etsy when I'm trying to find more indie designers. I have to shout out Net-a-Porter because of their turnaround time. If I'm in dire need of getting something really quickly, that's always a great quick turnaround place to go. Besides that, I actually go to the actual brands' websites. When I'm in Paris to actually do physical shopping.
You're going to Paris; how do you pack for Fashion Week?
One of the things that gives me so much anxiety is packing. So I do it in phases. I've already got my luggage out right now. I have two rolling racks and shoes out. I hate this part, but I'll try everything on before I go. I'm styling out the pieces because, to be honest, it is the best way to narrow things down. This time, I've never done this before, but I'm working with a stylist to help me pack things so that I'm maximizing what I pack. A lot of times, I just throw everything in there because you're there for like almost two weeks, so you don't really know what might come up.
It is helpful, though, that a lot of the brands are in Europe, so they'll send you outfits you get there to your hotel. But a lot of times I want to have my own pieces to make them look mine; I don't like for them to send me "look 37," and you wear exactly how it is. I'm like, that's not mine. I want to create something that actually is intermixed with my pieces as well.
Do you have any style rules to live by, or on the flip side, any style rules you'd like to break?
For me, there are no rules.
Marie's Fall Wishlist: