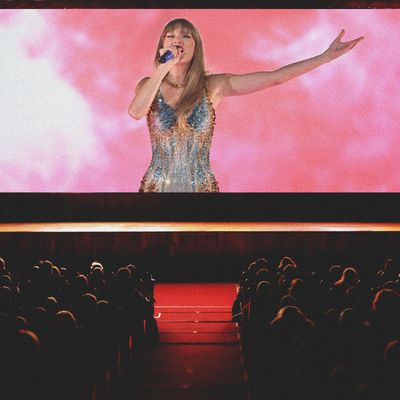 Photo: Getty/Getty Images/iStockphoto
After a historic Ticketmaster meltdown, a string of powerful celebrity outings, and six months of feverish three-hour stadium shows, Taylor Swift's Eras Tour enters its next (but probably not last) phase: the release of her concert movie. The arrival of Taylor Swift: The Eras Tour in theaters this weekend was heralded with a totally normal level of hard-core Swiftian fanfare: commemorative popcorn tubs that are already going for twice their original price on eBay; a rare Beyoncé sighting at the premiere; and, based on videos circulating online, an in-theater atmosphere that borders on cult gathering.
At many Eras screenings, moviegoing etiquette has flown out the window: Fans refuse to stay seated, spending most of the movie out of their seats so they can dance, skip, wave their hands — whatever the opening synths of "Cruel Summer" move them to do. Instead of shushing each other, audiences are unabashedly singing, screaming, and sobbing their way through the footage. Spontaneous friendship-bracelet swaps, life-size cardboard cutouts of Travis Kelce, human chains of adoring fans holding hands in a circle as if hoping to manifest Swift's sparkly yeehaw boots right then and there — Swift's concert movie brought out the full spectrum of extreme stan behavior.
During one especially high-energy showing, Swift's longtime ex Taylor Lautner was filmed doing backflips for fans while she sang "Karma" on the enormous screen next to him. Truly anything can happen!
To judge from all the footage posted to social media over the weekend, theaters don't seem overly interested in mitigating  the Swiftian havoc. One video out of the Philippines shows theater security guards joining in on a "Shake It Off" dance sesh:
While the volume of enthusiasm feels very much in keeping with Eras so far, how much you experience at your screening may vary. One colleague who saw the concert over the weekend told me her early-afternoon Saturday viewing didn't get any wilder than some mellow friendship-bracelet exchanging, singing along while seated, and the occasional child skipping down the aisle. Still, anyone going to the movies right now is likely feeling ripples of the Swift fans' presence: On my way into a different movie this weekend, I passed by a gaggle of teenagers clutching a clear plastic craft case full of bracelet-making materials, fully equipped for a mid-concert-movie beading session. Looks like cinema is back, baby!