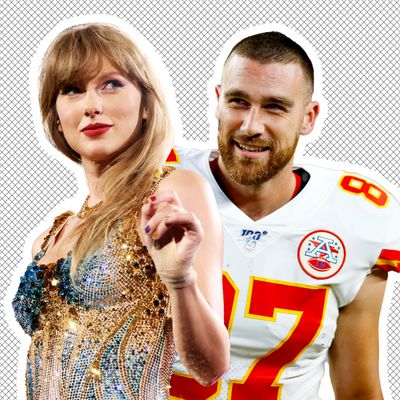 Photo-Illustration: by The Cut; Photos: Getty Images
Normally, football plays a similar role in my life to that of a large, loud fly: maddeningly persistent; deeply grating; something to be willfully ignored. However, now that a vested interest of mine (Taylor Swift) has collided, cosmically even, with America's favorite pastime, I am reconsidering my stance. Swift, it seems, is having a sort of romance, or something, with football guy Travis Kelce. What's going on? Do I need to learn what a tight end is? All your questions about this tangled web of sports news and Americana, answered.
Who is Travis Kelce?
Good question. For the uninitiated, Kelce is a tight end (wink, wink) for the Kansas City Chiefs. He has a football brother, Jason, who plays for the Eagles. Though I cannot speak to the quality of Travis's stats or whatever, he's apparently pretty good at tossing around the pigskin. Beyond that, his appeal is of the corn-fed class-clown variety, if that's your thing. (It's mine.) He once starred in his own personal Bachelor-type dating show called Catching Kelce — he and the winning lady have since broken up — and has a penchant for on-the-field antics such as doing a little twerk during practice. One colleague described him as "human pumpkin spice (respectfully)." Personally, I find this sums up his appeal effectively:
Ever the go-getter, Kelce has been angling for an in with Swift — who broke up with her longtime boyfriend Joe Alwyn in April — for at least a few months. For starters, he has made his Swiftian fandom known: In June, he welcomed newcomers to his annual tight-end summit (yes) with hand-strung friendship bracelets that, as he pointed out, took "a page out of Taylor Swift's book."
In a July episode of the podcast he hosts with his brother, Kelce claimed to have strung together yet another friendship bracelet — this one with his number on it — in the hopes of passing it to Swift during her Kansas City stop on the Eras Tour. (Say what you will — he's clearly done his homework.) Apparently, she refused to meet with him since, Kelce was supposedly informed, she doesn't talk to anyone before her shows to save her voice. In the following months, the Messenger claimed they were "quietly hanging out," and Jason Kelce offered up a series of incendiary comments suggesting the rumors were true. Soon enough, Kelce announced an exciting development: He had invited his pop idol to an upcoming Chiefs game, under the guise of determining whose Arrowhead Stadium performance would prove "more lit."
And this little scheme … worked?
Apparently, yes. Swift has spent the last two Sundays dominating sports channels and TikTok FYPs nationwide, thanks to her new spot in the players' box at Kelce's games. First, she popped up at Arrowhead Stadium in Kansas City — here she is, screaming her bangs off next to Kelce's mom after he scored a touchdown:
… And here he is, receiving her unbound enthusiasm with an appropriate mix of shock and glee:
After that first game, Swift and Kelce took a stroll through the bowels of the stadium before driving off into the sunset in a convertible. Well, actually, they drove to Prime Social Rooftop, per ET, a "trendy restaurant" Kelce had reserved to throw a party for Swift and dozens of other teammates and family members. (Including, again, his parents, Donna and Ed.) Apparently, Swift and Kelce kept things "fun and lighthearted" while partying until 2 a.m. The sources went on to say that, although these two "are taking things slowly and not rushing into anything serious" due to their shared passion for their respective professions, they aren't going to let that "stop them from enjoying life when it's the right moment."
Also enjoying the right moment, at least publicity-wise: Kelce's colleagues. In the immediate aftermath of Swift's inaugural appearance, Kansas City Chiefs coach Andy Reid joked that he'd set them up, while Patrick Mahomes claimed to have suffered from immense pressure from the Swifties to pass Kelce a touchdown. The NFL quickly seized upon this opportunity to broach the Swiftie fandom — following the Kansas City victory, the organization's Twitter bio proclaimed itself "NFL (Taylor's Version)." It's not far off: Sales of Kelce's NFL jersey quintupled after she showed up at the Chiefs-Bears game, which was the most-watched telecast of the week. Judging by the sudden flood of Kelce fan-cams set to Lover songs, football guys are not the only people excited about this potential union.

And Kelce himself? He's amped. In an impressively quick follow-up to the night's events, he and his brother released a podcast episode several days later, in which they discussed what went down. "That was pretty ballsy," he said of Swift's decision to show up, adding that "she looked amazing" and "everyone in the suite had nothing but great things to say about her." Stopping short of a full recap, he added, "And then we just slid off in the getaway car in the end …"
Just how corny is this guy?
Very. Next question.
What happened next?
The end it was not. Less than a week after their big night out, Swift was back to her usual single-girl antics, though this time a new gal pal joined: Alongside Blake Lively and Sophie Turner at Swift's habitual upscale Italian outing with the girls was Brittany Mahomes, the wife of Kelce's teammate Patrick Mahomes. The next morning, Kelce was caught by paparazzi leaving Taylor's apartment in New York, where "Page Six" reports that he was in "good spirits." I'll bet!
Kelce's spirits were so good, apparently, that Swift managed to score at least a plus-six (!!) to his game against the New York Jets several hours later, bringing along Turner; Lively; Lively's husband, Ryan Reynolds; Reynolds's friend and X-Men co-star Hugh Jackman; Queer Eye's Antoni Porowski; and Sabrina Carpenter. Amid this melée of Swift's friends and acquaintances, there was somehow room for Kelce's mother Donna to squeeze into the player's suite, where she was captured giving Swift a little side-hug.
If the list of entourage members rolling into MetLife Stadium wasn't indication enough, the prospective Traylor union is already exhausting. The tidiest summary of my feelings comes from, of all places, former president Donald Trump. When asked by one very astute reporter at the Daily Caller for his thoughts on their maybe relationship, Trump confidently offered up the following:
I wish the best for both of them. I hope they enjoy their life, maybe together, maybe not — most likely not.
Amen.
This article has been updated.