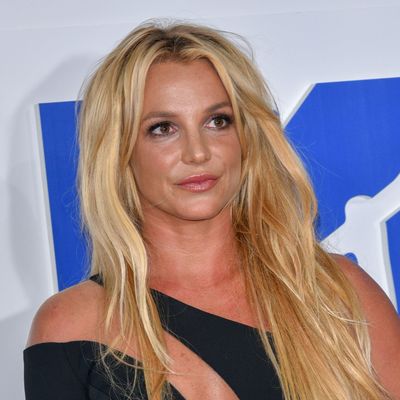 Photo: Erik Pendzich/Alamy Stock Photo
By the time Britney Spears's long-awaited memoir, The Woman in Me, hit shelves on Tuesday, many of the details had already been parsed in public, thanks to a string of leaks. In the book, Spears covers everything from her Mickey Mouse Club days, to falling in love as a teen pop star, to getting married and divorced, and, of course, living life under a conservatorship. She also talks, in detail and for the first time, about her relationship and breakup with Justin Timberlake, postpartum depression, the impact that relentless scrutiny made on her mental health, and her relationship to her family.
"Over the past 15 years or even at the start of my career, I sat back while people spoke about me and told my story for me," Spears told People via email. "It is finally time for me to raise my voice and speak out, and my fans deserve to hear it directly from me. No more conspiracy, no more lies — just me owning my past, present and future."
Unnamed publishing sources have claimed that the book is "not a takedown" of anyone, but a way for Spears to tell her own life story. Spears herself posted a statement to Instagram days before the memoir published, insisting she had no bad intentions. "My book's purpose was not to offend anyone by any means," she wrote. "Most of the book is from 20 years ago … I have moved on and it's a beautiful clean slate from here!!!" She went on to say that the writing process has helped her find "closure on all things," and that she hopes the memoir will "enlighten people who feel particularly alone," or "hurt or misunderstood."
Here are some of the things we've learned from the memoir so far.
Spears says the conservatorship made her feel like a "child-robot."


On social media and in a damning court statement, Spears has spoken out about the conservatorship that controlled every aspect of her life for 13 years, beginning when she was 26 years old. In the memoir, however, she gets more detailed, not just about the specific limits the arrangement placed on her life — it purportedly required her to work out, have long hair, and take certain medications she didn't want to be on — but also about the emotional toll it took on her. In one instance, she recalls feeling like a "child-robot."
She also writes that fear of losing her sons made her acquiesce to the conditions of the conservatorship. "After being held down on a gurney, I knew they could restrain my body any time they wanted to. And so I went along with it," Spears says, according to the New York Times, which reviewed a copy of the book. "My freedom in exchange for naps with my children — it was a trade I was willing to make."
Still, she says the arrangement's tight constraints never made sense to her, particularly as she returned to a bustling career. "Too sick to choose my own boyfriend and yet somehow healthy enough to appear on sitcoms and morning shows, and to perform for thousands of people in a different part of the world every week," Spears writes, per the Times. She reportedly also remembers her father informing her: "I'm Britney Spears now." As the conservatorship progressed, she recalls, "I began to think that he saw me as put on the earth for no other reason than to help their cash flow."
Speaking of her father: Spears writes that he body-shamed her continually.
Not only does Spears describe her dad as a mean (and frequent) drunk, she also accuses him of routinely belittling and berating her. "If I thought getting criticized about my body in the press was bad, it hurt even more from my own father," she writes, according to People. "He repeatedly told me I looked fat and that I was going to have to do something about it."
"Feeling like you're never good enough is a soul-crushing state of being for a child," People's excerpt continues. "He'd drummed that message into me as a girl, and even after I'd accomplished so much, he was continuing to do that to me."
She also explains why she shaved her head in 2007.
In 2007, in the midst of a difficult and aggressively scrutinized divorce and custody fight with her ex, Kevin Federline, Spears surprised paparazzi by showing up at a Los Angeles salon, shaving off all her hair, then attacking a photographer's car with an umbrella. Tabloids plastered her face on their covers and portrayed her as a woman in the middle of a breakdown, but in her memoir, she writes that she buzzed her head as a way of "pushing back" and taking what little control over her life that she could. "I'd been eyeballed so much growing up. I'd been looked up and down, had people telling me what they thought of my body, since I was a teenager," she explains. "Shaving my head and acting out were my ways of pushing back."
Spears also says that she was "out of [her] mind with grief" due to the constellation of traumatic events happening in her life at the same time, writing: "I am willing to admit that in the throes of severe postpartum depression, abandonment by my husband, the torture of being separated from my two babies, the death of my adored aunt Sandra, and the constant drumbeat of pressure from paparazzi, I'd begin to think in some ways like a child."
But soon after, her family enacted the conservatorship, and the singer "was made to understand that those days were now over," she writes. "I had to grow my hair out and get back into shape. I had to go to bed early and take whatever medication they told me to take."
And on that note, she also talks about experiencing postpartum depression.
After Spears gave birth to her two sons in 2005 and 2006, her parenting immediately became the subject of tabloid fascination and criticism. "Unfortunately, there wasn't the same conversation about mental health back then that there is now," Spears writes, according to an excerpt published by CBS. "I hope any new mothers reading this who are having a hard time will get help early. … Because I now know that I was displaying just about every symptom of perinatal depression: sadness, anxiety, fatigue."
Spears writes about her relationship with Justin Timberlake, from their first kiss, to their abortion, to their breakup.
Though she has rarely discussed her relationship with fellow popstar Justin Timberlake in public, Spears apparently spares few details here. She reportedly writes that they had their first kiss on a dare, as teens at a sleepover; they would eventually go on to date for three years.
While they were together, Spears believed they would get married. And in an excerpt published by People on Tuesday, Spears recalls finding out she was pregnant. "It was a surprise, but for me, it wasn't a tragedy. I loved Justin so much. I always expected us to have a family together one day. This would just be much earlier than I'd anticipated," she writes, per People's excerpt. Ultimately, though, Spears says she got an abortion, because Justin "didn't want to be a father."
"Justin definitely wasn't happy about the pregnancy," the excerpt reads. "He said we weren't ready to have a baby in our lives, that we were way too young." The couple would've been in their late teens or early 20s at the time.
According to TMZ, Spears also writes that despite the narrative around their breakup that she cheated on Timberlake — fueled, in part, by Timberlake himself — he actually cheated on her, with another famous woman whom she doesn't name. Spears admitted to making out with choreographer Wade Robson while the pair were together, but claims she and Timberlake "agreed to move past it" because she "only had eyes for him." Spears says she was "devastated" when Timberlake broke up with her — over text message, no less — and returned home. As the split played out in the press, she felt the media portrayed her as the "harlot who'd broken the heart of America's golden boy," when in reality, she was "comatose in Louisiana, and he was happily running around Hollywood," she writes.
She also speaks to the infamous Diane Sawyer interview.
In 2003, Spears sat down with Diane Sawyer for a brutal televised interview — ostensibly about her new album, In the Zone, though the conversation took a different direction. Sawyer blamed Spears for breaking Timberlake's heart; for doing "something to cause him so much pain, so much suffering." She also told Spears that her sexuality was "upsetting a lot of mothers in this country," and informed her that Maryland's then-First Lady said she'd shoot the singer if given the chance. Spears ended the interview in tears.
In her memoir, Spears writes that her father sprung the segment on her without warning. According to the Daily Beast, she recalls answering her door to find her dad and three random guys, who "walked right past" her and into her home, where they started "drilling" her without explanation. "I wasn't willing to talk with anyone," she reportedly writes. "I had nothing to say." But when Sawyer showed up the next day, Spears says she had no choice — and that the aggressive, accusatory tone of the interview proved to be "a breaking point."
"I shouldn't have been forced to speak on national TV, forced to cry in front of this stranger, a woman who was relentlessly going after me with harsh question after harsh question," she remembers, according to the Daily Beast. "Instead, I feel like I had been exploited, set up in front of the whole world."
And explains why she stopped acting after Crossroads.
According to USA Today, Spears writes that while filming the movie Crossroads, she got a little too deep into character, which made her realize that she didn't want to be an actress. Crossroads was "pretty much the beginning and end of my acting career, and I was relieved," she says. She also reveals that she was almost cast in The Notebook, which "came down to me and Rachel McAdams," according to Spears. "Even though it would have been fun to reconnect with Ryan Gosling after our time on The Mickey Mouse Club, I'm glad I didn't do it."
Spears discusses her relationship with drugs and alcohol.
Per People, Spears writes that the years she spent in Louisiana after The Mickey Mouse Club wrapped were "beautifully normal" or "the closest thing to 'normal' that was possible in my family." During that time, Spears recalls going to homecoming and prom, going to the movies, and driving around her town. She also remembers having cocktails with her mom beginning when she was in the eighth grade.
"I loved that I was able to drink with my mom every now and then," she recalls. "The way we drank was nothing like how my father did it. When he drank, he grew more depressed and shut down. We became happier, more alive and adventurous."
Spears writes that the partying and drinking that made tabloids in the mid-2000s was "never as wild as the press made it out to be." She notes that she didn't have a drinking problem and that hard drugs never appealed to her. Instead, she used Adderall, which "made me high, yes, but what I found far more appealing was that it gave me a few hours of feeling less depressed."
And her relationship to her little sister, Jamie Lynn.
On a few separate occasions during the conservatorship, Spears reportedly mentions feeling, sincerely, like her family was trying to kill her. "If that sounds paranoid," she writes, per Billboard, "consider all the things I've been through up until this point — the ways in which they had deceived and institutionalized me." And while her resentment of her father is now well-known, the memoir apparently paints her little sister, Jamie Lynn, as spoiled and oblivious. Growing up, she writes, according to Time, the younger Spears sister "ruled the roost." And once they got older, and Spears's father had placed her in a mental facility, she says Jamie Lynn declined her pleas for help.
"Stop fighting it," she says Jamie Lynn texted her, contradicting the younger sister's claims about trying to help Spears end the arrangement. "There's nothing you can do about it, so stop fighting it." Reiterating that she feared for her life, Spears reportedly adds: "I didn't understand how Jamie Lynn and our father had developed such a good relationship. She knew I was reaching out to her for help and that she was dogging me. I felt like she should have taken my side."
Spears also reinforces a previous claim that Jamie Lynn played the conservatorship's end to her advantage, timing the publication of her own memoir to make the most of the moment. "As I was fighting the conservatorship and receiving a lot of press attention, she was writing a book capitalizing on it," Spears writes, per Time. "She rushed out salacious stories about me, many of them hurtful and outrageous." Still, she adds, Jamie Lynn "will always be my sister, and I love her and her beautiful family. I'm working to feel more compassion than anger toward her, and everyone who I feel has wronged me."
She says she was "blackmailed" and "gaslit" into rehab.
Per the Los Angeles Times, the singer recalls turning down a particular dance move in rehearsal for a Las Vegas residency that was ultimately canceled, kick-starting a series of events she's spoken about before. In the memoir, she reportedly writes that shortly thereafter, her father confronted her about over-the-counter "energy supplements" she'd been given by her then-boyfriend. Spears says her father informed her that if she didn't agree to rehab, "then I'd have to go to court, and I'd be embarrassed," she writes. "He said, 'We will make you look like a fucking idiot, and trust me, you will not win. It's better me telling you to go versus a judge in court telling you.'" The pop star adds that the ultimatum felt to her like "a form of blackmail," and like she "was being gaslit." The facility reportedly switched her from Prozac to lithium, and kept her isolated from other patients for her first two months of treatment. She writes, per the Times: "I started to believe that my little heart, whatever made me Britney, was no longer inside my body anymore."
This post has been updated.