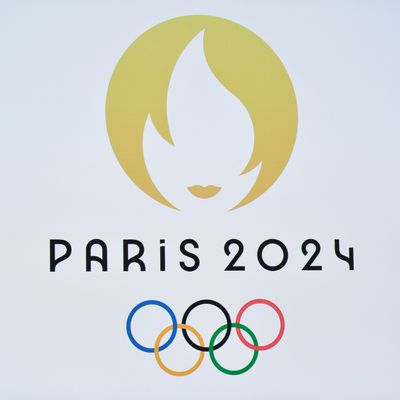 Photo: STEPHANE DE SAKUTIN/AFP via Getty Images
It may only be fall of 2023, but promotional branding for the Summer 2024 Olympics in Paris has already begun. While I had long been of the belief that nothing in this world could entice me to watch sports, that was before I saw her: eyeless and smirking, with a short, tousled crop of hair falling across her circular face, the official new "human face" of next year's Olympic and Paralympic games. Excuse me, do we have a Bobbiana in our midst?
According to the official Paris 2024 X (formerly Twitter) account, the answer is "yes" and her name is Marianne. On October 22, the organizers of the games debuted her as their new icon, explaining on the Olympics website that her "stylish face" — which "at first glance" appears to be a torch — represents many things at once. It is purportedly a "symbol of women's emancipation," yes, but it's also an "allegory of freedom of strength embodied by numerous French female figures throughout the last centuries," including, for example, Joséphine de Beauharnais, Charlotte Gainsbourg, Catherine Deneuve, Loulou de la Falaise and Inès de la Fressange. At the same time, Marianne is, of course, the French Republic personified and has been since the days of the Revolution, emblematizing, in all her je ne sais quoi, "liberty, equality, and fraternity." As the website reminds us.
That's a lot of symbolism (and brotherhood) to shoulder for une seule Bobbiana, but then who better than a Bobbiana to do the job? This is a haircut that does the most without appearing to try at all. At its bluntest, a bob communicates determination and control while still leaving room for a playful breeze on the back of the neck. The bob looks fuss-free while also demanding an alarming level of maintenance — we're talking trips to the hairdresser every few weeks and meticulous daily styling. But that's our girl: "provocative yet chic, elegant but never 'too much.'" The Olympics website describes Marianne's myriad inspirations: "These women scorn trends while effortlessly appropriating them … manipulating them. They give equal importance to sophistication and transgression, creating their own style as they turn Paris into their runway." Yes, Marianne. Deliver us out of bedbug infestation — into bobmania we ascend.