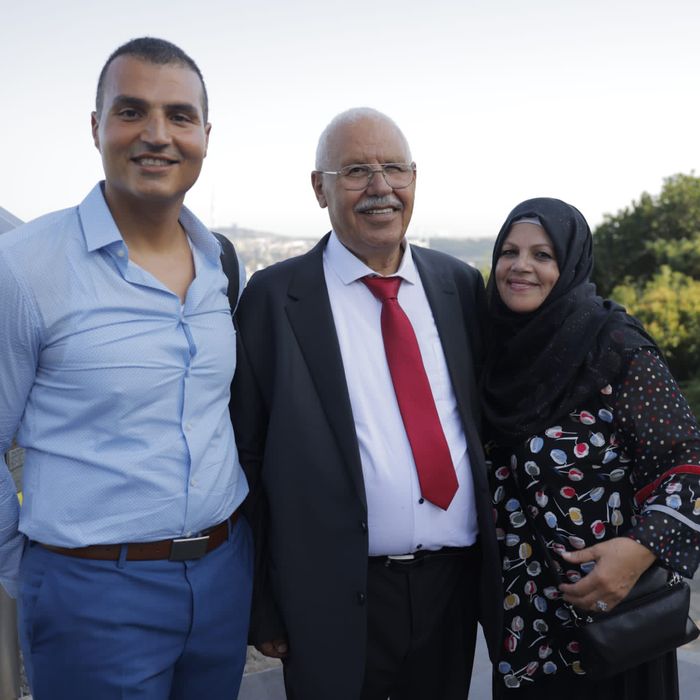 Photo: Courtesy of Loay Elbasyouni
On Saturday, October 7, Loay Elbasyouni woke up in his home in Los Angeles to a slew of text and WhatsApp messages from friends and family. Hours earlier, thousands of armed Hamas fighters attacked parts of Israel, killing more than 1,400 people and kidnapping more than 200 in the deadliest attack against Jewish people since the Holocaust. In response, Israel launched a barrage of ongoing air strikes that have leveled portions of Gaza, killing more than 3,700 and displacing thousands more. All Elbasyouni could think about was his 75-year-old father and 67-year-old mother, who live in Germany but also have a house in Gaza and had been visiting family there since June. Elbasyouni, who spoke on Sunday, October 15, is now trying to figure out how to get his parents out of the territory. 
That morning, after I realized what was happening half a world away, I immediately called my parents. My first two questions were: Where are you, and are you okay? They said they were in their house and okay, but that a bomb had just fallen across the street, covering the front of the home with mud and shattering every glass window in the building.
I told them to leave. They told me they had nowhere to go. I checked the status of the border. It was closed.
My parents were staying in Beit Hanoun, in the northern part of Gaza. My father is 75. My mother is 67. Both of them can barely walk. My father has high blood pressure and he recently underwent a heart procedure. Twelve years ago, my parents moved to Germany, where my father eventually retired. After his surgery, my dad wanted to visit Gaza and once again see his beloved home. He wanted to walk among the olive, lemon, guava, and orange groves he admired so much. He wanted a chance to simply look at them. My father loved one thing in life: To plant trees. Now, those groves — our groves — are gone.
The bombs continued to move closer and closer, so eventually my parents said they were going to attempt to relocate to Gaza City, around 10 to 15 miles from the northern border. My father, a doctor, has an old, non-operational medical clinic in the city. As they prepared to move, my dad began to talk about the "worst-case scenario:" death. He told me: "If I die, just take care of your brothers." He was giving me last messages. Last wishes. I didn't know what to say.
Then I lost contact with them.
For five days, I kept calling my parents — calling anyone I could think of — but all of their phones were off, either destroyed or dead because there was (and still is) no power in Gaza. For five days, I tried to keep my head down, but all I could do was watch the news. I searched every inch of my television screen to see if it was their neighborhood, or their house, or my father's clinic that was hit. For five days, that is how I passed my time — checking the news, because it's the only way I could know if they were okay.
Even in my desperation and need to find any sign they were alive, I realized how ridiculous it was to rely on news footage alone. It's not like they can identify the people on the ground as the bombs fall.
I thought about the home I have not visited in over 20 years. Born in Germany, I lived in Gaza for 13 years. I was supposed to visit my parents in Gaza one week after the war started, since I had not seen them in more than a year. I thought about how devastating it would be if I never saw them again.
At the beginning of the war, one of my cousins, also in Gaza, sent me a video of the near-constant bombing. It felt like they were living in a 24-hour, 8.0 earthquake. Even though the bombs were not falling directly on top of their heads, the walls, the doors, everything was shaking. The glass was shattering. I cannot imagine being in that situation.
After five days, miraculously, my parents figured out a way to charge their phones. I was working from home, calling my mother until she finally answered. I felt instant relief. We spoke for a total of three minutes before the line was cut. I asked them how they were doing, and if they had food or water. I also asked them if anyone from the German Embassy had called them. They said "no."
Since the start of the war, I have talked to my parents three times, for no more than ten minutes in total. Before the war, I used to talk to them for at least an hour every day.
The last time I spoke to my parents was Sunday morning. They sounded so weak. After calling them seven or eight times, I was able to get through and talked to them both for a few minutes. They are alive and safe, but they do not have any access to medicine, food, or water. They are still at my father's old clinic in Gaza City and they are not alone. Sixty other people, including my cousin, uncle, and other refugees, are all staying in a three-bedroom, one-bathroom apartment.
That morning, my cousin left the clinic at 6 a.m. and waited four hours in line at a nearby bakery. He returned with a single loaf of bread. Since access to running water has been cut off, every day they walk the shelled streets of Gaza City to fill up bottles of water at a nearby mosque.
My parents have been told to evacuate again — they just keep telling people to move south — but they have no place to go. There is no transportation. Most of the roads are bombed. They are just trapped. The average civilian doesn't know what to do because it's such a state of chaos right now. I cannot help my parents escape, or bring them food or water or medicine. I cannot do anything to save them. I feel powerless.
When they see the thousands of people who have evacuated and who are now stranded in the streets, my parents tell me that they feel lucky. They're lucky to be living with 60 other people and have access to a single bathroom. That is what my mother told me she was thankful for the last morning I spoke to her. A restroom.