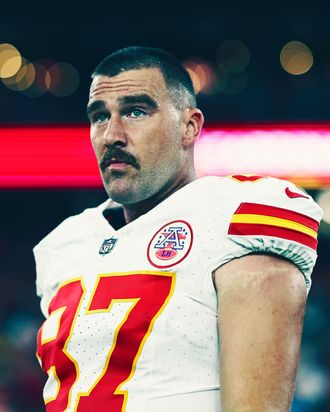 Photo: Michael Owens/Getty Images
It is hard to overstate the mania that has unfolded in the ten days since Taylor Swift sashayed into the Kansas City Chiefs' player's box to watch tight end Travis Kelce play football. Amid the flurry of speculation and ad campaigns Traylor's potential union has inspired, it seems everyone — David Beckham, Donald Trump, the White House security adviser, recently ousted House Speaker Kevin McCarthy — has offered their take. And, naturally, so has Kelce. In Wednesday's episode of New Heights, the podcast he hosts with his brother and fellow football guy, Jason, Travis admitted that maybe certain people and/or organizations have gone slightly overboard. Specifically, the NFL.
"I think it's fun when they show who all is at the game," he said. "At the same time, I think they're overdoing it a little bit for sure. Especially my situation." Gentle, reasonable, delivered with the diplomacy of a guy criticizing his employer on the record. Maybe our guy would like to have a word with Heinz?
You can see why the NFL might get carried away, considering who all is at the game. Last weekend, to see the Chiefs play the New York Jets in New Jersey, Swift brought along a sizable entourage that included Ryan Reynolds and Hugh Jackman. Jason and Travis spent a fair chunk of their podcast time congratulating their mom for hanging out with "Deadpool and Wolverine," but Jason also took issue with the fact that cameras cut to the player's box 17 times during the 210-minute game. That estimate lines up with reports from Front Office Sports, and although it's not technically the NFL's fault (the game was broadcast on NBC), the organization has Swift-ified a lot of its social media of late. On the other hand, as Jason astutely observed, the NFL is probably "not used to celebrities coming to the games" and therefore cannot resist showing off "all these A-list celebrities" in the stands.
After the podcast episode came out, the NFL defended its coverage of Swift's comings and goings. "The Taylor Swift and Travis Kelce news has been a pop cultural moment we've leaned into in real time, as it's an intersection of sports and entertainment, and we've seen an incredible amount of positivity around the sport," the organization explained in a statement. "The vast majority of our content has remained focused on the game, our players, and variety of other initiatives."
Regardless of who is posting what, football is boring as hell, and the NFL has to do something to hold the attention of the record number of teen girls suddenly tuning in to Sunday Night Football. If it really wanted to please its new audience, maybe it should consider a more deliberate SwiftCam count, like 13 or 22? Just a suggestion.
This article has been updated with what the NFL had to say for itself.