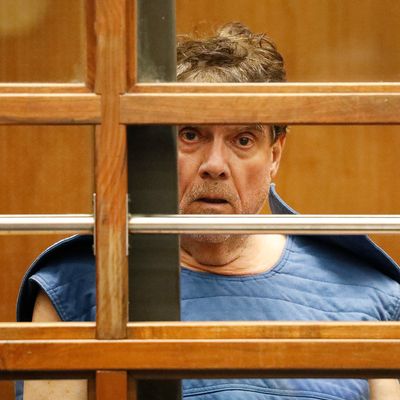 Photo: Al Seib/LA Times via Getty Images
George Tyndall, the former University of Southern California gynecologist accused of sexually abusing hundreds of female patients, was found dead in his home on Wednesday, according to the Los Angeles Times. A friend reportedly went to check on Tyndall after he didn't answer his phone and subsequently called in police. The local medical examiner apparently told the Times that there would be no autopsy because Tyndall appeared to have died from natural causes. He was expected to finally stand trial on a suite of assault charges next year, a case that stemmed from a Pulitzer-winning investigation the Los Angeles Times published in 2018.
The report alleged that over his 30 years at USC, Tyndall had, among other things, inappropriately touched patients during exams; unnecessarily photographed their genitals; questioned them about their virginity; made lewd remarks about their breasts and vaginal tightness; and asked them to fully undress so he could closely inspect their bodies. Tyndall was also accused of targeting the school's population of Chinese students, a review of his records eventually determining that "if the patients were young and Asian, they were more likely to have a pelvic exam completed" compared with "non-Asian, obese, or older" patients.
According to the Times report, many patients and staff members had complained about Tyndall's allegedly inappropriate behavior beginning in the 1990s, but nothing came of their efforts until a nurse reported him to the campus rape crisis center in 2016. After that, an internal investigation at the school concluded that Tyndall's methods fell outside the scope of what's medically recommended or required in pelvic exams. Though Tyndall subsequently resigned, he allegedly did so with a "financial payout" from the university, according to the Times. After the report published, hundreds of people lodged complaints about the doctor, prompting an investigation by the LAPD.
For his part, Tyndall denied any and all wrongdoing, informing the Times in a letter that "patients sometimes fabricate stories." But fallout from the article was swift: USC's president, C.L. Max Nikias, resigned as dozens of women filed lawsuits against the university, saying it failed to protect them from Tyndall. The school also faced criticism for not reporting Tyndall to the state medical board, but claimed it had no responsibility to inform the body of results from an internal personnel investigation. It would ultimately pay more than $1.1 billion settling the lawsuits.
Regardless, Tyndall was arrested in 2019 and charged with 27 felonies, including 18 counts of sexual penetration of an unconscious person and 9 counts of sexual battery by fraud for assaulting 16 women between 2009 and 2016. The criminal case against Tyndall was stalled for five years, but a trial was supposed to take place in 2024.
An attorney who represented more than 200 people in a civil suit against USC told the New York Times that the L.A. district attorney failed victims by not going to trial sooner. "Not only was Tyndall allowed to escape justice for five years after his arrest," he said, "but U.S.C.'s secrets that he alone holds died with him."