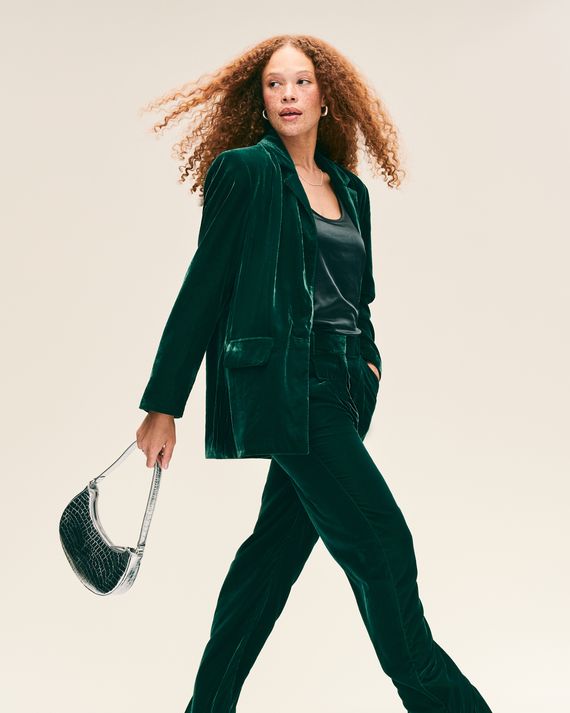 If fabrics were beverages, cotton might be your trusty cup of tea, denim, perhaps an iced coffee, but velvet? It's a rich, indulgent hot cocoa topped with a fancy whipped cream swirl — the kind you sip in front of a fireplace while silently judging everyone.
Quintessential for fall and winter, velvet speaks the language of luxury. Sure, it might seem a tad fancy for your everyday romp. But, despite its inherent regal-ness, velvet is the type of fabric that does both, multitudes actually. It can cozy up with your favorite knits, play dress-up with your bling, or even team up with a hoodie and slippers for a low-key luxe moment when "a touch of fance" is the vibe.
Relaxed Blazer
No velvet piece is more universal than the blazer. It's flawless with jeans, gorgeous in a suiting set, and stunning over a dress. Grab one in each color.
Mary Jane Flats
If a pair of Mary Janes isn't your current footwear obsession, you're doing it wrong. Take any outfit into luxe territory with a velvet version — we particularly love these with jeans for a nonchalant offset.
Strapless Midi Dress
Pair this structured, minimal midi with sculptural silver accessories for a high-impact party look that's not overtly sparkly.
Wide-Leg Trousers
These wide-leg velvet trousers look the polished part while feeling as comfy as oversized sweats — a serious win-win.
Mini Bag
Gorgeous citrine velvet, a cool shape, and a swingy tassel make this mini bag a dream. Pro tip: Don't just save it for special occasions.
Puffer Jacket
Practical may be your first thought when it comes to puffers. Pretty-in-pink should be the second after feasting your eyes on this quilted layer — a worthwhile indulgence.
Off-the-Shoulder Top
Equal parts demure and skin-baring, this top is the exact cold weather-appropriate "wow" moment we crave.
Mini Dress
Team this sweet mini with sheer tights, strappy stilettos, and glimmering earrings for date nights or events.
Tailored Waistcoat
We continue to remain team vest. Rendered in velvet, the tailored look has never felt so effortlessly luxe.
Hair Bow
So, overt velvet isn't your jam. All good. Dip your toe into the sumptuous pond by slapping on a bow for a simpler, festive girlie touch.
Flared Pants
Bring a luxe touch to everyday outfits in velvet flared pants — perfect with a cozy sweater to offset the glam.
This advertising content was produced in collaboration between Vox Creative and our sponsor, without involvement from Vox Media editorial staff.