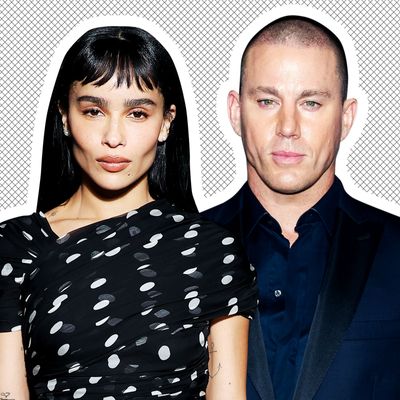 Photo-Illustration: The Cut. Photos: Getty Images
Depending on your relationship to time, it might feel like Zoë Kravitz and Channing Tatum have been together for a decade or a month. But apparently, it's been two years since they started dating — at least according to People, which reports that Kravitz and Tatum are "recently engaged." "Multiple sources" reportedly confirmed it to the magazine, noting that Kravitz accessorized her Rosemary's Baby Halloweekend costume with her new ring.
This must be an exciting time for them, though the timeline is confusing to us. Kravitz and Tatum first sparked dating rumors after Kravitz was photographed riding around Manhattan on the back of Tatum's bicycle in, somehow, August 2021. Soon after, the paparazzi spotted them shopping for toilet paper together. In a 2022 GQ interview, Kravitz described Tatum as a "wonderful human," saying, "He makes me laugh and we both really love art and talking about art and the exploration of why we do what we do. We love to watch a film and break it down and talk about it and challenge each other."
From 2009 to 2018, Tatum was married to Jenna Dewan, with whom he shares a 10-year-old daughter. Kravitz, meanwhile, was married to Karl Glusman from 2019 to 2021. She met Tatum when she cast him as an evil tech exec in her still-upcoming thriller, Pussy Island, and promptly forbade him from wearing Crocs. Congrats to the happy couple, and may Kravitz continue to do the Lord's work as Tatum's stylist.