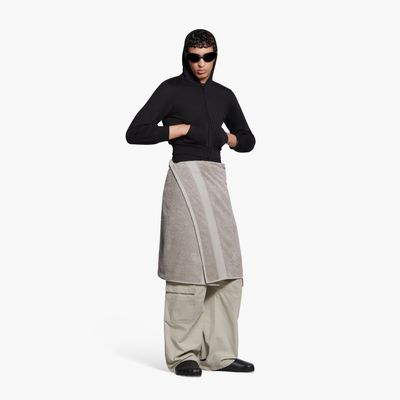 Balenciaga is back to its favorite activity: trolling us. The latest? A $925 towel skirt. Is it a very fancy towel skirt? Is it made out of cashmere? Does it have mink buttons? No, it's exactly what it sounds like: a terry-cotton skirt that looks exactly like a towel you would hastily fasten around your waist post-shower. But unlike a towel, which often unravels by itself, this skirt is made with two buttons inside the waistline, so no worries about it falling. If you'd like to give the most expensive gag gift there ever was, the skirt is on preorder at Balenciaga.com.
While I wish it were a joke, Balenciaga is very serious. Last year, it sold destroyed sneakers for $1,850 and they sold out. Side note: We DIY'd our own sneaks for just $50, and they looked eerily similar. This is also coming off a year of rehabilitation for Balenciaga after an ad scandal in which the brand was accused of promoting child pornography. Within this year, creative director Demna has made strides in quietly reemerging into the public sphere by showing up at the Met in May, dressing celebrities, and showing a collection this past September on a cast of models that included his mother, his teacher, and our very own critic, Cathy Horyn.
We must say that skirts over pants is a Y2K trend that is certainly coming back. But we will probably just stick to styling $10 towels around our waist because $925 for a towel is where the line must be drawn.