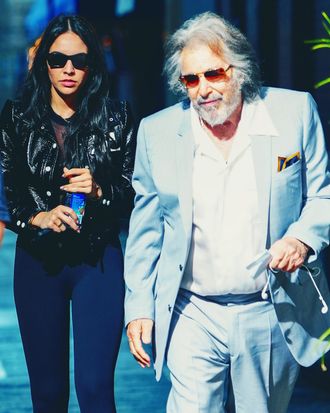 Now is as good a time as any to check in on Al Pacino and his 29-year-old girlfriend, Noor Alfallah. Remember them? Alfallah "loves old people" in an absolutely normal and healthy way, and Pacino is 83, which must be very exciting for her. Last we heard, these crazy kids had welcomed a son and named him Roman, not at all reminding us of a deeply troubled TV character with an elderly dad. But then, in a confusing turn of events, Alfallah filed for full physical custody of their infant child. Though we wondered if something was amiss in the Pacino-Alfallah household, it appears all is well. According to "Page Six," the couple (they seem to still be a couple) have settled their "custody battle," if it ever really was that.
Last month, the Blast reported that in her court filings, Alfallah requested joint legal custody of Roman, which would allow Pacino "reasonable visitation" and a say in major child-rearing decisions such as education, religion, and medical treatment. Although Pacino considers this new family member — his fourth child and Alfallah's first — "really special," it seems the couple has deemed Alfallah Roman's primary caretaker. The filing also (allegedly) included a signed document confirming that Pacino and Alfallah are both the biological parents of the child.
On Thursday, "Page Six" came in with an update: The parties had come to an "agreement on custody, visitation schedules, and child support," and on Alfallah's legal fees, to be paid by Pacino. Both have waived their right to contest parenthood in court, per People. As for the child support, that reportedly comes to $30,000 per month, on top of a $100,000 onetime payment and an annual $15,000 deposit into an account for Roman's future education. According to TMZ, Pacino may also have to pay an extra $90,000 at year's end, "depending on his earnings." Though the tabloid didn't specify the reason for that potential expense, it did note that the arrangement also obligates him to subsidize any medical care not covered by insurance.
Understandably, these developments prompted some concern about the state of the Pacino-Alfallah union, even though People reported that the couple "enjoyed dinner next to each other" at the Chateau Marmont on the day Alfallah filed her petition. Over the past couple of weeks, paparazzi have spotted the duo out for "date night" on multiple occasions. In September, Pacino's publicist also informed Entertainment Tonight that the pair were still "together" and merely intent on establishing "mutually reached agreements regarding their child Roman." As to the purpose of the filing, the publicist said, "That is a question for Noor." Add it to the list!
This article has been updated.