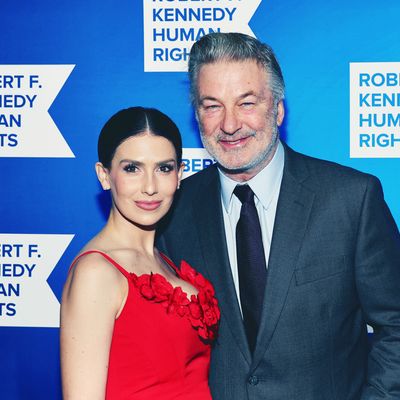 Photo: Mike Coppola/Getty Images for 2022 Robert F. Kennedy Human Rights Ripple of Hope Gala
Having kids in this economy is hard on everyone, even Alec and Hilaria Baldwin. Baldwin — who has seven kids with Hilaria — is apparently thinking about heading back to the small screen — this time, as himself. In this week's episode of the Let's Talk Off Camera podcast, the actor told host Kelly Ripa that he and his wife, Hilaria (Hillary?) have considered doing a reality TV show about their family.
On the podcast, Ripa told Baldwin that his family "has reality TV written all over it." Baldwin responded saying he and Hilaria have "thought a lot about it." A reality show is appealing because it would allow him to "stay home and work from home" he said, going on to lament the various challenges of having a family the size of a small law firm. "Nannies, kids, my wife," he said, listing the 11 people who need plane tickets when he travels for work. "They don't even have 11 seats in the business-class section of the plane." Baldwin recalled a work trip to California a few years ago that required the family to stay in a hotel with four adjoining suites. "I look at my wife and I go, 'You realize we're not gonna make a dime; we're not gonna make one cent,'" he said. Adding, "Here we are mashed potatoes, $20 room service, a diet Coke is $11."
It's no surprise that the Baldwins's lifestyle — which includes sending their children to a Spanish immersion private school, employing nannies, and owning multiple homes — is quite expensive, and their budget has likely also been stretched by the actor's ongoing legal woes. The interview with Ripa comes weeks after New Mexico prosecutors announced that Baldwin may once again be charged in the 2021 shooting of Halyna Hutchins on the set of Rust. Maybe a reality show would help pay the bills?