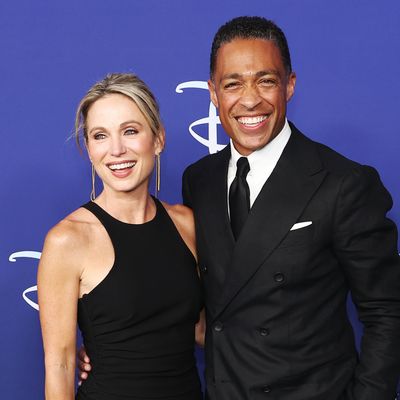 Photo: Arturo Holmes/WireImage
It's been almost a year since ABC News pulled Good Morning America anchors Amy Robach and T.J. Holmes off the air following reports that the daytime TV stars were having an affair. Since then, questionable details about Holmes's past conduct at ABC emerged, and both Holmes and Robach have left the company (and also their former spouses). Their flirty relationship has played out not on GMA's 1 p.m. time slot but largely via photos of their increasingly public, PDA-filled outings as a couple. But now, they are finally getting back to the sexiest activity of all: co-hosting.
On Wednesday, Robach and Holmes posted what appears to be a professionally shot couple's photo on Instagram, hard-launching both their relationship and a new podcast called Amy & T.J. "How's this for Instagram official?" they wrote, tacking on a "#silentnomore" hashtag before plugging their upcoming iHeartRadio show.
According to iHeartMedia, the no-longer-silent couple will "explore meaningful conversations about current events, pop culture, and everything in between." The press release noted that this will be "the first time Robach and Holmes speak publicly since their own names became a part of the headlines," and that "nothing is off limits." I sure hope so! If Amy and T.J. have taught us anything, it's that there's nothing more romantic than a joint media venture.