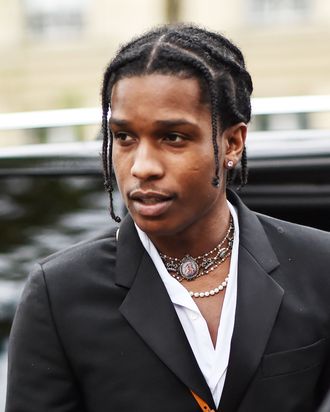 Photo: Daniel Zuchnik/Getty Images
On Monday, a Los Angeles judge ruled that A$AP Rocky must stand trial for firing a handgun at his former friend, A$AP Relli, in November 2021. "The totality of the video and testimony shows there is sufficient evidence for the defendant to go to trial," Superior Court Judge M.L. Villar said, per KCAL. She set the court date for January.
The Los Angeles Police Department first announced the charges — two counts of assault with a semiautomatic firearm — in August 2022, four months after the rapper (whose legal name is Rakim Mayers) was arrested upon returning from a trip to Barbados with his partner, Rihanna. Mayers has pleaded not guilty. If convicted, he could face up to nine years in prison, per the BBC.
At the time of the rapper's arrest, the LAPD reportedly searched A$AP Rocky's L.A. home and released the details of the incident, which took place on November 6 in Hollywood near Vista del Mar and Selma Avenue. A news release from the LAPD referred to A$AP Rocky and the victim as "two acquaintances" and said they had gotten into an argument that "escalated and resulted in the suspect firing a handgun." The victim told officers that A$AP Rocky had shot at him "three to four times," grazing his left hand, before fleeing with two other men. The shooting does not appear to have been reported in the press at the time.
In August 2022, Terell Ephron, a.k.a. A$AP Relli, came forward via his attorneys as the victim of the alleged shooting. Ephron, who used to be a member of A$AP Rocky's rap group A$AP Mob and whom Rocky has credited for bringing him into the collective, said he filed a civil suit against the musician for assault, battery, and emotional distress. Ephron's attorneys claim that A$AP Rocky lured him to an obscure location for a "conversation" and intentionally shot at him "without provocation, warning, or any justification," causing minor injuries to Ephron's left hand. They added that Ephron has gotten "multiple death threats and irreparable harm to his career in the entertainment industry as a result of this incident."
A$AP Rocky has had several run-ins with the law in the past decade, including two assault charges following public altercations. In July 2019, he was arrested in Sweden after he and three members of his entourage got into a scuffle with a man in the street. Both parties claimed they'd acted in self-defense. A$AP Rocky was detained in Sweden for six weeks and, after a trial, convicted of simple assault and required to pay $1,270 in damages.
The rapper has been dating Rihanna since approximately 2020, though neither confirmed the relationship until May 2021, when he called her the "love of my life" in a GQ interview. The couple welcomed their first child, RZA, a few weeks after Mayer's arrest. Their second son, Riot Rose, arrived in August.
This post has been updated.