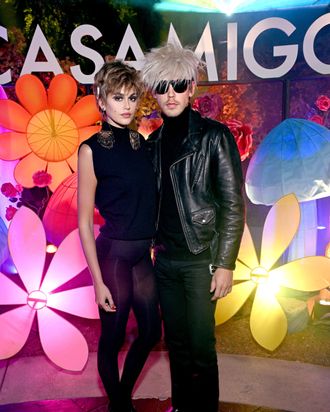 Photo: Michael Kovac/Getty Images for Casamigos
As a full week of famous people playing dress up comes to a close, one thing is clear: Halloween is as much for the celebs as it is for kids. At Halloween parties including the Casamigos fête in Los Angeles (hosted by Cindy Crawford and Rande Gerber), Bette Midler's celebration in New York, and Heidi Klum's annual rager, stars and their glam squads fully committed to the bit. Let's take a moment to appreciate the best and most elaborate costumes that celebrity budgets can buy.
Paris Hilton
With Halloweekend falling just days after Britney Spears's memoir hit shelves, there was no shortage of costumes in the singer's honor. Her longtime friend Paris Hilton wore a turquoise flight-attendant outfit — like the one Spears wears in the 2003 music video for "Toxic."
On night two of the weekend, Hilton dressed as Katy Perry in her trippy SNL mushroom outfit.
Chloe Bailey
On Friday night, Chloe Bailey went full Catwoman in an almost entirely latex outfit while attending New York Restoration Project's Hulaween party, where she performed with Dionne Warwick. The next night, she dressed as Daenerys Targaryen, a.k.a. Khaleesi, long blonde wig and all.
Halle Bailey and DDG
Halle Bailey opted for a couples costume with her boyfriend DDG. With her in a beret and black shirt and him wearing an Oakland Athletics jersey, the pair channeled Janet Jackson and Tupac in the 1993 film Poetic Justice. The couple also dressed as Whitney Houston and Bobby Brown.
Austin Butler and Kaia Gerber
Thanks to his commitment to Method acting, it can be hard to know when Austin Butler is consumed by a character or when he's himself. But on Friday night, he and Kaia Gerber attended the Casamigos party dressed as Andy Warhol and his muse Edie Sedgwick. Butler threw on a blond wig and brought a camera along. Would love to know if he took on Warhol's flat, robotic voice as well.
Dylan Mulvaney
Influencer Dylan Mulvaney, who is mostly off social media these days, dressed up as Snow White for Bette Midler's party on Friday night. She gave the character's classic long dress an update by making the skirt mini and ditching the puffy sleeves for spaghetti straps.
Mariah Carey
She may already be posting about the holidays, but the Queen of Christmas made time to dress up as a stunning Jessica Rabbit.
Megan Fox and Machine Gun Kelly
Right now, on-again, off-again couple Megan Fox and MGK seem to be on again, and they attended the Casamigos party as the Kill Bill characters Gogo Yubari (Fox) and the Bride (Kelly). Fox shared the costumes on her Instagram with a caption simply tagging SAG-AFTRA, the actors' union, which had asked people not to wear costumes referencing TV shows and movies from AMPTP studios amid the ongoing strike. In the comments, some of her followers (including her fellow actors) were surprised and perplexed — not only by the costume choice but by the reunion with MGK.
Keke Palmer
While some fans went for 2023 Barbie looks, Keke Palmer went further back in time for her doll costume. She dressed as Tyra Banks's character, Eve, in Life Size, co-starring Lindsay Lohan.
Kelsea Ballerini
Speaking of Barbie: Singer Kelsea Ballerini kept things simple by wearing a look from the most popular movie of the year. She re-created Margot Robbie's pink cowgirl outfit with a pink cropped vest, flared pink pants, and a white cowboy hat.
Jessica Alba
While Paris Hilton went for Spears's "Toxic" flight-attendant outfit, Jessica Alba opted for the singer's sparkly nude bodysuit, also from the "Toxic" video. Her friends Kira Hagaman and Kelly Sawyer Patricof also dressed as Spears.
Kourtney Kardashian
A pregnant Kourtney Kardashian didn't look far for costume inspiration, dressing as her sister Kim at Kim's first Met Gala. She wore the highly memed floral maternity dress (whose print evoked a grandmother's couch).
Kim Kardashian and North West
Meanwhile, Kim opted for a mother-daughter costume with North, posting pictures of the two dressed up as Cher and Dionne from Clueless. North, who is 10, also dressed up as the Cheetah Girls with her friends for TikTok.
Megan Thee Stallion
It's no secret that Megan Thee Stallion loves Halloween. Though she has been dressing up for a few weeks now — debuting some fangs earlier in the month — over the weekend, she channeled a Tim Burton character for a Burton-themed "Hottieween" party.
Justin and Hailey Bieber
Justin and Hailey Bieber rarely dress as if they're going to the same event, but this weekend, they managed to coordinate their costumes. On Saturday night, they went to Vas J Morgan's party as Pebbles Flintstone and Bamm-Bamm Rubble from The Flintstones.
Hailey also dressed as Carmen Electra's Scary Movie character, Drew, while Justin wore a Hawaiian shirt and flippers.
And then, as a finishing touch, Hailey recreated the Mean Girls movie poster for her Instagram, starring as all four of the plastics.
Ice Spice
Rapper Ice Spice performed at the iHeart Powerhouse 105.1 event on Saturday in costume as Betty Boop, wearing the cartoon character's signature red minidress and red heart garter. The look immediately went viral.
Zoë Kravitz and Channing Tatum
We've been witnessing Zoë Kravitz's work as Channing Tatum's stylist for over two years now — and hopefully many more, now that they are reportedly engaged. This weekend, the duo opted for a couples costume from Rosemary's Baby, featuring Kravitz as Rosemary Woodhouse and Tatum as her giant baby. According to People's sources, Kravtiz's Halloween look also included a massive engagement ring.
Kendall Jenner
Over the weekend, Kendall Jenner kept things simple by throwing on a pink wig and black turtleneck as Marilyn Monroe — yet another Kardashian-Jenner to borrow some inspiration from Kim.
After doing Batman Forever's Sugar and Spice with her sister, Kylie, Jenner took her outfit in a different direction on Halloween night, channeling Lynda Carter's Wonder Woman on Instagram. Carter approved, commenting on Jenner's post: "You're doing amazing sweetie."
Julien Baker and Lucy Dacus
In keeping with the year's celebs-dressing-up-as-other-celebs costume trend, two-thirds of the band boygenius re-created one of the most famous paparazzi photos of our time: Ariana Grande licking a lollipop while staring adoringly up at Pete Davidson. In an Instagram photo shared Monday, Julien Baker wears Grande's signature ponytail and sweatshirt while Lucy Dacus shuffles forth in Davidson's hooded flannel. A star is born:
Ariana Grande and Liz Gillies
Speaking of Ariana Grande, she and Liz Gillies followed up last year's Best in Show costumes by dressing as Nomi Malone and Cristal Conners from Showgirls. Their photoshoot included multiple outfits as well as a recreation of the iconic "dog chow" scene.
Heidi Klum
Over the years, supermodel Heidi Klum — a big fan of Halloween — has dressed as a robot, Fiona from Shrek, an alien, and perhaps most impressively, a worm. This year, she once again went huge for her annual party, transforming into a peacock with nine Cirque du Soleil acrobats as wings. The look apparently took six hours to bring to life.
Lil Nas X
Rapper Lil Nas X honored late musician Little Richard by dressing as him in several of his most memorable looks, including a fringe dress and wig, layered necklaces and leggings, and some perfectly tailored suits.
Tamron Hall
For Tuesday's episode of her show, television host (and fan of The Wiz) Tamron Hall dressed as Diana Ross's Dorothy from the 1978 movie.
Janelle Monae
Not that it's a competition, but if anyone upstaged Queen-of-Halloween Klum, it was Janelle Monae, who transformed into a life-size chameleon.
Eric André
Not all celeb costumes called for stylist teams and hours-long prep. Take comedian Eric André, who dressed as Ice Spice in one of her more low-key outfits. Surely, this outfit took just a few minutes to pull together.
Zayn Malik
Noted Harry Potter fan Zayn Malik went back to the well for this year's Halloween inspiration, dressing up as a scarily realistic Lord Voldemort in full facial prosthetics.
Mariah Carey
It's apparently a big year for Mean Girls; Mariah Carey embodyed North Shore High School Queen B, Regina George, for the evening.
Victor Wembanyama
Sometimes for the best costumes, you have to work with what you've naturally got. That's the strategy Spurs player Victor Wembanyama with his costume as Slenderman. For reference, the NBA star is seven-foot-four.
Fat Joe
Rapper Fat Joe decided to go for a topical costume, dressing as the most talked-about drug of 2023: Ozempic.
Love a.k.a. Diddy
Diddy made fans' jaws drop when he dressed as Heath Ledger's Joker from The Dark Knight for Halloween last year, but apparently, Warner Bros was less impressed. The rapper told Jimmy Kimmel that the studio allegedly told him that his costume infringed on the character's copyright. That didn't stop Diddy from dressing as Batman — specifically, Christian Bale's Batman from The Dark Knight — this year.

This post has been updated.