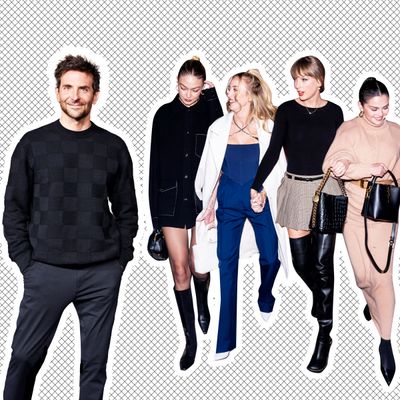 Photo-Illustration: by The Cut; Photos: Getty Images
It's been a banner month for Taylor Swift's infamous entourage, which has been on a grand tour of the nation's trendiest trattorias and sushi joints. A string of group dinners with her carefully curated gaggle of female celebrities has given us much to chew on, particularly this weekend when Swift was joined for a raucous night out by a few familiar faces (Selena Gomez, Cara Delevingne, Gigi Hadid), some new ones (Sophie Turner, Brittany Mahomes), and … Bradley Cooper?
It seems Cooper, who appears to be dating long-time Swift associate Hadid, tagged along with the girl gang on their Saturday night outing in New York. According to timelines constructed by several tabloids, all the women headed into the Japanese restaurant BondST early in the evening, sans Cooper. When they left the restaurant several hours later, however, eyewitnesses claim to have seen the actor quietly separate himself from the tail end of the group and get into Hadid's car. ET says he then joined the girls at Zero Bond for a marathon night of clubbing, after which he and Hadid were photographed leaving at 3 a.m.
On the one hand, Hadid and Cooper have been dating for at least a month now, and they seem to be getting pretty serious — he is comfortable enough to wear his favorite daytime TV-themed boxer briefs in her presence, and Us reports that they've even discussed setting up a playdate for their daughters. One source speaking with "Page Six" described their relationship as "on steroids" and offered up some enlightening insight into their dynamic: "Bradley is getting older. At some point, he might say, 'I like getting up and seeing her face, and having a cup of coffee with her.'" Sure, this sounds like a morning-after written by ChatGPT, but it probably beats clubbing with Eric Adams. Nice for them.
On the other hand: Who gave Hadid permission to bring this man into the coven? Is there not a no-boyfriends policy governing Taylor's powerful gatherings of influential women? Wouldn't their presence be anathema to the entire vibe of this gal hang? Just because Cooper is alleged to find Hadid "intellectually interesting," he gets to share a spicy-tuna roll with Selena Gomez? At the very least, he should be required to invest in a good going out top first.