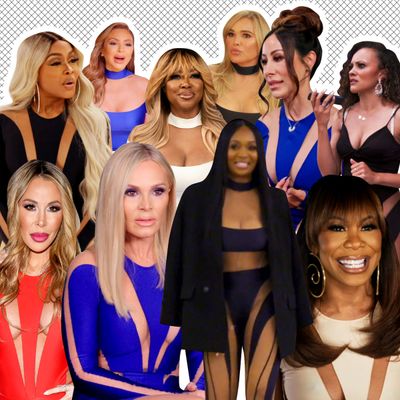 Photo-Illustration: by The Cut; Photos: Bravo, Getty Images
No fashion trend has become as synonymous with Bravo as the mid-aughts Sky tops — "going-out tops," if you will — that starred alongside the Real Housewives OGs in the early episodes of Real Housewives of Orange County. That is, until Casey Cadwallader's reign as creative director of Mugler in 2018 unleashed his now-trademark nylon bodycon bodysuits flanked with mesh cutouts that either accentuate or create the illusion of dramatic curves for the wearer. A natural evolution for the House of Mugler, as Thierry Mugler historically loved a bodysuit, Cadwallader's design quickly became a staple for many big-name music stars (including Beyoncé, whose Mugler bee look was arguably her best tour costume) as well as the Real Housewives — the Beyoncés of reality TV.
Andy Cohen's coven has taken to the bodysuit as frantically and obsessively as Ozempic (allegedly), and fans have seen iteration after iteration in confessionals, at onscreen and offscreen parties, and on Watch What Happens Live. As we've witnessed the glamification of Housewives as the franchise became larger than life, it's easy to see why the women gravitate toward the look. What's more attention-grabbing and fabulous than a skintight peekaboo bodysuit from an iconic fashion house that has been donned by the likes of Cardi B, Dua Lipa, and Megan Thee Stallion? Without further ado, here is a ranking of the members of Bravo's Sisterhood of the Traveling Bodysuit.
11.

Ashley Darby (Potomac, season 7, episode 9)
Ashley created her own bodysuit by pairing Mugler leggings with a top of her choice. The result is a haphazard look (the straps are very incongruous, and the bra straps, well, why are they a different color?) that made viewers question if she was wearing a fake Mugler, which is just about the worst outfit allegation in a world where wearing knockoffs is practically an act of heresy. Just ask RHOA's Shereé, who was accused of wearing not Alexander Wang but Alexander Shein.
10.

Angie Katsanevas (Salt Lake City, season 4, episode 9)
This Bravo newish newcomer — she was a "Friend Of" last season until her "friend" Jen Shah graduated to prison — hasn't exactly had a warm welcome from fans. Her choice to wear the bodysuit after so many other 'Wives have worn it further adds to the argument that she has an air of desperation. Then again, Angie K. is starting to show glimmers of likability, as seen in RHOSLC's latest episode, during which she clapped back at fellow newbie Monica Garcia for calling Lisa Barlow old. (Angie K. is a year older than Baby Gorgeous, thank you very much!)
9.

Larsa Pippen (Miami, season 6, episode 1)
Larsa is an OG of RHOM, and after the show went off the air for a decade, she returned with a new body and a reputation as Kim Kardashian's former BFF — and refused to talk about either. It doesn't help, then, that her multiple Mugler bodysuits are a clear reminder of how, as fellow OG Adriana de Moura might put it, she modeled her own curves after Kimberly's.
8.

Sanya Richards-Ross (Atlanta, season 15, episode 1)
While Sanya looked great in her cream Mugler bodysuit, she falls into the same category as Angie K.: Wearing a cliché Bravo look isn't the best idea for a newbie, particularly one who is (still, sorry!) struggling to find the same main-character energy of her larger-than-life predecessors.
7.

Kenya Moore (Atlanta, season 15, episode 3)
Obviously, Keyoncé would gravitate toward an outfit that made her look like a superstar diva. However, as Sanya's version similarly proved, the bodysuit looked better standing up. Sitting made Kenya's suit appear ill-fitted as it bunched at her waist.
6.

Tamra Judge (Orange County, season 17, episode 9)
After being unceremoniously fired from the show, the veteran Housewife and infamous pot-stirrer made her confessional comeback wearing the same dress as Angie K. But Tamra's simple hairstyling with minimal jewelry looked more effortless in comparison, and in her case, the choice to wear the bodysuit, like putting on a supervillain costume, signified her reascension to chaotic Housewifery.
5.

Phaedra Parks (Atlanta Married to Medicine, season 10, episode 1):
Another Housewife back from the dead with a Bravo pink slip, Atlanta alum Phaedra has joined the cast of Married to Medicine this season. For her debut, we got a great view of her voluptuous backside in the bodysuit to remind us that she's still got a donkey booty (her words), and she's ready to jump right in with her infamous reads and shenanigans. While she looked fabulously Atlanta with her blonde extensions, it would've been nice for her to think outside the box for her anticipated return. By the time the show aired, the bodysuit was overdone.
4.

Wendy Osefo (Potomac, between seasons 7 and 8)
Watching the artist formerly known as Zen Wen during season six as she accepted all facets of her personality as a professional and grown woman who also likes to feel sexy was aspirational, and she owned her body in the blue bodysuit, with matching sunglasses, while strutting across this stage for (presumably) the season-eight cameras. Shout-out to Happy and Ness for looking great, too!
3.

Diana Jenkins (Beverly Hills, season 12, episode 17)
Though she wasn't a fan favorite for obvious reasons, no one can say that Diana isn't a Rich Bitch™. Diana's perfect tailoring of the bodysuit made it look like a fashionable second skin, proving to be one of the only good choices she made during her tenure.
2.

Marlo Hampton (Atlanta, season 14, episode 14)
Marlo has always told us she's "known" for her "fashions," but her outfits are notoriously hit-or-miss. The styling of her bodysuit on episode 14 of season 14, though, was a hit. First, she wore it before the majority of the other women — which is truly a feat when she's competing with over a hundred Housewives who all want to be seen in the latest trend — and the pairing of a classic black blazer and pin-straight hair wonderfully complemented her long legs, making it one of the best versions of the look.
1.

Lisa Hochstein (Miami, What What Happens Live):
The most riveting story line of season five of RHOM was Lisa's messy and contentious divorce. For her first Watch What Happens Live appearance of the season, Lisa looked snatched and stunning in a crimson-red Mugler bodysuit, very much in the same vein (and color) as Vanderpump Rules' Ariana Madix's reunion revenge dress. Plus, we've got to give her bonus points for her sheer commitment to the look, as we've seen her wear the bodysuit in not one but three different colors.