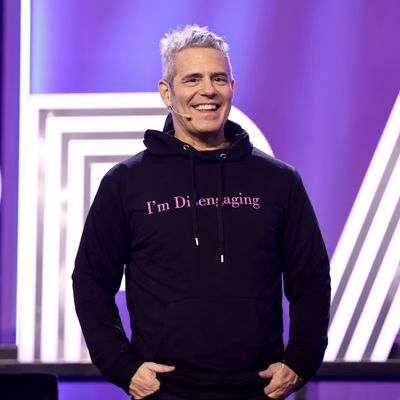 Photo: Greg Doherty/Bravo/Bravo via Getty Images
​BravoCon — the premier festival of Bravolebrities and Bravo superfans — was rebirthed in Las Vegas this weekend. For those of us devoted to the church of Andy Cohen, it was the event of the year. Amid the recent reality TV reckoning thickening the plot, weary and obsessed Scandoval followers descended upon Vegas with over 160 Bravolebrities aflutter, including all the legends, villains, heroes, hot messes, mistresses, criminals, queer icons, fashion goddesses, flops, glam, and Baby Gorgeouses. Things were obviously going to get outrageous.
But this convention was much more than just chaos wrapped in a Gucci corset. For me, it was an escape from real life, into the transformational Bravoverse, where really smart people can indulge in really stupid things. If you also made it to Vegas for BravoCon, you know that it was like therapy. More specifically, therapy dipped in the guacamole that Monica's mom — on last week's episode of Real Housewives of Salt Lake City — thought was dessert.
Here's everything that happened when I checked out of reality and into the Bravoverse.
Friday
3 p.m. I land in Vegas with a "Send it to Darrell" hoodie and a dream. It's BravoCon. As a Bravo TV lover and scholar, I am buzzing with anticipation.
5 p.m. By the time I arrive at Caesar's Forum, which I'm calling the Bravoverse, I feel like I'm on drugs. I am not on drugs; I'm on chocolate-covered espresso beans from Starbucks (lunch), but I'm searching so hard for Bravolebrities in the wild — the middle of the zoo that is Vegas — that I can barely see straight.
6:45 p.m. I wander into a massive room of Bravolebrity merch and swag where I'm fully expecting Ariana Madix to spoon-feed me a Something About Her panini, or Jenna Lyons to stick a fake eyelash on my lid, but all I get is Craig Conover's Sewing Down South business partner, Jerry, who sweetly gifts me a Hanukkah pillow. I tell him I'll cherish it — and I mean it.
6:50 p.m. A roar in the crowd! Oooh! Who's here!? Captain Sandy? Larsa Pippen? Mary Cosby's turquoise wall-to-wall carpeting? Nope. It's Jake from State Farm — an event sponsor. He's cute, but … Did I really leave my kids for this?
7 p.m. Disheartened, I go back to my hotel room at Planet Hollywood to freshen up for the Bravos, a.k.a. the Oscars of Bravolebrities. I receive a text from Meredith Marks's nephew, a bubbly beauty publicist whom I met in the swag shack. I adored him, but all these tertiary characters, and no real stars, are making me nervous.
8 p.m. Outside Vanderpump Paris, there's a mob scene. Yay! A woman is sobbing because Ken Todd (Lisa's elderly husband) poured her a life-changing shot of vodka. It's mayhem. There's a thousand people hoping to take a selfie with Pandy (Lisa's daughter), and I can't even get close, so I move on.
9 p.m. The Bravos are a blessing. Everyone is there! Ubah from Real Housewives of New York dominates the scene both in height and beauty. Real Housewives of Potomac's Dr. Wendy Osefo is aggressively posing on the stage, for no one in particular. Real Housewives of Miami's Lisa Hochstein is the size of my 8-year-old and has the same exact style. Beverly Hills stars Kyle Richards and Dorit Kemsley are sitting politely and keeping it classy. Vanderpump's Tom Schwartz needs to be reactivated and fast. Salt Lake's Heather Gay is affectionately chatting with anyone and everyone who will listen. It is heaven dunked in espresso martinis and injected by Nurse Tara.
9:30 p.m. DJ James Kennedy slays in a li'l musical performance, and I actually start to cry. Outside of the Paris Theater, the world as we know it is crumbling. And yet here we are, with Andy Cohen asking Captain Jason if he'd rather have sex with Lala Kent or Shannon Storms Beador, and all is right for a moment.
Saturday
9 a.m. On my way into Caesar's Forum, I ask someone where she got her groovy "Jessel Taank" tank. She tells me it's from an Etsy store called Slut Pig. Another fan, who goes by #SonjaMorgansFutureIntern, is wearing a"Hail Sutton" T-shirt; she directs me to another Etsy site, Ether and Opal, where I promptly purchase a "YOU CAN LEAVE" doormat.
The BravoCon guests are all so friendly, funny, and filled with joy — my sisterhood!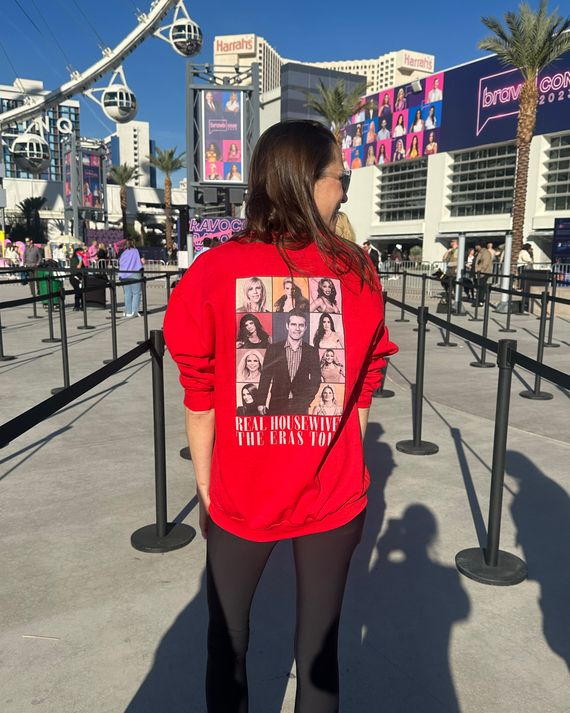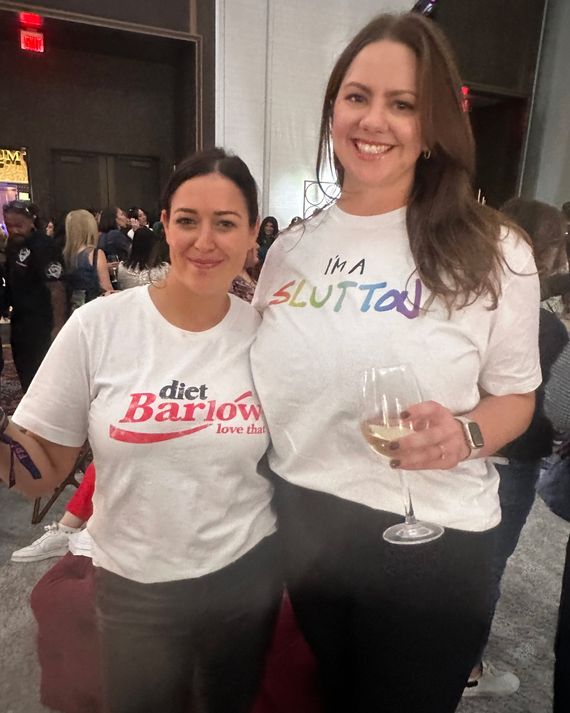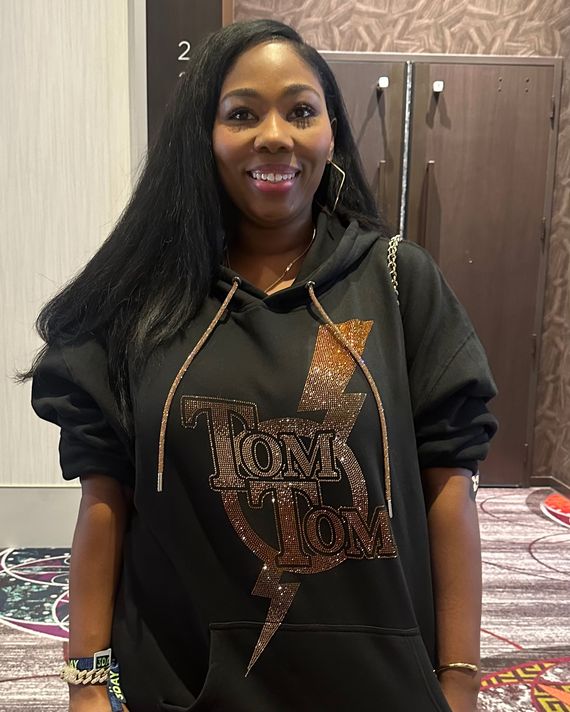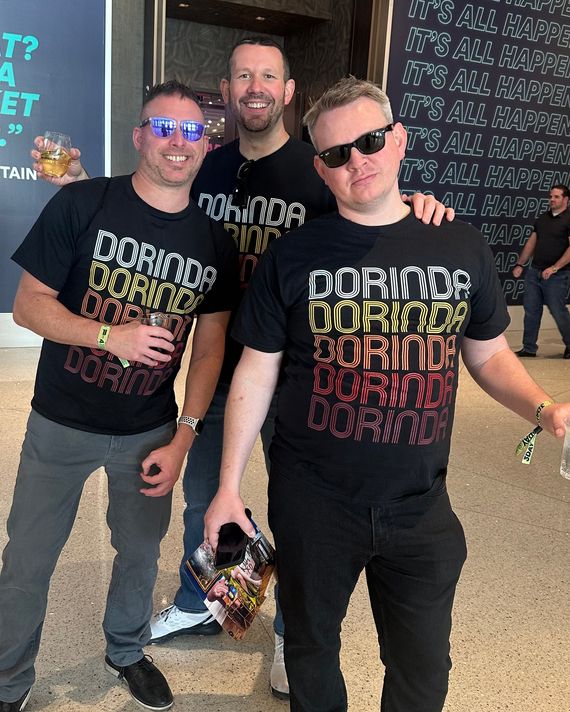 11 a.m. Just as I'm about to eat a Lay's potato chip covered in glitter and inspired by Ariana (breakfast), I get a call from a random 917 number. Worried it's about my kids, I quickly answer. I don't recognize the woman's voice, and when I'm about to hang up … she booms, "It's UBAH." OMFG. It's Ubah from RHONY. I took a gamble and DM'ed her earlier. She loves the Cut and wants to make sure we meet up today!
11:30 a.m. I'm in the Bravopalooza room, where (for a fee) fans get to hang out with real Bravolebrities face-to-face. Real Housewives of Potomac star Candiace Dillard Bassett is in here. She's mesmerizing. Like, intense star power. The line to meet her is forever, so I pivot to Sutton Stracke. I tell her I want to set her up with a gazillionaire I once dated in L.A., but whom I was "way too scrappy" for. She says, "Well, I'm scrappy too!" Hmmm. I feel like we have a different definition of the word, but nevertheless, fast-friend energy. We hold hands and exchange numbers.
11:45 a.m. Katie Maloney's wonderful mom, Teri, politely warns me not to ask Katie about the status of the sandwich shop because opening a restaurant is a headache and it's boring to talk about. I ask her the status of Satchel — that strange Michael Bolton rebound F-boy — and she gives a wise mom answer about how Katie just needed to be reminded that women can be loved and respected on such a high level. Truth! I ditch Teri to hang with Katie and Ally Lewber (DJ James Kennedy's gem of an astrologist girlfriend), and Katie and I commiserate over our attraction to difficult Gemini men.
1 p.m. Over in the media room, I am fishing for a water bottle next to the force, an Andy Cohen favorite, Gizelle Bryant from Potomac. She's outrageously intimidating, so I find myself at a loss for words. The Sex Diaries writer in me takes over and I ask if there are any romantic possibilities for her at BravoCon. Without a beat, she bites my head off. "Girl. What is wrong with you? Do your homework." I'm shook. And honored. Gizelle just dragged me. I can go home now. Also, I kind of want to go home now.
I zag to Dorinda, but a stressed-out publicist intervenes after a second of Crappie Lake chitchat — and I lose my shit a little bit because I know for a FACT that if anyone loves New York Magazine, it's the original ladies from RHONY.
2 p.m. I'm drained from the emotional roller coaster and desperate for fresh air and real food, so I escape to my hotel room with an enormous shawarma rice bowl from a Halal vendor on the Strip, which I inhale naked, under the covers, in my bed. I call my kids. And I change my flight to depart a day early.
4:30 p.m. When I return to Caesar's Forum, I promise myself to enjoy the evening as a fan, not a journalist. I text fellow superfan, host of the Everything Iconic podcast, author of The Jolliest Bunch, and low-key Bravoleb' himself, Danny Pellegrino.
Now this is the scene where I finally find my footing. We meet outside of a Jerry O'Connell panel, and Danny takes me over to the VIP Talent Wing, where the following sacred moments transpire:
Sonja and Luann spot Danny and proceed to hump him like dogs. They are exactly themselves, but better.
I meet the Kenya Moore, who cleans my iPhone camera with her own cheetah unitard while we talk about our daughters' bright futures. (For what it's worth, I get the warmest, most normal, most grounded, most hardworking vibe of all from her. In my estimation, she is perfect. No notes.)
Sai De Silva, also normal and grounded, and I bond over being Cobble Hill mamas, although she pretends not to hear me when I ask which street she lives on. I forget to ask her what toilet paper she uses — a question that has literally kept me up at night.
Danny introduces me to Southern Charm's Craig Conover, and I thank him dearly for the dreidel pillow. He has a million-dollar smile, says he barely drinks anymore, and as a sex and relationship expert, I can tell he really loves his girlfriend. As Katie Maloney says, most of these Bravo guys "give the ick," but I'm happy to report that CC definitely does not.
6:30 p.m. Still lingering around the VIP Talent wing, sans Danny now, the Bravolebrities swarm as they gear up for their evening events. Below Deck's Kate Chastain has one million friends, is wearing slippers, and is fully in her element. Real Housewives of New Jersey's Danielle Cabral is high-energy AF. Erin from RHONY — who's doing the no-pants-just-tights thing — sails in with her husband. No one really talks to them. They don't seem to care, but it occurs to me that it can't be easy being the new kid on the block with this crowd.
8 p.m. My final major sighting is Meredith Marks, holding a bath bomb. Her son, Brooks Marks, is kvelling. A drunk superfan wearing an "I'm Disengaging" sweatshirt starts screaming classic Meredith-isms like, "The Ruuuooemors! The Nahhhstiness!" It's a bit cringe, but Meredith and Brooks are laughing hysterically. Then they hug the drunk, impassioned dude like he's an old friend, and everyone is on cloud nine. In my notes, I wrote, Meredith Marks is actually very fucking cool. 
10 p.m. I'm back in my hotel room, packing up for a morning flight. It was an exhilarating and destabilizing experience, but I totally got what I came for: a rush of dopamine-inducing sightings, a couple intimate moments with the Bravolebrities who mean so much to me, and a beautiful yearning to run back home, to my real life, where I belong.