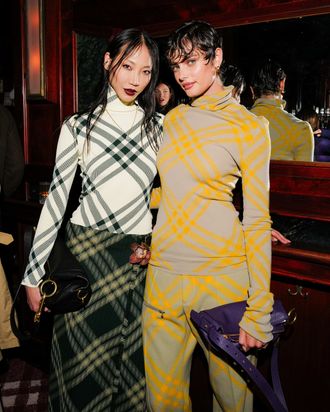 Photo: Sansho Scott/BFA.com/Sansho Scott/BFA.com
Last night, Burberry brought a little bit of London to the cobblestoned streets of Noho for the brand's fourth installment of Burberry Streets. Previously held in Shanghai, London, and Seoul, the takeover brings some British flair to cities around the world.
This time around, the brand has transformed Noho's Temple Bar into what basically looks like the inside of a Burberry trench coat. The Knight Bar design is complete with checked carpeting in the brand's signature red throughout, a specially curated menu from beloved English breakfast spot Norman's Café, and a bright-blue neon sign of the Equestrian Knight logo. Just across the street, you'll find a window installation of the bright-red Burberry check from the brand's creative director, Daniel Lee.
Celebrities in Tartans Galore
As you can imagine, a Burberry party is about as star-studded as the label's front row. Last night for the opening, black cars arrived and paparazzi jumped at the chance to get a pic of who was inside. A photographer told me Missy Elliott might be there, before jumping to take a few photos of The Summer I Turned Pretty actor Christopher Briney. Karlie Kloss arrived in full tartan while I was waiting for my drink.
Through thumps of electronic dance music, I overheard someone yelling about the SAG strike being over, and later, Stranger Things' Joe Keery told someone he has always loved SNL. Chase Sui Wonders held court in a group nearby. Beef actor and heartthrob Young Mazino hung out near a less trafficked corner, while Maggie Gyllenhaal and Derek Blasberg chatted away and Ballers actor Mason Gooding weaved through the crowd. On my way out, Gabrielle Union grabbed Kelela's hand and they shared a moment in which I imagine Union told her she enjoyed her album Raven. At least, that is what I would say.
Being wrapped in a Burberry blanket
When I stepped inside the bar, I immediately felt like I was walking on a plush bed of pillows. The floor was covered in Burberry's red pattern for the comfiest carpet ever.
"This is all Burberry," someone explained of the makeover. "It's very hard to have a carpet in a bar." I agreed, considering I had already knocked down a glass behind me, had a glass break near me, and had a grape fall on me. What happens to the Burberry carpet after this? Who knows, but as far as décor goes, it's pretty impressive.
Spot the duck print
We were there to celebrate Lee's Knight bag for and the newly redesigned Equestrian Knight design – an icon of the house since 1901. Unfortunately, I didn't see anyone wearing the duck beanie, which caused quite a stir when it debuted in February, but there were lots of celebrities and models in varying shades of the brand's plaid.
Fish and chips, anyone?
I was curious to explore what the temporary takeover of London's Norman's Café would entail. It's famous for a modern take on British classics like beans on toast, cottage pie, and pudding with custard. But how would that translate into tiny bites? Gradually, bar employees started bringing out trays of smiley-face-shaped fries (or chips as our friends across the pond say), tiny cups of ketchup, and toasties (a.k.a. sandwiches) wrapped in red checked tissue paper. Hopefully, the carpet was safe. On the menu through Nov. 16 are cod fish bites with tartar for $16; Guinness bread and butter for $8; sprinkle cake with pink custard for $10 and more.
Legends on deck
Techno heavyweights DJ Holographic, Moodymann, and Detroit legend Carl Craig played tunes throughout the night.