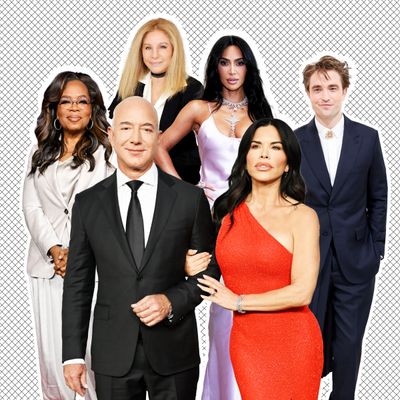 Photo-Illustration: by The Cut; Photos: Getty Images
This weekend, the extremely rich and extremely famous came together in Los Angeles for the hottest event of the year — no, not the 2023 Baby2Baby Gala nor Leonardo DiCaprio's 49th-birthday party. Rather, the celebs ascended to Beverly Hills to celebrate Lauren Sanchez and Jeff Bezos in an engagement party conjured up from a late-stage capitalism fever dream.
The guest list was a chilling mix of tech CEOs, disgraced financiers, and celebs big and small. Organizing the seating chart must have been hell — what do you do with Bob Iger and members of the Kardashian-Jenner clan? Where do you put Scooter Braun? Even Robert Pattinson dragged himself into polite society — the Daily Mail posted paparazzi photos of him and other distressed-looking A-listers leaving the event, including Oprah, Barbra Streisand, and Rita Wilson (it was "unclear," wrote the tabloid, why Tom Hanks was not in attendance).
The party took place in the Beverly Hills mansion Diane von Furstenberg shares with her media-magnate husband, Barry Diller, who was also quoted in this week's Vogue story about Sanchez. "They're very in love with each other — they're demonstrably in love," Diller told the magazine, sounding human. "She's lit him up in the nicest ways. She's a great stimulant."
The third-richest man alive and the media personality have been dating since 2019, when their relationship was detailed in a National Enquirer story while they were married to other people. They've been engaged since May. This weekend's event was, according to Vogue, the couple's second engagement party — the first took place on Bezos's megayacht and included an equally disturbing meeting of minds (Leonardo DiCaprio, Bill Gates, Queen Rania of Jordan). The magazine notes they are still planning their wedding. "Up first, though, is Bezos's 60th birthday party in January." Adds Sanchez: "I am looking forward to being Mrs. Bezos."