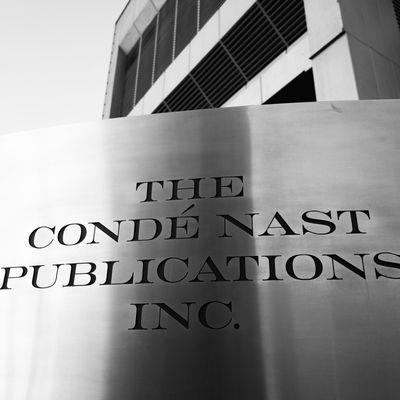 Photo: Smith Collection/Gado/Getty Images
Condé Nast has once again been accused of racism by an ex-employee. Bradley Bristol, a former senior finance analyst for Condé, is suing the media company, claiming it fired him for stealing two bowls of oatmeal he'd actually paid for. Bristol believes the oatmeal was just an excuse the company deployed to cover its tracks, and that it terminated him because he complained about racist treatment.
In a civil lawsuit filed last week and first reported by the Daily Beast, Bristol — who is Black — alleges that while working for the company, he was treated differently from his white co-workers. The suit states that he received equipment that didn't work and that his supervisor declined to train him or answer his questions about the job. What this person would do, according to Bristol's complaint, was call him after work to "berate him, using profane language and telling him that he did things 'all wrong' and needed to fix them immediately."
Those incidents apparently led Bristol to complain to his colleagues in February. According to the suit, he observed to the executive director of Decisions and Decision Support "that he was the only Black person on the team and the only one being treated so poorly." This person allegedly indicated that they weren't surprised by Bristol's account, but shortly thereafter, he says he checked his work calendar and noticed that all his meetings had been canceled and that one with the director of People Business Partner (essentially, human resources) had been added. During that meeting, he was told that he was being fired for stealing the oatmeal from a grab-and-go cafeteria. Though he allegedly informed HR that he had the receipts, he says they further accused him of taking a book from a reception area. Bristol claims that he told the director of People Business Partner that he moved the book to read it but hadn't removed it from the office. Still, the company allegedly told him its decision was final.
"The timing of the termination — coming just weeks after Mr. Bristol raised concerns of racial discrimination with an Executive Director at the Company — suggests that his termination was retaliatory," the suit alleges.
In a statement to the Cut, a spokesperson for Condé Nast said: "Mr. Bristol was employed for less than eight weeks and terminated for cause. We are confident that his allegations will be proven false through the judicial process."
Condé Nast has been grappling with public allegations of racism for several years. In 2020, the editor-in-chief of Bon Appétit resigned after photos of him in brownface became public. Days later, Condé head of lifestyle video programming for Bon Appétit, Epicurious, Condé Nast Traveler, Architectural Digest, Vogue, Self, Allure, and Glamour also resigned after racist and homophobic tweets he wrote made rounds online. On top of that, the company was accused of rarely featuring people of color in videos, and not paying them on the few occasions that they were included. Anna Wintour, the editor of Vogue, apologized for publishing images and stories that have been racially and culturally "hurtful or intolerant."