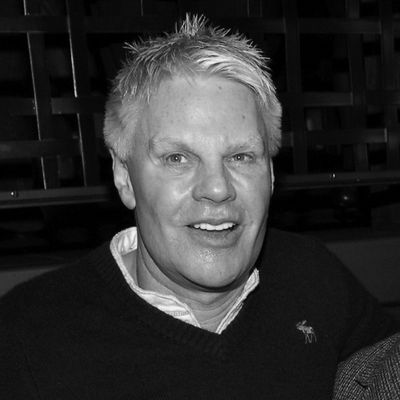 Photo: Michael Loccisano/FilmMagic for Paul Wilmot Communications
It has been nearly ten years since former Abercrombie & Fitch CEO Mike Jeffries resigned from the company, and nearly two months since he was accused of sexual abuse and exploitation. But the company is only just getting around to cutting one of his payments. Jeffries — who served as Abercrombie's head from 1992 to 2014 — has reportedly been receiving an annual $1 million as part of his retirement, but on Tuesday, the BBC reported that the brand would finally stop making those payments.
The decision follows a BBC News investigation that was published in early October, accusing Jeffries and his partner, Matthew Smith, of running a sex-trafficking ring between 2009 and 2015. The BBC spoke with a dozen men who claimed to have been recruited by the couple's middleman, whom the BBC identified as James Jacobson. They alleged that modeling opportunities were offered in exchange for their attendance at events in Paris, London, Marrakesh, and the Hamptons, which often turned out to be sex parties.
Though the men were paid, they say they were pressured into performing sex acts on Jeffries and each other — often without consent. One recalled passing out after drinking Champagne and finding a condom inside his body. "I believe there is a very good possibility I was drugged and raped," he told the BBC. "I'll probably never, never know for sure."
After the BBC's report came out, Jeffries was also named in a class-action suit filed by David Bradberry, a model who'd spoken with the broadcaster about his experience with Jeffries and Jacobson. Bradberry told the BBC that when he was 23 and trying to break into the industry, Jacobson told him he "would not be meeting with Abercrombie & Fitch or Mike Jeffries" unless he let Jacobson fellate him. Bradberry recalled feeling like Jacobson "was selling fame. And the price was compliance." In his lawsuit, Bradberry alleged that while Jeffries was CEO, he sexually abused more than 100 men and manipulated them "under the guise of providing them with the modeling opportunity of their dreams." He also accused Abercrombie & Fitch — listed as a defendant — of funding a "criminal enterprise" led by Jeffries and Smith, paying out settlements to cover their misconduct.
Brad Edwards, an attorney for Bradberry, told The Wall Street Journal that "Abercrombie profited enormously from the oversexualized exploitation of young men." Meanwhile, Jeffries and Smith have not commented publicly on the allegations, though Jeffries's lawyer, Brian Bieber, told the Journal: "The courtroom is where we will deal with this matter."