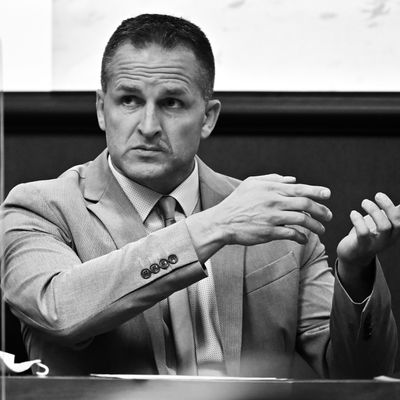 Photo: Timothy D. Easley/AP
In 2020, former Louisville police officer Brett Hankison fired ten rounds into Breonna Taylor's apartment as he and two of his colleagues were serving the no-knock warrant that left Taylor dead. Hankison sprayed Taylor's windows with bullets, three of which entered the apartment of a sleeping family next door. He was the only person indicted (on three counts of wanton endangerment) in connection with the fatal raid — not for putting Taylor's life at risk, but for endangering her neighbors. In 2022, after a mere three hours of deliberation, Kentucky jurors acquitted Hankison, a verdict that spurred fresh outrage across a city that had spent months protesting Taylor's murder. Now, more than three years after the raid, Hankison has avoided consequences once again, after a judge declared a mistrial in the ex-officer's latest federal civil-rights case.
Over the course of the trial, which lasted for three weeks and marked a second attempt at justice for Taylor's death, Hankison faced charges of violating Taylor's civil rights by continuing to fire his gun after "there was no longer a lawful objective justifying the use of deadly force." The DOJ also charged three of Hankison's colleagues with civil-rights violations: ex-detective Joshua Jayne, ex-sergeant Kyle Meany, and former officer Kelly Goodlett, who last year pleaded guilty to helping falsify the warrant that brought the cops to Taylor's apartment in the first place. When they burst through her door on the night of March 13, 2020, it was ostensibly to investigate her purported ties to a drug dealer who was already in custody. Instead, they surprised Taylor, a 26-year-old medical worker, who was asleep in bed with her boyfriend, Kenneth Walker.
The officers would later claim they identified themselves as they banged on her door, a narrative Walker and neighbors have contested. When the police barged in, Walker fired a shot from his handgun, believing them to be intruders. It struck one of the officers in the thigh, and they responded with 32 shots of their own, killing Taylor. Per the New York Times, Hankison then ran to the side of the building and fired ten shots into Taylor's apartment through a sliding glass door and a window, three of the rounds piercing a neighboring unit where a pregnant woman, Chelsey Napper, was asleep with her boyfriend and 5-year-old son. The police chief at the time fired Hankison, saying in a statement that he had fired "blindly" and calling his actions a "shock to the conscience." The other two officers who opened fire did not face any legal charges or repercussions on the force. At Hankison's state trial, Napper recalled the terror of bullets "flying everywhere," telling jurors how she and her son hid together on the floor of the unit.
In testimony from his state trial, Hankison testified that, when he heard the gunfire, he believed it came from someone firing at the officers and that he thought the shot from Walker's handgun came from a more powerful semiautomatic rifle. "It appeared to me that they were being executed with this rifle," Hankison claimed on the stand, wiping away tears. When asked if he believed he had done anything wrong that night, he replied, "Absolutely not."
The federal charges Hankison faced carried a maximum penalty of life in prison. Per the New York Times, jurors deliberated for roughly three days before informing the judge that they had not reached a unanimous verdict. An attorney for the Taylor family, Lonita Baker, suggested to CNN that the disgraced officer may be tried again: "As it stands right now," she said, "the assistant U.S. Attorneys from the Department of Justice did indicate that it is their intention to retry Brett Hankison in this case."
Also on Hankison's legal docket: a sexual-assault lawsuit from a woman who alleges Hankison leveraged his position of authority as a police and security officer to force himself on her while she was unconscious. It's one of at least ten similar allegations against him.
This article has been updated.