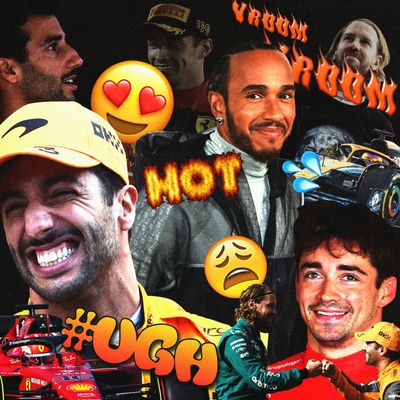 Photo-Illustration: The Cut; Photos: cooltext.com, Getty
As Las Vegas prepares to become the new epicenter of Formula 1 racing, the Cut is revisiting our coverage of F1 drivers and their loyal followers. This story was originally published March 3, 2023.
POV: You're dating a Formula 1 driver. Images from the paddock flash before your eyes. A 23-second long TikTok, viewed over 88,000 times, slows only to show WAGs ruffling the lush, curly hair of their beloveds: handsome, thick-necked, accented athletes at the apex of their careers. Taylor Swift's "Cruel Summer" is the soundtrack. These kinds of videos are most commonly associated with pop stars and actors. However, a shift is upon us. Culture moves fast, and the fangirlification of Formula 1 is here. Vroom vroom, baby!
On YouTube, countless fan-made videos spotlight individual drivers — such as Sebastian Vettel, Charles Leclerc, and Daniel Ricciardo — and their friendships. Some of the videos have millions of views. Tumblr has returned as a space for private, insular F1 fandom. Discord even more so. On Twitter, Formula 1 edits could be mistaken for lyric-video stills. At the time of writing this, there are over 17,000 fan fics on Wattpad tagged "Formula 1." There's a popular Formula 1 romance-novel series, Dirty Air by Lauren Asher, that doesn't veer away from the sexy danger of driving 300 kilometers during a race while having a jawline that could cut glass. There are podcasts, like the community-oriented Two Girls One Formula, where the self-described audience of "girls, gays, theys (and cool dudes)" get together to discuss regulation changes in the sport, talk about driver thirst traps, and share brunch menus themed after the international locations of a race. Around the world and with varying degrees of familiarity — stans who've never loved a sport before Formula 1 and diehards alike — these fangirls are subject-matter experts.
Formula 1 is often viewed as an elitist sport in which only two women (Maria Teresa de Filippis in 1958 and Lella Lombardi in 1975 and 1976) and one Black man (seven-time world champion, the GOAT, Lewis Hamilton) have raced in Grand Prixs, despite the fact that there have been more than 900 drivers across its seven-decade history. And the entities behind the sport are not always the most accepting of new enthusiasts, either. So, what is it about Formula 1 that attracts such fervent young fandom?
If you want to understand how the motorsport came to inspire some serious fangirling, particularly in the U.S., you have to follow the money. In 2016, Formula 1 was purchased by the American company Liberty Media for $4.4 billion. The brand's previous owner had struggled to bring it into the 21st century, resisting all attempts to target a younger audience even though his loyal viewers were rapidly aging. As a result, Formula 1 viewership dropped 40 percent from 2008 to 2016, when Liberty Media stepped in.
Formula 1's fanbase is twice as large as the NFL, but the NFL brings in eight times more revenue annually. In other words: Americans love sports and spend their money to prove it, so Liberty Media made changes to appeal to viewers in the U.S. They axed the sexist tradition of grid girls and relaxed previously implemented social-media restrictions. This allowed drivers and their teams to go ham online, spinning Formula 1 into the fastest-growing, most engaged sport across digital platforms (and turning hunky, loveable drivers into accessible celebrities). Perhaps most ingeniously, they partnered with Netflix for the massively popular docuseries Formula 1: Drive to Survive, which debuted in 2019.
Kate Lizotte and Nicole Sievers, the women behind Two Girls One Formula, point to Formula 1: Drive to Survive as a catalyst for the growth in the sport's audience (though they were fans prior to the series' release). "It's reality TV — we got to see heightened drama, we got to see relationships play out in real time. It's The Real Housewives of Formula 1," says Sievers. (The drivers' recent presence at New York Fashion Week should be proof enough of their nascent celebrity status.)
The second season of Drive to Survive arrived at a pivotal moment: during the early days of the pandemic, when everyone was stuck at home. Curious fans could immediately check out "Twitch streams, YouTube videos … a rich ecosystem that has grown exponentially" after watching the series to further develop their enthusiasm, explains Lily Herman, co-host of the Choosing Sides: F1 podcast and author of the Formula 1 newsletter Engine Failure, which spends equal time exploring Ferrari's strategy team replacements and public breakup announcements from drivers. The fifth season hit Netflix on February 24 and made it to the top ten of all English-language series watched across 43 countries in its first weekend on the platform.
But that's only one factor. The sport's low barrier to entry is also appealing to women. "With football, baseball, or other big sports in America, men have made it their thing. There are high walls to get in, traditions around how you watch these sports and how you behave," Sievers explains. "With Formula 1, women don't have to play into this culture that's already very prevalent in America." They don't have to name the 1983 Super Bowl championship-title winners and their plays, for example, to participate.
There is also the simple fact that there are fewer athletes to follow compared to other sports leagues (F1 only has ten teams with two drivers per team), which makes the sport easier to keep track of during the season. "I could immediately grasp what the stakes were and what the rules were," says Herman.
In the years since Liberty Media took over, the sport has grown massively: The 2022 F1 season was the most viewed, ever, in the U.S., and the largest demographic growth was seen in young people, aged 12 to 17 and 18 to 34, and women. Women made up 352,000 viewers per race, a 34 percent growth from 2021, meaning they made up 28 percent of the 2022 audience.
Some fans, like Lauren Asher, an avid romance reader who was introduced to Formula 1 through Drive to Survive, have taken to creating their own media about the sport. She was so inspired by the docuseries that she wrote Throttled, her debut romance novel and the first of her Dirty Air series based in the world of Formula 1, a year later. (It has shades of After, the book and film franchise loosely inspired by Harry Styles.) Sports romances are a popular subgenre, but Asher estimates that 60 percent of her readers had not heard of Formula 1 before reading her books. "They're like, 'I'm not sure how I picked up a book and then began watching races every Sunday. I don't know how this happened to me!'" she laughs.
That kind of exasperation — "I don't know how this happened to me!" or "I used to be normal!" — is common in fangirl spaces, and it's particularly documented in boy-band fandoms. It's no wonder there's some overlap between those communities. Just shy of a decade ago, Gabrielle Kopera became "fangirl famous" in One Direction circles thanks to a "vomit shrine" she constructed where Harry Styles allegedly puked along the highway. Months later, sharing her dad's lifelong love of cars, she took a job in the automotive industry. When Formula 1 entered her periphery, it became an easy obsession to fill the boy-band-size hole in her heart left by One Direction (the band went on hiatus in 2015). "I got into Formula 1 when Ferrari signed Charles Leclerc in 2019. I thought it was really cool that they were trying to introduce young drivers to the grid," she says. "It was this intersection of cars and boy-band-looking guys." In many ways, F1 has taken the place of 1D in her life, with one very real exception. "People are shocked that I'm into Formula 1 … I definitely have to talk to very particular people about it. If I tweet about it, some upset guys are gonna come, get defensive, and be annoying on the internet," she says. "It's nice to talk to other girls about it because it feels lighter — they're not judging others for it."
The term "fangirl" has been reclaimed by some, like Lizotte and Sievers, but they recognize that not everyone accepts their fervor for Formula 1. "WTF1 had this campaign called 'I'm not a fanboy, just passionate.' They were using it as something derogatory," Sievers says. (McLaren Racing rightfully mocked it.) "We're equally fans of the sport," Lizotte jumps in. "But you don't want me to feel like I'm equal to you."
Gatekeeping presents itself to new fans in a couple of different ways. "You have veteran fans who refer to new fans as 'the DTS fans,'" Herman says. "You have men who are rude to anyone who's not another man, and you have the usual internalized misogyny from a female fan who is like, 'I like the real sport. I like engineering. I don't like the WAG gossip. I'm not like the other girls.'" It doesn't help that the sport itself is hesitant to embrace fangirls, with Red Bull Racing principal Christian Horner declaring that Formula 1 is "bringing in a lot of young girls because of all these great-looking young drivers," dismissing the fact that perhaps the reason so many of them have recently become fans is because they also genuinely enjoy the sport. Drive to Survive is similarly slow to accept this newfound fandom. The latest season was the worst in terms of gender representation — women spoke for 1.54 percent of the total runtime. Online, sexism is casual and expected.
Of course, not all female fans identify as fangirls. One woman, Kat Otto, has been following the sport since 1992, when she was 12. For Otto, being a fangirl "is something that I connect to being a teenager and loving a boy group to the point of embarrassment," she says, adding that the term fangirl feels like "a dismissal, just like fanboys. We aren't girls or boys, we're mostly adults. And if someone is a girl or a boy, they shouldn't be insulted for it."
Otto has found that unless she discloses her gender in F1 forums, particularly on Reddit, she is respected as a fan of the sport. "A few will inevitably put their foot in their mouth, but generally, the standard assumption of maleness serves me well," she says. "I have also met a lot of great fans, regardless of gender, with whom I had amazing discussions." Sometimes, she sees male fans "accuse other fans of being fangirls who have no clue what they are talking about, of being overly emotional, of being pussies" when they disagree with them. But ultimately, she observes that the majority of fans on sub-Reddits don't care that so many young women have become interested in the sport, with the exception of those who write fanfiction about the drivers, which leaves some feeling "weirded out."
The dismissal of women who love Formula 1 has rightfully frustrated diehard fans like Lizotte, who emphasizes that her community is "perfectly capable of thinking that Daniel Ricciardo's smile could be the key to world peace, while also being interested in discussing how regulations are changing in 2023 to solve the porpoising problems that were apparent in 2022." The messaging is clear: Fangirls are minimized for being Formula 1 fans the "wrong" way or being "superficial." But as Lizotte argues, there's no one way to be a fan. "We contain multitudes," she says.
"Women are looking for that representation in the sport, and they're not seeing it on the surface; they're digging deeper," Lizotte explains. "On the surface, F1 could be characterized as a middle-aged, rich-white-man sport. But when you have women and fangirls, specifically, we know how to do our research." She argues that fangirls are the ones "doing the work" to find diversity within the sport and its fan culture — and hopefully the people behind it will one day follow suit.
Until then, rest assured that Formula 1 fangirls will continue to create inclusive spaces where they can be vocal online. And they will be having fun.
The work space behind the pits occupied by teams, sponsors, and F1 employees during a race, or Grand Prix.
Short for "wives and girlfriends."
A group of women tasked with displaying drivers' numbers next to their cars at races and trooping around the pit lane.
A podcast and F1 media entity.
An aerodynamic phenomenon that causes bouncing of the car's frame at high speeds and can be harmful to the driver's health.