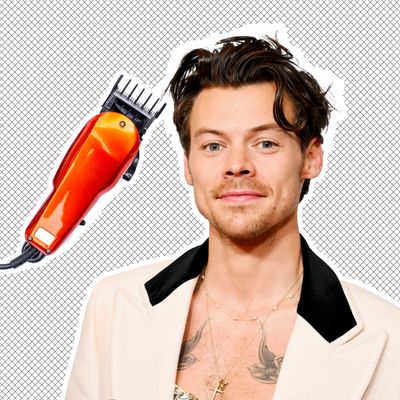 Photo-Illustration: by The Cut; Photos: Getty Images
Have you heard about Harry Styles? He is hairy no more! The nail-polish mogul and mustache man known for his luscious, well-moisturized locks recently bid adieu to most of his hair. He debuted his freshly shorn look at the most appropriate of places: the Las Vegas Sphere, a giant orb–slash–event space whose shape sort of mirrors Styles's nearly naked skull. Inside the venue, he and his buzzcut took in a U2 concert with his new lady friend, Taylor Russell. Here is his gorgeous head of non-hair bobbing along to the strains of a classic Bono crescendo:
Even though Styles technically did not get rid of all his hair — a carpet of stubble remains — the disappearance of his beloved mop is throwing a lot of fans for a loop.
Personally, I see this look — not unattractive, in my opinion — as an opportunity, mostly for the disembodied hair. Styles could weave it into a shaggy sweater, for example, or donate it for wig production — there's certainly a market among his fans. Maybe it can star in his next music-video orgy. Wherever his tresses go, I hope they know that we miss them and that we wish them all the best.