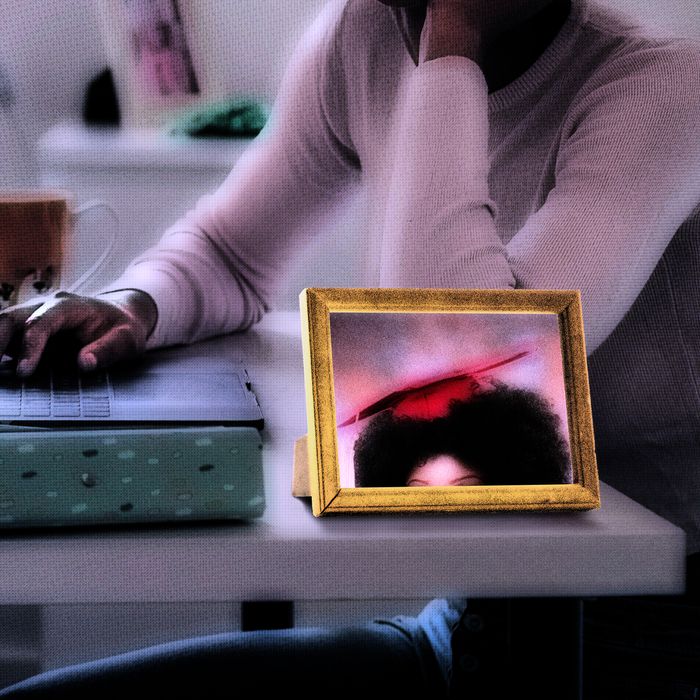 Photo-Illustration: The Cut; Photos: Getty
Weeks before her son set foot on campus, Jennifer considered quitting the Facebook group she'd joined for parents of new students at the University of Wisconsin-Madison. The mother of one of her son's first-year roommates had sent her a link to the group, which has more than 20,000 members, and she clicked on it looking for guidance on what to pack for him besides extra-long twin sheets. "Some parent wrote, 'Make sure you stick a pool noodle in the gap between the wall and the bed,'" says Jennifer, who lives in Essex, New Jersey. "As soon as you're telling me to buy a pool noodle so my precious son's precious phone doesn't fall on the floor if he drops it, I'm out."
Facebook groups for parents of college kids have become mainstream organically — in a way, joining is the final, triumphant step in the arduous college-enrollment process. Some groups are schoolwide, while others are specific to a cohort — graduating class, dorm, fraternity or sorority, team sport. At the University of California, Berkeley, for example, there are groups for Indian parents, parents who live in the Bay Area, and parents with safety concerns. For the most part, parents form and run the groups themselves, though some colleges (including the University of San Francisco, Emerson College, and UW-Madison) take the lead and have university employees moderate. That's because parent Facebook groups can drive revenue via increased student enrollment and retention rates and keep parents from pestering administrators, according to the marketing agency Ellison Ellery, which has worked with Western Carolina University and the University of Central Florida.
Parents join the groups for many reasons: to access packing lists, view dorm layouts, or find detailed instructions for building bespoke bunk-bed headboards. Some join to ask whether their kid needs a car or whether $150 a month is enough for food. Other parents just have a vague sense, as Jennifer puts it, that they "need to stay on top of things." Regardless of the reason they join, parents often portray these groups the same way: as landing pads for helicopter parents short on fuel who want to orchestrate their kids' lives at the precise moment they are meant to become independent. Some also say that the groups are a steady source of entertainment, particularly for mothers and fathers who have loosened their grip on their kids but still relish a little group-chat drama.
Mary, who lives in Portland, Oregon, and has a daughter who graduated from Syracuse University in 2022, estimates that about 20 percent of posts in the Facebook group for Syracuse parents were useful, while the remainder were "over-the-top nuts," as she puts it. "Once, a parent in one of these groups complained that the paths in wintertime were not being cleared of snow. This is Syracuse — it snows 100 inches every winter. Do they really expect the paths to be cleared 24/7? People would ask where their kid should get her balayage done or who should do their son's laundry. Or people would rant, 'Can you believe it? We paid this much money and my kid can't get into the class he wants.' That's how it goes. You didn't register fast enough."
Amanda, who lives in Miami and has two kids in college, says she's "obsessed with these parent groups because they're insane." Like Mary, she believes some parents use them in reasonable ways — to get details on graduation or crowdsource the name of a doctor for their kid — but that most are getting too granular: "People will ask, 'My kid is in X class. Does anyone know what the curve is going to be?' Or 'Has anyone's kid taken calculus? Is it hard?' And then there will be questions like 'Where should my kid get their hair cut?' This is a kid you sent off to live on their own. Could they ask an RA or do a Google search?" She sends me a screenshot of a parent who wants to help her "DD" figure out how to ask her roommate for more space in the mini-fridge. Her DD (that's "Dear Daughter") has sent a photo, circling her lone jar of olives and carton of French-vanilla creamer.
Some parents also use these sites to send out the Bat-Signal for their children. "There were definitely a lot of posts that said, 'My child has no friends,' and of course that's heartbreaking," says Ali, a Manhattan mom of twins. Dozens of parents responded to one such post, offering up their own kids for a playdate or suggesting that the lonely kid join a club. One shared an idea that worked for their daughter: "She organized a listening party to the Taylor Swift album drop in the fall and she brought back a game or two with the idea of throwing a game night??"
Ali says her daughter struggled a little last year, and yet, she tells me, "there's no way in hell I would have posted something like that. My children would be horrified." Ali is onto something: A recent editorial in The Tufts Daily called out "well-intentioned, extremely online parents" whose posts about their lonely kids are "a serious invasion of privacy" that impede the transition to adulthood.
Laurence Steinberg, Ph.D., a psychology professor at Temple University and the author of You and Your Adult Child, is sympathetic to the plight of parents of college-age children. "This generation has been very, very involved in their kids' lives from the get-go. I think it's hard to stop behaving that way," he says. "Many simply don't know what their kids' abilities are because they don't have a lot of evidence one way or the other." He believes Facebook groups can be helpful as long as parents funnel information they find back to their kids rather than acting on their behalf.
Nearly all the moms I interviewed were trying to find the line between helpful and harmful. When Ali's vegan son realized he'd been served non-vegan food in the University of Chicago dining hall, she passed along contact information for the higher-up he could notify, which she received from parents in the Facebook group whose kids had the same problem. Linda, a Philadelphian whose daughter is a senior at Harvard, virtually bonded with other moms through the online group and then connected with them in person at parents' weekend. "My daughter thinks it's nice that I made friends. But she didn't want to meet my friends' kids," Linda says. Amanda told her daughter that she was seeing posts about an uptick in crime close to campus ("Of course she's like, 'You're being ridiculous'"), and before the year started, she posted that her son needed a roommate, then let him scroll through the dozen or so responses to find one.
Jennifer, meanwhile, still hasn't quit the parents UW-Madison Facebook group. In fact, she tells me that since the pool noodle post, she also joined a parents WhatsApp channel for her son's fraternity, mainly to plan the frat's moms', dads', and parents' weekends. (Yes, there are three separate weekends, and moms are planning all of them.) But Jennifer keeps both groups on mute and has buried the apps on her phone. "Figuring out what I should do for my son and what he can do for himself has been a struggle for me since before he went to college," she says. "When I would get notifications, it would trigger my insecurity. I don't want to be reminded of the ways in which I'm not intervening."
Jennifer admits that the solidarity she found in the fraternity WhatsApp group helped her survive pledge season, and plenty of posts suggest that this function — virtual support group, commiseration — is a popular one as parents slowly realize their influence can extend only so far.
"I will say, this is by far the hardest thing I have experienced, letting him go … and I'm a recovering alcoholic," reads a recent post in a class-of-2026 group. "I sense his visits will be few as he continues his education and living the chapters of his story," reads another. "I'm going to be fine. I'm going to be fine."
The names of parent sources have been changed to protect their family's privacy.