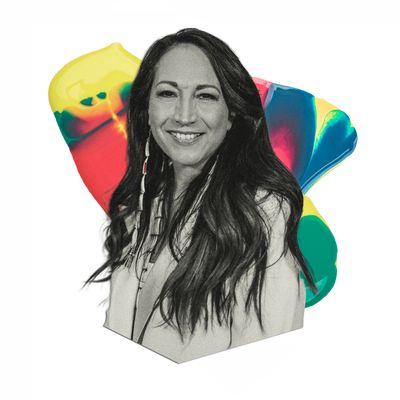 Photo-Illustration: by The Cut; Photo: Courtesy of IllumiNative
When Crystal Echo Hawk launched the Reclaiming Native Truth project in 2016, she was fed up with the racism that she experienced firsthand and watched her loved ones and community members encounter. It was the largest public-opinion research project ever done about Native peoples, and its standout conclusion was that the greatest threat to them is invisibility. That finding, along with conversations within her community, persuaded Echo Hawk to found IllumiNative, a Native woman–led nonprofit that works to dispute racist narratives about Native peoples and increase their visibility.
In her five years as IllumiNative's executive director, Echo Hawk has done this work through research projects, grassroots organizing, and programs supporting Native storytelling. Now she's preparing to launch IllumiNative Media, which will produce and finance TV and film. She also plans to hire a successor so she can step into a co-CEO role overseeing both enterprises. "I know what I'm really good at and what I'm not great at," she says. "There's been moments, because of my ambition or just how much I'm caught up in my work, that I feel like I've let life pass me by. And I don't want to do that anymore." Workaholism is an inherited trait for Echo Hawk, who comes from a Pawnee family of attorneys and nonprofit workers who've fought tirelessly for Native rights and self-determination. But having watched fellow activists, particularly women, face serious health issues, she's starting to prioritize taking care of herself, too. Echo Hawk lives in Boulder, Colorado, with her two cats. Here's how she gets it done.
On a typical morning:
I try to wake up around seven. For at least an hour, I ease into the day with coffee and my cats. I'm on my phone scanning the news: what's going on in politics, in Hollywood, any major Native American issues. A lot of times, this spawns a Hey, we need to go track this issue, or We need to reach out, or How do we want to address this? IllumiNative is known for rapid response, particularly when it comes to pop culture and politics. I'm also balancing that with reading my horoscope.
I usually don't do meetings before 10 a.m. I don't commute very far because I have to work from home right now. But we're going to be opening our new national offices sometime next year. I really thrive on having an office to go to. My cats love having me home, but I prefer to go somewhere else.
On a typical workday: 
By the time I'm starting my business day, it feels like it's Zooms every hour. Some days, I don't get a lot of breaks, and I'll be lucky if I get 15 to 20 minutes to grab something to eat. I'm usually sprinting through a myriad of meetings, and as the founder of our organization and the one that is most external-facing, I'm the one talking to a lot of our partners.
On her journey to founding IllumiNative:
I was an executive director for another Native nonprofit. I was burned out, and I was like, Get me out of the nonprofit industrial complex. I started my own consulting company, advising philanthropic institutions about how to make investments in Native American communities. As I was doing this work — but also throughout my career — I would think, God, people are so misinformed about us. We're either invisible, or we're these caricatures.
It was around 2015 that I started coming up with the idea. My daughter was starting middle school, and she has a traditional Dakota name. She started getting bullied, and teachers wouldn't call on her in class. I remember going in to talk to the principal, and my daughter was with me. The principal was like, "This is your fault for giving her that name. You should have given her an English name." Of course we switched schools, but after that, my daughter asked to be called by a nickname.
She went through a hard time, and as we were trying to access mental-health resources and different types of support, I remember being in these urgent situations with doctors and hospitals. They would be like, Oh, you must be unemployed. You probably don't have health insurance, do you? Are you an alcoholic? Are you homeless? It didn't matter how many times I would say, No, I have a great job and health insurance. They had me pegged as this deadbeat Native American mom, and my daughter was nothing.
I was wondering, why weren't we as Native peoples making more inroads? There's something going on here. We've got to figure it out. So I founded and co-led the Reclaiming Native Truth project. It coincided with the start of Standing Rock, and it took almost two years. We convened over 200 leaders across Indian Country to say, "Here's the research. What do we want to do with this?" Listening to all of their hopes and aspirations and needs, and to people in our community saying, You need to form an organization — that is going to take the research and find a way to make change — to have that kind of mandate was really powerful. I was like, Oh, man, I have to go back into the nonprofit industrial complex again.
On the moment she felt like she made it:
When the Washington football team changed its name and we were right at the center of it. Dan Snyder said, "Never," and every pollster told us we would never change this. We didn't do it by ourselves. I'm always telling people that we stand on 40-plus years of activism and organizing by incredible Native leaders, and we led a coalition of forces that got it done in 2020. I remember dropping to my knees and crying. It started to be proof of concept about our organizing strategy, building these big coalitions of not just Native Americans, but so many allies that stepped up with us too.
On advice she wishes she had at the start of her career:
One of my mentors, an elder named Judith LeBlanc, always reminds me: "Just try to be like water." When obstacles, those really intense challenges or awful people that you deal with, come up, find a way to shift and move around it. I really love that advice. I certainly have not come close to mastering it. Early on in my career, work was my identity. When things aren't going well, you can really do a number on yourself. I'm working harder not only to be like water, but to remember the importance of loving yourself, even when you're learning and you mess up. There's been moments in my career where I've hit such levels of stress, and now that I'm in my early 50s, I can feel it in my body.
On managing stress: 
We're on the front lines fighting racism against Native peoples. I get really nasty DMs and death threats. So with the intensity of the work, I will go in the opposite direction and turn on Housewives or watch a comedy and try not to take myself so seriously. I'm trying to get better about working out — I had an accident earlier this year. I'm looking forward to getting back to my yoga practice. I can't do hiking yet, but it's so beautiful here in Colorado. This weekend, I'm gonna go up and look at the leaves. I just moved back — I was living in Oklahoma for six years — and that's part of the stress relief now. Being in the mountains is really energizing and also soothing.
On dealing with criticism: 
There's the type of criticism where people don't like the way I look on TV or social media. I'm gonna tune that out. But I've been trying to be more disciplined about listening and being accountable to my staff and our partners. Sometimes, initially, I'll react, because my work is so deeply personal and intertwined with who I am. I'm getting better at taking a breath and trying to let it sit. If they're sharing with me, then I need to honor that and not be like, "Well, that's how you feel." I'm gonna own what I did, even if I don't agree with it necessarily. I'm a big context person: What's going on here that this criticism is coming in?
On ambition:
Ambition has become such a bad word, especially for women. I'm unapologetically ambitious. I'm not like, I need to have this title or make this kind of money. I want to see very big things happen, to make that change for our people. That's part of our mission statement, that we as an organization are unapologetically ambitious for our people. Women really get dinged for that, and I think it's so unfair. I think ambition, when it's not grounded in values and it comes at the cost of others, that's one thing. But when it's thinking about community and family, that's another.
On her relationship to work over the years:
At the start of my career, when I was single and didn't have a kid, work was everything. After I got married and had a kid, and for a few years when she was really young, it wasn't. Motherhood changes you. But after my divorce and becoming a single mom, there was a phase where I prioritized work too much. We've always been taught in my family that you work your ass off, and you suck it up, and everything's good, right? It was when my daughter had her challenges that I was suddenly realizing, There's so much I didn't see because I had those blinders on with my career.
Being more intentional about having dinner together or turning off the phones has made me a better mother. It's been interesting to become an empty nester. I don't want to fall back into that work-obsessed mode. I want to make space for joy and friends and family. And I want to get a little bit more focused and prioritize: Where can I have the most impact? Where do I bring my superpowers to bear? What's the stuff I can delegate?
On who helps her get it done: 
My daughter, first and foremost. Even though she's not here, we're constantly messaging and FaceTiming. My right-hand partner, Michael Johnson — right now he's our interim managing director, but he and I are going to be co-CEOs shortly — and all of our amazing staff. I have an executive assistant. Her name is Vi and she's awesome, whether it's those gentle reminders, like, "Hey, you gotta be at this meeting in 15 minutes," or helping me remember details. We have an incredible board. And I have my kitchen cabinet, different people in my life that have been mentors. I've got so much love and professional support; I don't do anything on my own.