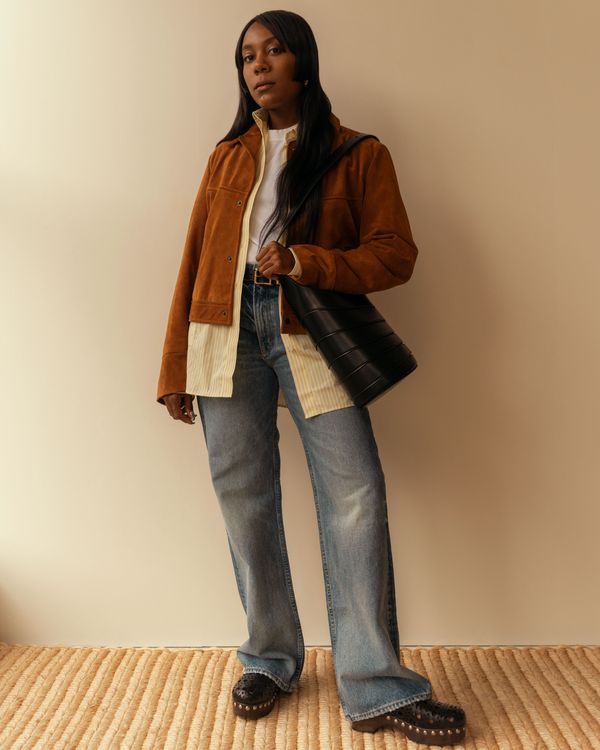 For more of the Cut's favorite fashion, beauty, and home finds, sign up for the weekly Cut Shop Newsletter.
Fashion has a habit of making the uncool cool. The latest uncool item to make its return? Clogs. Maybe they remind you of an art teacher in eighth grade or your mom in Dr. Scholl's. Either way, like many aughts trends, they're back and they're surprisingly easy to wear. The Cut's fashion director, Jessica Willis, shows us the anatomy of her outfit.
The Hero Piece: Not-Your-Mom's Clogs
These Alaïas have perforated calfskin leather in a geometric design and a block heel, which add a bit of flair to an otherwise orthopedic-looking shoe.
Add on a pair of boot-cut jeans
They have just the right amount of drape to show off your clogs. Willis opted for a pair from Nili Lotan with a light wash and a slightly looser fit that is not too baggy. If you want to lean into a style that shows them off, she suggests styling these with a midi-skirt and athletic socks.
Layer, layer, layer
Since it's fall, it's cold and rainy one day but hot and humid the next, so layers are an easy way to be prepared. Willis's layering formula includes a classic white T-shirt from Kallmeyer under a fall-toned button-down and a cropped suede jacket. "Adding a longer button-up under the cropped jacket helps to play up the layering," Willis explains.
Add a belt
Willis added a belt with gold hardware to complete the look and play off the hardware details of the shoe. "I like to make sure my waist is showing so my body doesn't get lost in the look," she says, "so the shirt is tucked into the pants and belt to give a waistline behind the layers."
Stick to your favorite jewelry
Something that will never fail you is simple, everyday jewelry, the pieces you grab on the way out the door. If you need suggestions, Willis added on Cartier's studded Clash de Cartier earrings in rose gold.
Grab a not-so-everyday bag
Keeping with Willis's philosophy of not treating your bags like they're precious and saving them for special occasions, she added this Alaïa bucket bag to the look. Made of strips of leather, the accessory plays off the texture and detail of the shoes. Unlike your average bucket bag, Alaïa's modern take is more of an oval shape so it fits comfortably on your side. It fits almost everything you need on a day-to-day basis (you might need to use your phone as a flashlight.) Hey, we never said style is only about function.
Get the Look
Here are four pairs of clogs to stomp into the rest of fall.
Along with some studded hardware, this pair features a buckle detail.
This all-black pair has a sleek pointed silhouette perfect for pairing with boot-cut jeans.
Opt for contrast stitching instead of studded details — it's slightly subtler but still makes an impact.
This convertible pair features an additional leather strap so you can go from mules in a pinch.