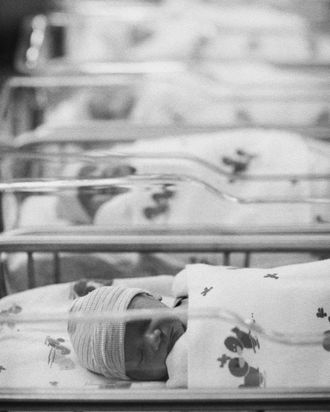 Photo: ER Productions Limited/Getty Images
For the first time in two decades, the infant mortality rate in the United States is up, rising 3 percent between 2021 and 2022. The data comes from a new provisional report by the Centers for Disease Control and Prevention's National Center for Health Statistics, which says that last year, 20,538 babies across the U.S. died before reaching their first birthday. The number is a worrisome indicator about the state of maternal health care in one of the most developed countries in the world.
"In a country as well-resourced as the U.S., with as much medical technology and so on, we shouldn't have babies dying in the first year of life," Arjumand Siddiqi, a University of Toronto professor who studies population health, told the Wall Street Journal. "That should be super rare, and it's not."
The report found that there were 5.6 infant deaths per 1,000 live births, up from 5.44 in 2021. While that degree of growth seems small, Danielle Ely, the lead researcher on the report, told the Associated Press that it's the "first statistically significant jump" since the 2001-2002 data period.
What's more, the mortality rate increased for almost every ethnic group, with deaths among infants with Black mothers remaining the highest, at 10.86 per 1,000 live births — nearly twice the national average, and more than twice the mortality rate for white infants. For babies born to Indigenous mothers, the death rate increased "significantly," from 7.46 infant deaths per 1,000 in 2021 to 9.06 deaths in 2022.
While infant mortality rates for the leading causes of death — maternal health complications and bacterial sepsis — also increased, Dr. Tracey Wilkinson, an associate professor of pediatrics at Indiana University School of Medicine and an expert on women's access to reproductive care, told ABC that she sees other factors contributing to the trend. Parts of the country with little or no maternity care partially account for the increased death rate, she said. And in the wake of Roe v. Wade's reversal, medically ambiguous abortion bans and shrinking access likely also play a part.
"Any pregnancy that is intended and planned tends to be a healthier outcome and healthy infant outcome," Wilkinson told ABC. "So, when you remove the ability for people to decide if and when to have families and continue pregnancies, ultimately, you are having more pregnancies continue that don't have all those factors in place."
Additionally, between maternity wards closing across the country and OB/GYNs leaving states with strict abortion laws to practice elsewhere, there could be fewer people qualified to care for pregnant women and their newborns. "Not to ding any of my colleagues," Wilkinson told ABC, but "emergency-room doctors and internal-medicine doctors are not experts in this field, but they might be the only people at that hospital when somebody presents in an obstetrical emergency."
The report also found that the death rate increased in more than 30 states, but four — Georgia, Texas, Missouri, and Iowa, all anti-abortion states that tightly restrict access to reproductive health services — had significant spikes, and rates only decreased in Nevada. Per CNN, experts will need to see next year's data to know if this year's is a blip or a sign of an "underlying health-care issue." Unfortunately, though, the answer to that seems self-evident.