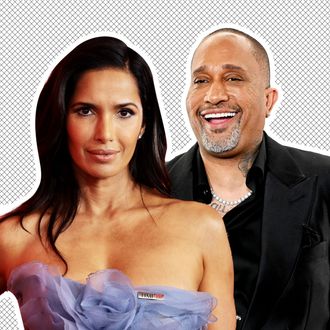 Photo-Illustration: by The Cut; Photos: Getty Images
You could do nothing but play Mad Libs for an entire year and I don't think you would ever come up with this pairing. Padma Lakshmi was photographed in New York this past weekend holding hands with Kenya Barris, the man behind Black-ish, Grown-ish, and that Netflix movie in which Jonah Hill and Lauren London share a CGI smooch.
The Daily Mail has the photos, which show Lakshmi and Barris walking to McNally Jackson. They held hands while crossing the street, which could mean anything. It could mean they've been seeing each other, or it could mean that he gets really scared while crossing the street. That part of Soho can be scary!
Barris is newly single after filing for divorce from his anesthesiologist wife last year. It was actually the third time the couple had filed for divorce, but while the two previous petitions were withdrawn, it looks as though it's really happening this time.
As for Lakshmi, she hasn't been linked to anyone since 2021, when she was spotted kissing the poet and MacArthur Fellow Terrance Hayes. The writer–model–TV host does seem to love a writer; she was married to Salman Rushdie from 2004 to 2007. Not many women can claim that they've dated a Booker Prize winner, a MacArthur Fellow, and the guy who wrote the remake of the remake of Cheaper by the Dozen.
Cuffing season can look like anything, which means it can look like two random famous people holding hands as they cross the street. Let's be thankful for that.