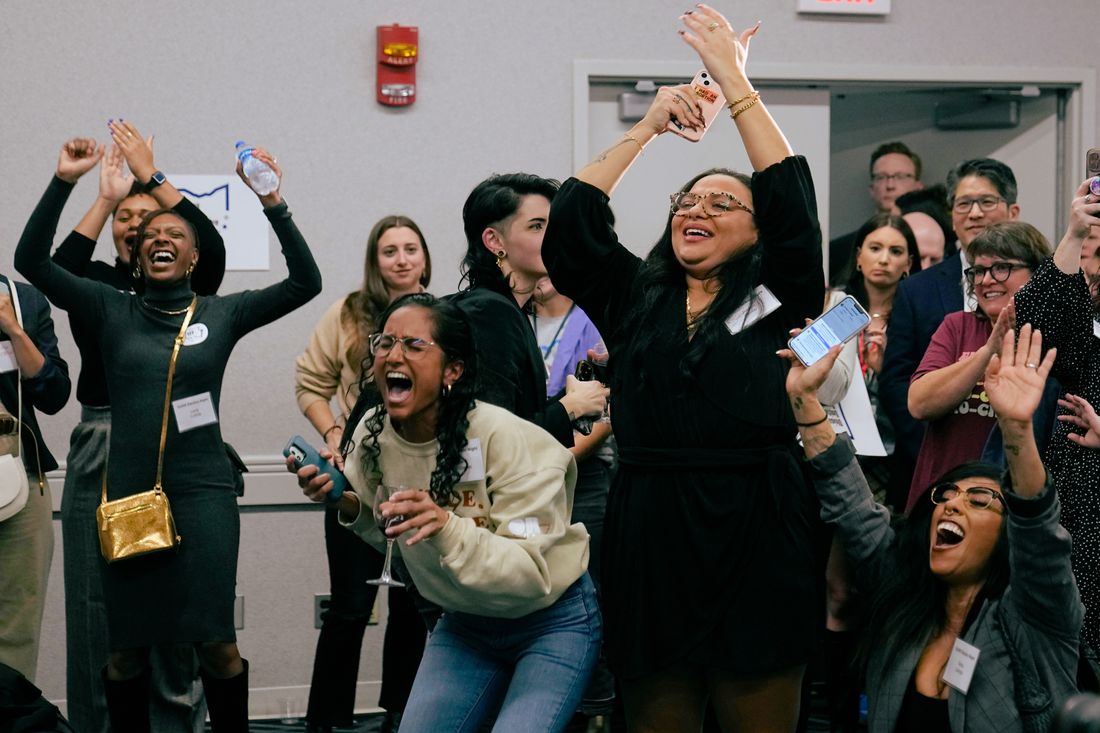 This article was featured in One Great Story, New York's reading recommendation newsletter. Sign up here to get it nightly.
Since the Supreme Court's 2022 overturning of Roe v. Wade, Democrats have pulled off unlikely victories — in red states and blue states; in oddly timed off-year contests; in places where inflation is high and their unpopular president is especially disliked — because of abortion. They've won state-supreme-court seats, legislative majorities, gubernatorial races, and an unbroken string of referendum votes on the issue. Most recently, on Election Day this year, voters approved a state constitutional protection of abortion in Ohio, rejected Virginia governor Glenn Youngkin's promise of a 15-week abortion ban, reelected pro-choice Democratic governor Andy Beshear in Kentucky, and chose a justice who vowed to protect abortion rights for Pennsylvania's supreme court.
The blunt-force message of this period could not be more clear: Abortion wins elections. So far, this revelation has been understood mostly as a serious problem for Republicans, who seem incapable of pivoting away from their rabidly anti-abortion base despite loss after loss. But regardless of the wins, it's not as though Democrats can coast. For while they have perhaps finally absorbed the basic remedial lesson — abortion wins elections — the danger heading into the federal crucible of 2024 is that the party will metabolize it only in the crudest form: Abortion wins elections. If, for years, my dismay was with Democrats who spoke about abortion as if they were Sam the Eagle Muppets — stilted and faintly put off — I now cringe imagining the party's 2024 slate of Animals, banging drums with ultrasound wands while chanting "Abortion!" over and over again.
This will not be enough. The party is on the correct side of an issue that Americans have shown themselves desperate to vote on. But many Establishment Democrats, especially at the national level, still don't seem to understand why the issue matters so much to so many — ignorance that is evident in the way members of the press and the political class have continued to underestimate voters' commitment to it. Democrats are now trying to add abortion ballot initiatives to every state they can but have yet to display anything beyond a superficial understanding of the connection between abortion and the rare trust they have gained from voters, who have poured out for them in record numbers since Dobbs — trust that could evaporate if they do not make plans to act on it.
Let's start with Ohio. This was not just one vote but two. Anti-abortion Republicans tried to stop the referendum by holding a summer election on whether to raise the threshold for a ballot initiative above 60 percent, thereby undercutting straight majority rule. Voters who wanted their vote to count in November had to vote in August first. Republicans worked to muddle things further by calling the August and November questions by the same name, "Issue 1" — so if you wanted abortion to be legal in Ohio, you had to vote "no" in August and "yes" in November.
Democratic strategists and pundits were worried: What if it was all too confusing? What if voters were daunted by this cumbersome process? But Ohioans were not confused, and they were not daunted. If anything, Republicans unwittingly drew a direct line between the right's attack on reproductive-health care and its willingness to break our electoral and governing systems in order to retain power.
What many Democratic officials have missed — even as they have strained to make voters care about the GOP's election denialism — is that the rollback of abortion access has made the right's threats to democracy transparent and that post-Dobbs elections have offered voters a means to fight back. That is a satisfying experience of democracy — to take a conviction to a ballot box and have it matter in an urgent, tangible way.
Michigan perhaps exemplifies this ideal for Democrats. Governor Gretchen
Whitmer, who initiated legal action to protect abortion in the state in advance of Dobbs, ran in 2022 alongside a ballot initiative and on an unabashed promise to protect access. Since winning a governing trifecta, Michigan Democrats have enshrined abortion in the state constitution, repealed a ban from 1931, and passed a Reproductive Health Act that removes some remaining barriers to abortion care. It's a virtuous cycle: Politicians made pledges, voters believed them enough to empower them, and the politicians followed through. "These are hard-fought victories on the ballot," says Whitmer, "but also hard-fought work on a legislative level. It's one thing to be on the right side of a fight and another to take the action after you've won the fight."
National Democrats, including Joe Biden, should take this to heart: Go beyond rhetorical enthusiasm, describe specific action they will take, then get to work — before getting elected — so they're prepared if they win.
Party leadership and strategists will be quick to point out that it's not so simple when it comes to federal elections. For one thing, there has never been a model for federal legislative action on abortion. Roe was decided in 1973, before a fight for federal legalization had begun to take shape. For another, there are many more issues on the table in 2024: As the New York Times' Nate Cohn noted in his dour postelection dispatch, "Tuesday Was Great for Democrats. It Doesn't Change the Outlook for 2024," low-turnout off-year elections, which favor engaged and ideologically driven voters, are not predictive for presidential years.
So yes: Getting millions of voters who will also be thinking about gas prices and the president's age to turn out for abortion rights will be trickier. And coming up with specific proposals, let alone passing legislation, is hard.
But hear me out: What if they tried?
"This is an issue that we have a 20-point advantage on with voters," says Deirdre Schifeling, chief political and advocacy officer for the ACLU, who is working with several groups on a campaign to protect abortion federally. "Candidates who support reproductive rights absolutely should be letting voters know that when they get elected, one of their first moves will be to legalize abortion across the country."
This is an affirmative promise Democrats can make: If they take back the House and keep the Senate and White House, they can pass federal protection for the right to abortion access across the country, effectively undoing the impact of Dobbs and re-creating on a federal level the virtuous democratic cycle that Whitmer has modeled in Michigan. But the work on that must start now.
They can also promise to preempt a national ban on abortions should Republicans win the White House. But as some have begun to say out loud, the right does not need Congress to further curtail abortion access. All it needs is a president venal enough to sign off on a reinterpretation of the Comstock laws — 1870s regulations that made it illegal to circulate material deemed obscene — that remain on the books and could bar the distribution of medication abortion (mifepristone) or even the transport of medical tools used in surgical abortions.
These last elections have demonstrated that voters simply "do not trust Republicans on abortion," as Vox's Rachel Cohen put it. They were not buying Youngkin's purported compromise of a 15-week ban; they saw through the language changes in Ohio that reframed a "fetus" as an "unborn child"; they have no faith in promises of exceptions for the health of the mother.
It is a wide-open door for Democrats if only they can walk through it with conviction, honesty, and the intention of actually delivering. As Jen Bluestein, a political strategist, said of the Ohio exit polling, which showed that almost every demographic, save for white men without a college degree, supported legal abortion, "When you have a moment that is as full of opportunity as those cross-tabs in Ohio show, it works in both directions: You can win big with those people and give them something that makes them trust you, or you can disappoint them by doing nothing, in which case you lose them."