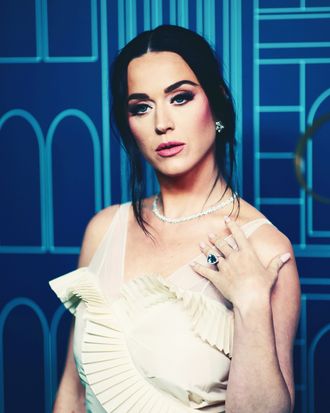 Photo: Dimitrios Kambouris/Getty Images for Tiffany & Co.
Let's say, for argument's sake, you forced a bunch of nuns to sell you a convent after they begged you in court to "please stop." Would you then, years later, insist on buying a house from an 84-year-old veteran who definitely does not want to sell it to you? For Katy Perry, it seems, the answer is yes. Eight years after she emerged victorious from a trial involving a group of aging nuns, Perry has won yet another bewildering real-estate battle. This one concerns Carl Westcott, the multimillionaire founder of 1-800-Flowers, who claims he was not of sound mind when he agreed to sell Perry his Montecito mansion in 2020.
Perry and her fiancé, Orlando Bloom, outbid journalist Maria Shriver for Westcott's home in 2020, and the elderly Texan veteran and entrepreneur signed a counteroffer for the sale in July of that year, less than two months after he bought it. At the time, his court documents argue, he was suffering from Huntington's disease, dementia, and fogginess from painkillers following back surgery and therefore "lacked the mental capacity to understand the nature and probable consequences of the contract." A week later, off of opiates and feeling more mentally sound, he told his lawyer he wanted to rescind the offer — but a representative for Perry had already signed, and the couple made it clear in a letter from a lawyer that they planned to make good on their decision. They finalized the $14.2 million sale in 2021, but no one has yet moved into the house. In August 2023, Westcott filed a complaint against the couple's business manager, Bernie Gudvi, seeking to void the sale contract.
During their three-week trial, which started in September, Perry's legal team argued that Westcott was coherent enough to pursue buyers via text and e-mail, conduct a bidding war, negotiate deadlines, criticize his agent's commission rate, and even organize a tour of his home around the time he signed the counteroffer. Westcott's sons — one of whom is married to a Real Housewives of Dallas alum — and doctors testified to his erratic behavior and declining health since his 2015 Huntington's diagnosis, adding that Westcott himself now lives at a facility in Texas with "full-blown dementia" that requires round-the-clock care. On Wednesday, the L.A. judge ruled that Westcott knew what he was doing when he signed the papers. His verdict will become permanent after a ten-day waiting period.
And yet this is not the end of Perry's campaign to seize the nine-bedroom villa that is legally hers. After Westcott sued her business manager, her legal team filed a countersuit seeking $5.9 million in damages: $2.7 million for a home she and Bloom had to rent and maintain while not being able to move into their new one, and $3.21 million for the profits they would have made landlording the property over the past two years. This, despite an emotional 2020 letter they wrote to Westcott claiming they planned to raise their new baby there. There is also the fact that Perry owns three ostensibly available properties nearby in Santa Barbara, but I guess they really wanted to be neighbors with Meghan and Harry?
Perry is expected to testify regarding all this and more at the damages trial in February. At least one person is amped to see her take the stand: Westcott's son Chart, who offered the New York Post a fiery statement following Wednesday's decision. "Katy Perry will now have to testify, in person, to receive her 'damages,'" he said, noting that he hopes she will be "confronted with possible sanctions for perjury." He continued, "We hope Ms. Perry enjoys her pyrrhic victory, as she explains to her fans about twice taking homes from the elderly."
Hard-core. What will the Montecito Mafia make of all this?