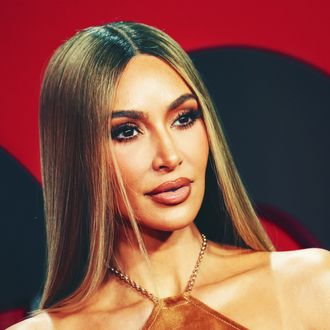 Photo: JC Olivera/WireImage
Kim Kardashian is many things: a reality-television star, a successful shapewear mogul, a mother to four beautiful children, and, most recently, she was named Man of the Year by GQ. If you were planning Kardashian's next move, what would it be? If you said anything other than "Star of a comedy film written by a lesbian couple," you'd be wrong.
According to Deadline, Kardashian is attached to star in and produce a movie called The 5th Wheel, written by the legendary former SNL writer Paula Pell and stand-up comedian Janine Brito. While no plot details are currently available, the movie is apparently a hot ticket that already has five studios fighting over it. You have to imagine that Kardashian is playing the titular wheel.
Kardashian is not necessarily the funniest of her sisters (that's Khloé), or even the funniest person in her household (that's North), but she does have a certain je ne sais quoi. Take, for example, her performance in the latest season of American Horror Story. She played Siobhan, a foulmouthed publicist hell-bent on getting Emma Roberts's character an Oscar. Here she is delivering a monologue:
She's funny! Even if you think she isn't, at least she is in on the joke. Whether or not she can do a big comedy performance is up in the air, but the prospect is certainly intriguing. Will this latest endeavor go the way of Skims and be a huge hit? Or will it be like her short-lived music career?