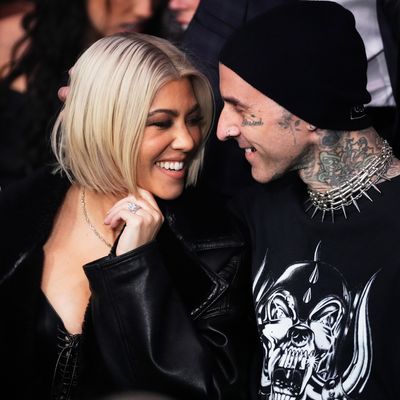 Photo: Jeff Bottari/Zuffa LLC via Getty Images
Over the past few days, multiple members of the Kardashian universe have been spotted outside L.A.'s Cedars-Sinai Medical Centers, prompting TMZ to speculate on Friday that Kourtney Kardashian and Travis Barker's baby may have arrived. On Sunday, People confirmed it: The couple welcomed their first child over the weekend.
According to TMZ, both Barker and Kylie Jenner were spotted pulling up at Cedars — the Kardashians' preferred hospital for labor and delivery — on Thursday. The timing made sense, given that Barker said on a podcast earlier in the week that Kourtney's due date was Halloween. He also revealed a possible name for baby Kravis: Rocky Thirteen Barker.
The couple announced the pregnancy back in June, when Kardashian held up a homemade sign during Blink-182's L.A. concert reading, "Travis I'm pregnant." The pregnancy was not an easy one for Kardashian. In September, the couple shared that they'd had a "medical emergency" requiring fetal surgery. "I will be forever grateful to my incredible doctors for saving our baby's life," Kourtney wrote in an Instagram statement. The pair have also opened up about fertility issues, chronicling their IVF journey in season three of The Kardashians before they eventually decided to stop. "I would love a baby more than anything, but I just really believe in what God has in store for us," she said of the decision. "If that's a baby, then I believe that it will happen."
In addition to baby Kravis, Kardashian has three children — 8-year-old Reign, 11-year-old Penelope, and 13-year-old Mason — with her ex, Scott Disick. Barker, meanwhile, shares two children with his ex, Shanna Moakler: 20-year-old Landon and 17-year-old Alabama. The couple have not yet shared any updates about their new son.
This article has been updated.