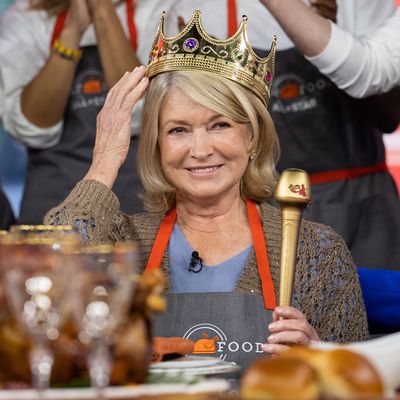 Photo: Nathan Congleton/Nathan Congleton/NBC via Getty Images
Thanksgiving is no longer canceled. Last week, Martha Stewart went on The Kelly Clarkson Show and said, "I gave up Thanksgiving. I canceled." Now she's walking it back. But why was she canceling in the first place?
"Nine guests canceled because somebody got sick," Stewart told Clarkson. "So I called up my chef friend and I said, 'We're not doing Thanksgiving.'" Not only did nine people flake, but Stewart has already cooked enough turkeys this year to put anyone off from the stuff.
"I've also cooked like 14 turkeys already for my TV show, and I still have to do one more turkey on the Today show," Stewart said. "So forget it."
However, two days before Thanksgiving, Stewart posted a letter on Instagram to clear up the situation. People thought she wasn't going to be celebrating Turkey Day at all, which couldn't be further from the truth.
While she won't be hosting, Stewart is still on the clock. Right this moment she is prepping 30(!!) pies and a 20-pound turkey, even though she had previously stated that she was "turkeyed out." Just when she thinks she's out, they pull her back in.
This post has been updated.