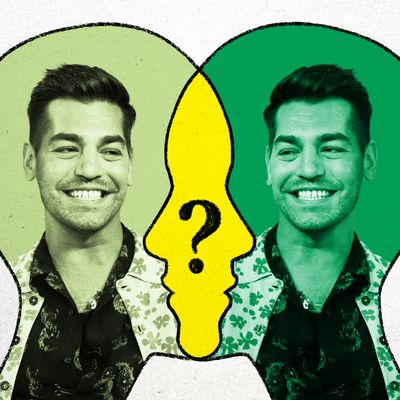 Photo-Illustration: by The Cut; Photo: Getty Images
Christmas may be the most festive time of the year, but some would say it is also the horniest. Just ask comedic performer Matt Rogers, whose new album Have You Heard of Christmas? is lighter on the wholesome vibe of Santa delivering toys across the globe and leans more into the sexiness of other Christmas icons, like Martha May Whovier and the Grinch.
Rogers, known for his work in Fire Island, I Love That for You, and his popular podcast Las Culturistas, co-hosted with his best friend Bowen Yang, is all about sticking the bit, and for him, the bit is Christmas. Fans of his podcast (better known as readers, Kayteighs, publicists, and finalists) know that Rogers has many "rules of culture," ranging from "spelling is subjective" to "you know hetero sex is good when it makes homos horny." With his co-writer Brett McLaughlin (who recently worked on Troye Sivan's Rush, under the stage name Leland), the performer created an album that mixes holiday cheer with the humorous aspects of the season through pop singles that showcase his rich vocals, whether alone or duetting with featured artists like MUNA's Katie Gavin or VINCINT.
The idea for a holiday album originally came to life as a special that aired on Hulu last winter, but Rogers tells the Cut he is not surprised he ended up turning it into a standalone album. After all, this is the same man who counts the Lonely Island and Rachel Bloom as his early comedic influences. But the biggest inspiration behind the Christmas album was, of course, the Queen of Christmas herself. "I have to tip my hat to Mariah Carey, who at the time of me developing my special, was fighting with the government about needing to trademark herself as the 'Queen of Christmas,'" Rogers says. "Christmas is always going to be monoculture, so I get to keep going."
When you wrote Have You Heard of Christmas, did you first imagine it as a show or an album? 
I literally started it as a joke. I was 27, and I was living in New York with my boyfriend at the time, Henry Koperski, a musician and musical director. I was watching an interview with Mariah Carey, and she was being complimented on not only how brilliant her Christmas content is but how smart it is to link herself to Christmas every year. I thought, That's funny to me, the meeting of capitalism and pop music and this holiday that's supposed to mean something to so many people, that's supposed to be religious in nature, but really, that's an afterthought. And I just thought about Christmas as a capitalist commercial, the Macy's of it all, and how funny that is. Something clicked. I was like, Oh, it would be funny if I said I was doing a Christmas album out of nowhere. So Henry and I created a show that simultaneously celebrated but also dragged Christmas.
Is Christmas your favorite holiday?
I mean, I guess. I'm from Long Island and Long Island is very Christmas culture. As soon as it gets cold, people are like, Oh here comes Christmas. Also, the way that you roll out a Christmas album, you have to start so early. Christmas takes up so much of the year in such a literal but also comical way. I can't think of another holiday that competes with it. It's like people being like, Who's the biggest pop star in the world right now? You could say someone other than Taylor Swift, but like, she is. Christmas is that girl.
Did you have any Christmas traditions in the Rogers household that you continue as an adult?
I don't know if people do this, but the stockings are always last. So it goes: wake up, gifts, breakfast, stockings. But you know what else I've started doing? I started making a holiday sangria. That's my contribution because I can't cook. I'm not necessarily a baker, but I am a creator in that I can make a good cocktail, and I found a really good recipe for a red holiday sangria. And it gets people fucked up too, which I love.
What is your No. 1 rule for being a pop prince?
Fearlessness. My last week of recording the album was also the week that "Rush" was coming out. Troye Sivan was around the entire time and would come in and listen to cuts of my album. And he said to me, Wait, is it okay with you that I'm doing this? I was like, I guess if I can't do it in front of you, there's literally no reason for me to do it. So in that way, I learned that this is really a vulnerable thing, putting out music, but also stepping into this persona of a "pop star." In order to have people buy your fantasy, you have to believe in it yourself. I would just give this version of me releasing an album the same advice I would give any young comedian, which is to just go for it. Don't think about it. Have fun with it. Because the second you start having fun, that's when everyone else has fun.
What did Troye think of your music? 
He loves it. He called one of my songs "diabolical." It was major.
What's your No. 1 rule for meeting other famous people?
I try not to do too much, but I also like to try to let people know what I know because I really can't hide at all. I'm one of those people where everything is screaming off my face. So if I meet someone and I'm a fan of them, I just try to tell them I love what they do. But it's interesting that you phrase it like "other famous people." I don't really even know what space I occupy in that. The other night at a MUNA concert, a bunch of my friends were with Brittany Snow. I said, "Hi, I'm Matt. It's so nice to meet you, Brittany," and then I just walked away, and the date I was with was like, "That was Brittany Snow." I was like, "I know, bitch." But then I turned around like, I wonder if she knew who I was? That sounds like such an uncool question, and then you just judge yourself, like, of course, she doesn't know who you are. I guess it's possible that she did. So I'm in this place right now where I don't ever assume anyone knows who I am. I just call myself a gay notable.
What is your No. 1 rule for giving gifts to someone you just started dating?
Small, don't be too big. Because if you break up with them and then they have this nice gift, it's awkward. I have an ex who gave me a really nice gold chain, and I can't get rid of it because it's expensive. But it reminds me of him, and it bugs me a little bit. So, small gifts in the beginning.
Do you give a gift to someone you're just casually seeing or having sex with?
No, no. The only gift I will give to them is my body, time, and hopefully, orgasms.
Can you swipe on dating apps on Christmas or is swiping on Christmas a no-go?
You for sure can swipe on Christmas because Christmas is one of the horniest times of the year. I talk about it in my song "Also It's Christmas." It's a terrible time to navigate hooking up, but it is one of the horniest times of the year, and I think because you end up making plans with people who maybe you've always wanted to hook up with. But when you're with your family for like 48 hours, and you're going stir crazy, that's when you get on the phone and start sending some texts. There was this hot guy I always wanted to hook up with, and I think he was bored at home with his family and was texting me a lot, and then eight months later, we had sex. So you plant the seeds during the holidays, and then it happens at some point during the calendar year.
Do you think it's okay to ghost after one date?
I think ghosting after one date is fine because all you gave the person was that one thing. This thing with anti-ghosting, it's like, you don't know what the date was like. It's actually my time and my decision and after one date, that feels fine.
If you could have any holiday-themed guest on Las Culturistas, real or imaginary, who would your dream guest be?
Mrs. Claus. I have a song on my album about this called "Every Christmas Eve" where I explore her perspective. It's Taylor-coded, and we were very inspired by "Wildest Dreams" when we were writing about a woman who knows her husband is lying to her. There's no way that he's going to every house in 24 hours on Christmas Eve. It would be impossible. "Where do you go when you leave?" she asks. I would love to make her feel celebrated. I would love to hear the culture that made her say culture was for her and hear what she doesn't think so honey, because I feel like we don't ask enough questions. She is this figure in the Christmas culture that we celebrate, but what do we know about her? Do we ever ask questions?
I was hoping you'd say Mrs. Claus. And speaking of I don't think so, honey, do we have time for a holiday one? 
Real quick. I don't think so, honey: People not being creative about what is on the top of a tree. It feels like it has to be either a star or an angel, but no babe, put your favorite pop diva up there. Get a ceramic Mariah Carey and let her be your angel. Also in general, if we're gonna put things on top of our trees, I don't think so, honey: stars. I think we should be erring more on the side of angels. Let's celebrate the women of Christmas. Like I said earlier, maybe it's not Santa, maybe it's Mrs. Claus or Mariah herself or Sarah Jessica Parker. Let whatever on the top of your tree be a conversation starter. You could have something really interesting up there instead of a star or an angel, and then you have something to talk to your relatives about who you don't like. Maybe it's a unifier. Maybe it is a political statement. I don't think so, honey: missing this wasted opportunity.