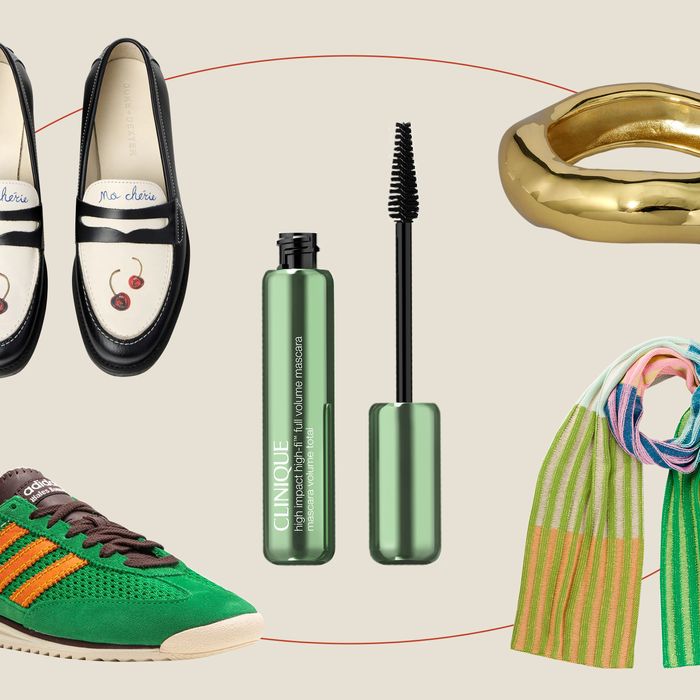 Photo-Illustration: Samantha Shin
People can sometimes misunderstand maximalism as a cluttered, overwhelming lifestyle, but that's not always the case. While minimalists prefer simplicity, maximalists lean into exaggerated abundance. They're hedonistic in the best way: They seize the things that bring them joy, despite how loud, offbeat, or eccentric they may seem to other people. They're not here to fit in with everyone else — standing out is what maximalists do best.
So what do you get someone whose entire style and aesthetic is big, bold, and admittedly, hard to one-up? Finding a gift for a maximalist may be difficult, but not impossible. Ahead, we've rounded up the conversation-starting gift ideas fit for the most abundant, slightly chaotic person in your life.
If Winter Is Unironically Their Favorite Season
One can never have too many scarves — at least that's what a maximalist would say. The color-blocked stripes paired with the oversized style is a match made in excessive heaven.
For the Quirky Host
A true friend of a maximalist knows that they'd never serve dinner party guests on mundane crockery. Their tableware must look equally luxurious and quirky, like a platter hand-painted with mollusks and lemons.
For the Budding Mixologist
To the average person, these cocktail classes may look mismatched. To a maximalist, they're complementary — and perfect for the person just starting to build out their bar cart.
If They Live by To-Do Lists
Maximalists enjoy the unexpected; commonplace items, such as plain sticky notes, will never have a home on their desks. However, these cheeky notepads titled with bold black script and sassy messages will.
For the Party Starter
You can presume that a maximalist who likes to stand out in a crowd are extroverts. If they're not hosts of a party, then they'll be the entertaining guests at the center of it playing games like this that avert a lull in conversation.
For the Friend Group's Designated Makeup Artist
Subtle is not in a maximalist's vocabulary. Everything in their life is larger than life and impossible to ignore, and that includes their makeup. This new ultra-pigmented, fiber-infused mascara makes getting dramatically dark and volumized lashes easy.
For the Music Snob
When a maximalist has a hobby, you're going to know about it. Music lovers, for example, won't dare to play their extensive vinyl collection on a small shoddy turntable. Their Victrola will be noticeably first-rate, colossal, and undoubtedly the centerpiece of their home.
If They Love Statement Jewelry
Your ostentatious friend wants stop-and-stare jewelry — and we're certain these statement earrings will inspire exactly that reaction. In fact, it's what this independent jewelry brand is known for: The resplendent, glamorous pieces are designed to stand out and inspire the inevitable question, "Where did you get those?"
For the Weekday Commuter
So your maximalist friend has to go back into the office, but they tossed their work bag ages ago. Offer this giant striped tote (mostly made from recycled materials) as a replacement.
For the Candle Connoisseur
An ornamentalist probably owns plenty of candles that smell good; now, they need candles that look good. This striped technicolor set is made to produce conversation, not fragrance.
For the Ring Stacker
A maximalist never overlooks the details, and that includes rings. A ring may be the smallest accessory they own, but it should still pack a punch. This Donni ring subverts the idea that pearls can only be worn around the neck — they can look just as good stacked on a finger.
If They Can't Stand a Basic Puffer
To someone who sees life as a Fauvist painting, a long black puffer coat is hideous. It's a pervasive seasonal staple, but the doughy basic style is their nemesis. It doesn't even really matter that their winter coat keeps them warm, as long as it looks like the heirloom they inherited from a wacky grandma.
For the Friend Who Prefers Colorful Gemstones Over Diamonds
Did we all have that friend who regularly wore costume jewelry as a kid? Well, that person grew up, became a maximalist, and probably owns a few rings like this. They don't want traditional — they want bands made of precious metals and gemstones that are, as the jewelry designer says, "chaotically and intuitively" made.
For the Fashion Historian
This corn-colored jacket covered in hand-drawn illustrations uses a technique inspired by senior cords, an early 20th century tradition that started at an Indiana university where seniors would decorate their own corduroy garments with personal motifs and memories — like a yearbook. Bode's fashion-forward take on the trend may be pricey, but it's exactly the kind of gift your friend could put in their will one day.
For the Matchbox Collector
Lighters may come in all sizes and colors, but they're not nearly bold enough for a maximalist. Even if there's no use for them, a knickknack enthusiast will love these ornately-designed matchboxes solely because they make a pretty display piece.
For the Regular Napper
A plush, cozy, whimsical throw blanket that's also oversized and covered in colorblocked stripes? Order it — immediately. Come to think of it, maybe you should order one for yourself, too.
If They Spend Too Much Time on TikTok
While some charm necklaces can feel juvenile, this unusual take on the trendy style is unlike anything you've seen go viral on TikTok. The braided, gold-framed stones and Champagne rice pearls are an unlikely pair that somehow look elevated and, well, grown-up.
If Their Personality Is Defined by Their Time Abroad
Most people go to Paris and try to adopt the city's signature understated, effortless style. This maximalist wants to put their Francophile attitude on full display. Instead of a beret, get them these Italian leather-lined penny loafers decorated with cherries and a delicate script print that reads, "Ma cherie."
For the Jewelry Sybarite
When a bracelet looks like it belongs in a museum, you know it belongs to a maximalist. This domed bangle made with molten 14-karat gold-plated metal is no exception.
For the Sneakerhead
The SL72s were originally made to be sleek and straightforward — after all, they were crafted for Olympians who were more focused on earning a gold medal than standing out. But this updated look — the charming emerald green, imposing orange stripes, and matching brown tongue and laces — was created to be kitsch, not practical. It's the maximalist ideal.
This advertising content was produced in collaboration between Vox Creative and our sponsor, without involvement from Vox Media editorial staff.