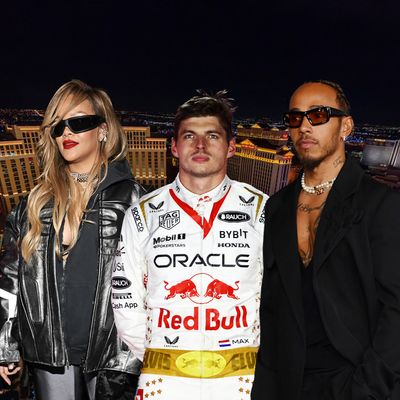 Photo-Illustration: by The Cut; Photos: Getty Images, Courtesy of Rolex
We were all a little off on the first day.
None of the drivers had driven on this new track, the race started at 10 p.m., and, well, it was Las Vegas. Eight minutes into practice, Carlos Sainz Jr.'s Ferrari hit an exposed drain cover, the car started sparking, and the competition was done. Yes, I'm talking about my pit stop at the Formula One Grand Prix.
Formula One has always been a global cultural phenomenon, but it has gained recent popularity in the United States, partly due to the Netflix series Formula 1: Drive to Survive. And at the first Las Vegas Grand Prix in over 40 years, F1 fandom was on full display. People wore merch from teams like Ferrari and Alpine, whose apparel was plastered with large Palace logos; there were plenty of fully sequined jackets and baseball caps. On the paddock, which is where the drivers make their walk to the track, fans waited to swoon over drivers like Red Bull's Max Verstappen, Mercedes's Lewis Hamilton, and AlphaTauri's Daniel Ricciardo. (I, personally, was waiting for Rihanna.)
By Saturday night, the drain cover was fixed and the race went on. Verstappen won, with Ferrari's Charles LeClerc coming in second. But beyond the final result, what I took away from the weekend is that — surprise — women really like fast cars too. And many are interested in this sport beyond looking at the thirst traps.
I attended the race with Rolex, an official sponsor that supports many of the F1 drivers and teams. I discovered that although F1 was originally marketed to men through tobacco sponsorships and an overall macho attitude, everyone kept talking about needing more women involved in motorsports. Not just women drivers, but mechanics and team members, too. It feels obvious to say more women should be involved in any sport, but there are no women drivers in F1 — and some, but not many, women work on the teams' pit crews. According to an ESPN report from 2021, out of Mercedes's 1,000 crew employees, 117 are women; out of McLaren's 66, five are women; out of Haas's 167 employees, 15 are women. Red Bull, Ferrari, and Williams did not comment on ESPN's survey. The one team with a noticeable amount of women in the pit, including partner manager Pauline Tagneres, was Alpine, which holds investments from Ryan Reynolds and other celebrities.
Jamie Chadwick, a British driver who races for Andretti Autosport in a series called Indy NXT, spoke candidly about this issue. She also works with Rolex and admitted that while the environment has gotten better for women, there is still a dire need for more women in the sport. Chadwick won the W series, an all-female single-seater racing championship, three years in a row until it ended in 2022, and in many ways, she is the future of women in sports. "It's changed massively," she said. "When I got into the sport, there were already some opportunities, but they were few and far between and very, very few role models." Her role model? That would be Susie Wolff, a former professional racing driver and current managing director of F1 Academy, which is a brand-new, all-female single-seater racing championship founded by Formula One.
It's not just the newcomers calling for more gender equity in the sport, either. British former Formula One legend Sir Jackie Stewart, who also is a Rolex testimonial, agreed with Chadwick, telling me, "We've never had so many women in the sport." He wasn't just referring to drivers, but also mechanics, engineers, and team members. "But we need more." That is something we can all get behind.