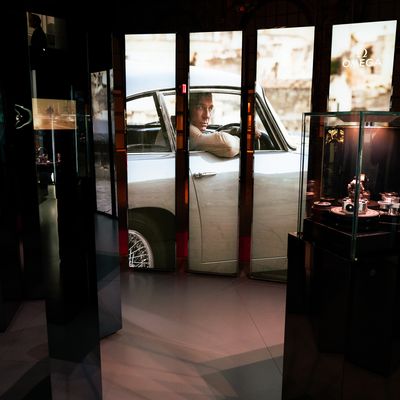 Daniel Craig's Seamaster Diver 300M 007 on display at "Planet Omega."
Photo: Courtesy of Omega
Daniel Craig wanted a watch so light that he wouldn't feel it. He does all his own stunts, so it makes sense — this was for his role as James Bond in No Time to Die. Omega, the watch brand that has created all of the character's watches since 1995, accepted that challenge and created the Seamaster Diver 300M 007. Made out of titanium, it weighs only 93 grams and looks like the coolest gadget you've ever seen. That Omega watch and many others — including the watch worn in 1969 by Buzz Aldrin while on the moon — are on display at Omega's exhibition "Planet Omega" through November 19 at Manhattan's Chelsea Factory.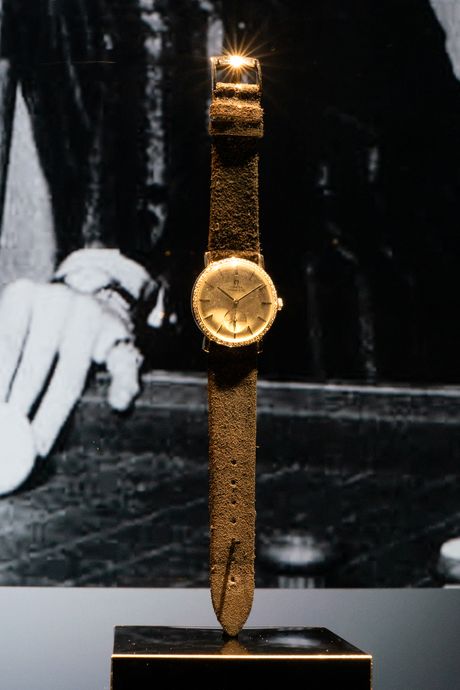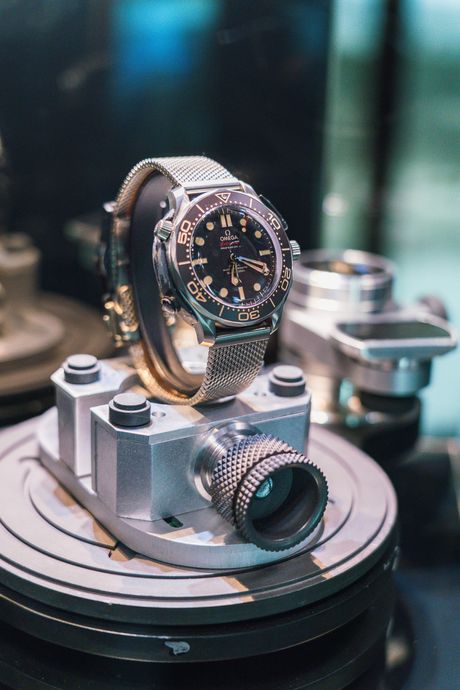 The exhibition is broken into six distinct sections that showcase the brand's relationship with space, sports, and the sea, including a Seamaster Ultra Deep watch, which reached the deepest point ever recorded in the ocean. The show takes us all the way through Omega's history up until where we are today: 261 days away from the Paris Olympics, for which Omega is the official partner, outfitting athletes and scorekeepers with the incredible precision of its patented Spirate system, which allows people to distinguish a millisecond difference between a gold or silver medal.
Visitors to the historic space (which was once Annie Leibovitz's studio and loft apartment) will first be greeted with a watch worn by John F. Kennedy, given to him by his friend Grant Stockdale, who added the engraved words "President of the United States John F. Kennedy from his friend Grant." But the story goes that Kennedy hadn't yet been elected president. So maybe Stockdale was psychic? Kennedy wore the piece to his inauguration in 1961. Next up, a watch worn by Elvis Presley in 1960 that was a gift from RCA Records. The watch features 44 brilliant-cut diamonds on the bezel, and on the back it reads, "To Elvis, 75 Million Records, RCA Victor, 12-25-60." But perhaps the most interesting piece in the show is a 1955 Ladymatic watch. The piece is considered to be "a revolution in women's watchmaking." At the time, it was considered rude for a woman's watch to actually show the time. Most of the watches included a flap over the dial because women didn't really need to be anywhere, right? This watch was different because it showcased the dial, which was very progressive at the time.
That kind of forward-thinking vision is present all throughout the 35-piece exhibition, which will appeal to luxury watch-heads and non-timekeepers alike. Because who wouldn't want to look — and feel — at least a little like James Bond? Or, you know, make a bunch of men upset with just the flick of your wrist.