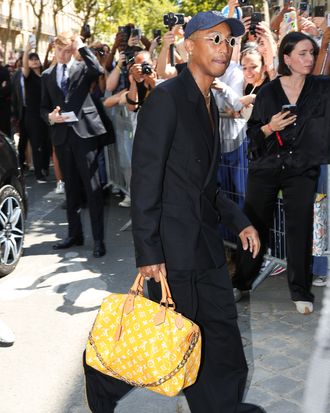 Photo: Jacopo Raule/Getty Images
In the era of peak quiet luxury, Pharrell is being audacious at Louis Vuitton: His crocodile-leather rendition of Louis Vuitton's classic Speedy bag will set you back about $1 million.
Pharrell was announced as Louis Vuitton's men's creative director earlier this year, succeeding Virgil Abloh, who died at the age of 41 in 2021. In June, Pharrell held his debut show in Paris, the design of which was inspired by Minecraft. His first campaign also released this June, with none other than a pregnant Rihanna donning colorful Speedy bags. Pharrell himself also walked the streets of Paris wearing the new colorful bag, dubbed the "Millionaire" Speedy for obvious reasons.
The made-to-order bag isn't even available for purchase yet, and it's already receiving criticism for the cost and the materials used. (Allegedly, Lisa Lange, the senior vice-president of PETA, sent Pharrell a letter inviting him to tour a crocodile farm.) Though the use of animal skins isn't new — and neither is PETA's anger toward luxury fashion, specifically LVMH — the allegations of the fashion house's mistreatment of crocodiles in that PETA letter, obtained by TMZ, are especially shocking. As for the price of the bag, which was posted by NBA player P.J. Tucker, well, who is spending $1,000,000 on a purse?