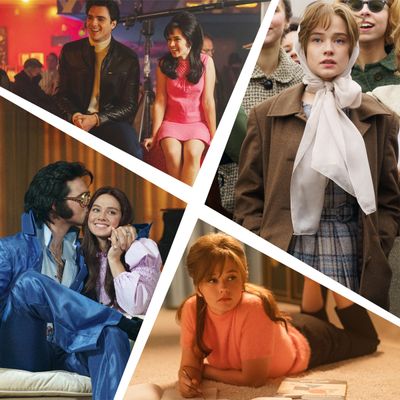 Photo-Illustration: by The Cut; Photos: A24
For more of the Cut's favorite fashion, beauty, and home finds, sign up for the weekly Cut Shop Newsletter.
If there's a story that filmmaker Sofia Coppola knows how to tell, it's that of a complicated young woman — especially when that young woman grows up under the influence of an older man. But with variations on themes from her previous period pieces, like Marie Antoinette and The Virgin Suicides, Coppola's latest feat feels like a much more modern tale of royalty and romance.
Priscilla is less about the King of Rock and Roll's music, and more about his relationship with Priscilla Presley, told from her point of view (and based on her memoir, Elvis and Me). Instead of shying away from the messy details of the love story, like their ten-year age gap, Coppola's film wants us to understand what the whirlwind of falling in love with an icon must have been like for such a young girl. This film, unlike Baz Luhrmann's flashy Elvis, depicts Elvis (played by Jacob Elordi) as a controlling partner, criticizing Priscilla's (played by Cailee Spaeny) actions and her appearance, and the sinister undercurrent of an adult grooming a child almost overpowers the youthfulness emanating from the candy-colored pastels and plush teen-bedroom surfaces. According to the film's costume designer, Stacey Battat, the musician's controlling personality also informed how she wanted to curate Priscilla's wardrobe. "We did want to progressively age her character, but also progressively show her being someone who's influenced by Elvis and someone who's coming into their own," she tells the Cut.
Battat has collaborated with Coppola on over six films, including Somewhere and The Bling Ring, and with Priscilla, she presents a fashion lover's paradise. But the film's wardrobe was limited, at times, by history. "When I work with Sofia, we work within a color palette. So because of the confines of it being a specific time period and also having our color palette and wanting it to stay kind of accurate, we ended up making a lot of the clothes," she says. Some of the makers? Chanel, Valentino, Anna Sui, and Fabrizio Viti, the shoe designer for Louis Vuitton, to name a few. If you wanted to dress like Priscilla, it wouldn't be a cheap feat.
While Priscilla lives at Graceland, Elvis is depicted as trying to dictate her every move, including how she dresses. Once their relationship begins to fall apart, you can start to notice Priscilla rebelling against what Elvis wants her to wear. She doesn't go as far as to wear something flashy from the time period like Pierre Cardin, but she does begin to embrace prints and pants, forging her own sense of style. If you're looking to dress like Priscilla, we've got you covered with some options below.
Before Graceland
When we meet Priscilla, she's sitting at a soda fountain counter on an Army post in West Germany, doing her homework. An older gentleman approaches the young high schooler and asks if she happens to like Elvis Presley. The answer is obvious, and so the story begins. At 14, she's invited into Elvis's circle of friends, unsurprisingly to her parents' dismay.
These scenes in Germany serve as an important launchpad for the relationship between Priscilla and Elvis. Her placement in early high school adds to the unease you feel watching their ten-year age-gap relationship begin, even though the two share nothing more than a kiss. Elvis was already a major star by this point, but Battat wanted the costumes of this time to show their similarities rather than their differences. In order to make them seem more alike, she ended up removing a sailor dress that Priscilla had written about wearing in her memoir because "it looked very young."
While she was very young, Battat explains further: "Even though there was an age difference, there was a commonality between them. Part of what made her fall in love with him and part of holding the story together was that he was so vulnerable in Germany. He was away from home and confided in her and she was also vulnerable. She was 14, but the nature of their relationship was one in which they were confidantes."
While this is something the teens of today are wearing, Priscilla actually did wear a piece like this one in high school.
Based on an archival photo of Priscilla waving goodbye to Elvis in 1960, Battat re-created the dress and the scarf, replicating the look to near perfection down to the way Priscilla tied her scarf. Her clothes in Germany were more girlish and unassuming, with fuller skirts and varying silhouettes. The mood and weather in Germany at the time was darker than in Memphis, and those shades play into the colors of Priscilla's wardrobe with almost everything having "a little bit of gray in it so that it always feels like it's dustier."
In school, Priscilla sports a number of sweaters that were custom-made by Eolas. "I chose all those colors and we designed those sweaters based on the specifications of it being 1959," Battat explains.
During Graceland
The majority of the film takes place during Priscilla's time at Graceland, where she moved before graduating high school to live with Elvis and his father. When she steps into the public eye as Elvis's girlfriend, we begin to understand the isolation that she felt as a girl in that mansion in Memphis. There were several historical photos of this period to reference, as well as Priscilla's own words about her life then, but Battat also had to infer what Priscilla might have worn in the house, outside of the public eye. "You use the things that are historical as punctuation marks and then fill in the gaps based on other references," Battat says. Her references included issues of Vogue and GQ from that time, as well as visits to a textile library to browse fabric books.
"There was an attempt to understand who they were in their private lives. I know Elvis never left the bedroom without being fully dressed, and I assume because she was pleasing him, that Priscilla did the same," says Battat. "She didn't come down the stairs in sweatpants. And if you watch the movie, the only time you ever see her wearing pants is early on in the '60s when Elvis is away. She's lying on a rug doing her homework and wearing a fuzzy sweater, but when he's there, she's always dressed."
The King of Rock and Roll had high expectations for how his queen was to dress, almost like the first iteration of a modern-day Kanye West and Kim Kardashian. "A lot of that came from the book," Battat says. Priscilla wrote that Elvis did not like brown and did not like prints, and Elvis says as much in the film. These are two styles Priscilla was expected not to wear, whether she was around him or alone.
Like most of her attire of this time, Priscilla exclusively wears light pinks and other pastels. This piece is similar to what she might have worn early on in her time at Graceland since it seems fit for a younger wardrobe, and Maje features a lot of silhouettes and styles that feel very Priscilla-esque today.
Nearly every dress in the film was custom-made, so finding pieces for Priscilla to wear was more about matching the similarities to a historical item and less about choosing something identical. Priscilla often sported dresses with this style of buttons.
Bows are everywhere in Priscilla's wardrobe, adorning her shoulders or added to the front of her shift dresses.
Even though I think this Gucci Double Embroidery coat would be more her speed price-wise, this Guess wool coat has the look of luxury that Priscilla aims for in the one of few times she's not shown in a shift dress.
After Graceland
The film barely covers Elvis's time in Vegas, let alone Priscilla's life after their divorce. Instead, we get a glimpse at when their marriage began to unravel — and her style started to evolve. It starts with the Presleys's famous 1970 family portrait, in which Priscilla wears a lavender blouse and deep-purple trousers.
"That photo was very informative to me about what the visual difference of their separating paths look like," says Battat. "When I see that photo, first of all, she seems very uncomfortable. And secondly, he's so elaborate there. He's got a staff, big jewelry, exaggerated color. He has sunglasses on, more makeup, and bigger sideburns. She's got less makeup and less hair and simpler clothes." This is the beginning of Priscilla's life after Graceland, when she strips down and he dresses louder.
This top is not exactly like the one Priscilla wears (the wardrobe department custom-made the one in the film), but it's close enough. There are also other options from H&M and NA-KD. It's a great transitional piece because the color palette is similar to what Priscilla wears upon arrival in Graceland, but paired with pants, it veers away from her typical dress.
Priscilla transitions to wearing pants during this period, though they remain fitted and flared rather than the looser trousers we see today.
Priscilla's final look in the movie is a pair of trousers and a white blouse. It's the most masculine ensemble we see her wear the whole film, but like this button-down, it has light and feminine features. As for this being her final look, Battat says, "I wanted her to feel authoritative, like she was a woman who knew what she was doing, and having her be in a suit just felt right. It feels like she is making the decisions now."
Other Priscilla-esque outfits Elvis would probably hate
In the film, Elvis is ruthless when telling Priscilla how he feels about her clothes. During one scene, he accosts her in the bedroom for wearing a short red dress with long sleeves: "It does nothing for your figure. You're a small girl," he tells her before she slams the bathroom door shut. In real life, the musician didn't like browns or patterns, and he also wanted Priscilla to have darker hair and wear more eye makeup. If that scene is any indication, he probably would have strong feelings about how most women dress today.
When I asked Battat what type of clothing she thinks Elvis would hate, she took almost no time at all to respond: "Ganni." What a punch to the heart. "Are we allowed to say man repeller still? You know the style of women dressing for themselves, like dresses with sneakers … he was not into that. He's not into Phoebe Philo for Celine, or COS, or the Frankie Shop." I hesitate to entertain the thought of what Elvis might say about women who wear nap dresses!
This has both brown and prints. Sorry, Elvis.
Denim maxi skirts are all the rage but do "nothing" for your figure. A strike for Elvis, I would presume.
Since Elvis never left the bedroom underdressed, I can imagine he would not appreciate this pajama set that is supposed to be worn out.