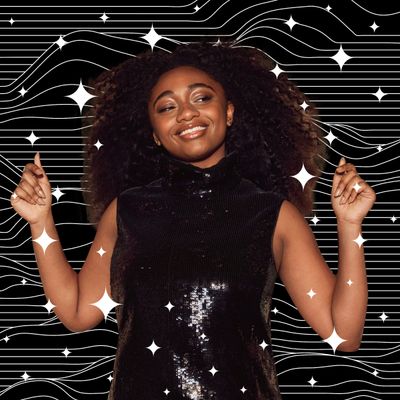 Photo-Illustration: by The Cut; Photo: Theory
In April 2023, New York Magazine celebrated "It" girls: who anointed them, what it was like to be them, and where they are now. Follow along as we continue that celebration by interviewing musicians across genres who we think have "It."
"My voice is like my power," musician Samara Joy tells me. "I feel so much like myself when I'm onstage and I'm singing or I'm singing with my family. That's when I'm able to connect with my truest self."
Born Samara Joy McLendon, the 23-year-old two-time Grammy-winning jazz musician is confident in the strength of her vocals, but she isn't one to let herself wind down. When we spoke in October, she was supposed to be taking a day to relax in Monterrey, but in reality, she was already thinking ahead to her many upcoming projects, including a tour with her father, uncle, and cousins in December (they all perform together), a solo tour across Europe, and the release of A Joyful Holiday, her five-song Christmas EP. Releasing a Christmas album wasn't something she had planned for, but she says she relented after a lifetime of people telling her that her voice was made for Christmas.
Her voice has even become so associated with the holiday season that she recently partnered with Theory for a holiday fashion campaign inspired by jazz stars of past generations, like Billie Holiday. Her looks for the campaign include a structured black pantsuit, a black-sequined midi dress, and a white minidress, all ideal for end-of-year celebrations. "It's very luxurious," Joy says about the collaboration. "There was this double-breasted blazer dress that I felt like an 'It' girl in. I really felt like if I stepped out in tennis shoes or in heels, that blazer dress was 'it' for me."
What do you think makes someone an "It" girl? 
Somebody that has so much inner confidence in themselves that it just exudes off of them. It's not in the clothes, 'cause you can tell when somebody is putting on airs to cover up whatever is inside of them.
Who are some "It"-girl musicians who inspire you? 
Jill Scott, Abbey Lincoln, Victoria Monét, and Cleo Sol. Every time I hear Jill, her lyrics and everything she sings just sounds so true. It seems like she spent a lot of time with her thoughts and developing how she communicates them to the world through song. Also, I love her voice. I've loved seeing Abbey Lincoln's creative and musical expression change over a couple of years from being molded as the next Hollywood glamour girl to being an activist and talking about civil rights. I love the confidence and unique tone of her voice and power that she sings with. It's raw emotion.
Who are other "It" girls, in your opinion?
My first thought is Lori Harvey and Zendaya. I love both their senses of style and how that's evolved over the years. I adore their fashion sense and their confidence and the fact that they keep their business to themselves. They only show the world what they want to show.
Where do you like to shop? Do you feel that as you're getting older you're finding your own sense of style more? 
I feel like when I was first beginning to shop for myself, I just went to the places my mom went to, like Burlington, Kmart, Marshalls. I still go from time to time, but I feel like now that I've been working with a stylist and been able to go on different TV shows and be styled for those particular events, when I'm shopping I now go to consignment and vintage stores wherever I am.
Are there any specific consignment or vintage stores you love? Or do you have any tips for finding some when you're traveling? 
I literally look up "consignment shop near me," look at Google Maps and look at photos online, then just go. But there's a thrift store in the Bronx called My Unique, and I absolutely love that store because it's big. I could go through those racks all day. As a shopper, I have to go by myself because I'll go back to the same rack three times just to make sure I didn't miss anything.
Is there anything you're dreaming of finding on your thrifting adventures? 
Every thrifter's dream is to find the most incredibly rare vintage thing for ten bucks, so I'm on the lookout for that, but I keep an open mind. I follow a lot of thrifters online, like ieshathegr8 and some others. I just keep an open mind, whether it's an old grandma church gown or whatever. If you have style, anything can work.
What are your favorite jazz clubs in New York? 
There aren't too many these days, but Blue Note, Mezzrow, and Dizzy's Club are a couple of my favorites.