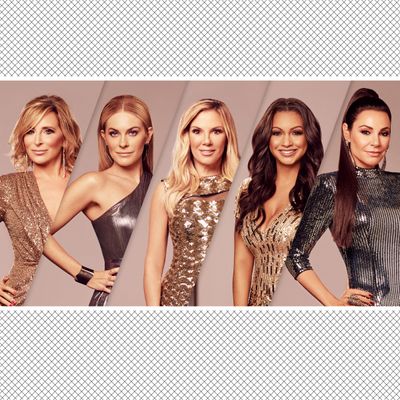 Photo-Illustration: by The Cut; Photo: Bravo/Getty Images
When The Real Housewives of New York's season-13 reunion was canceled in September 2021 — marking the first time in Housewives history that a reunion didn't happen — Bravo's official reason was that "scheduling challenges," prevented the cast from getting together for a taping. Among Bravo fans, however, rumors circulated about OG Housewife Ramona Singer, who had been on the show for all 13 seasons and who — according to certain tabloid sources — had made racist comments during filming, which she didn't want to address at a reunion.
While Bravo never verified those claims, it apparently did conduct an investigation into several formal complaints against the Housewife. And earlier this year, the network aired a revamped version of RHONY with a whole new cast that does not include Singer.
Now, a new Vanity Fair report attempts to make sense of what happened on the original RHONY between 2020 and 2021. It grapples with the sometimes-questionable ethics allegedly employed by producers attempting to get stars to become their most salacious selves for audiences; tackles Bethenny Frankel's recent call for reality stars to unionize; and provides a detailed timeline of the events that allegedly preceded and followed season 13. It also highlights perspective from Eboni Williams — the first Black woman to star in RHONY, who joined the show for the 13th season — to whom Singer reportedly made some of the racist remarks in question. For her part, Singer flat-out denied some of the allegations — including that she had ever used the N-word on set — to Vanity Fair, and attempted to explain away others. Shed Media, Warner Bros. Discovery, Bravo, and NBCUniversal — the companies involved with RHONY's production — apparently declined the magazine's request for comment, though the Cut has contacted them as well. We will update when we hear back.
Here are the takeaways:
Singer allegedly claimed that most Black people don't have fathers.
Before filming began on the 13th season of RHONY, the network reportedly scheduled a virtual "education session" to help the previously all-white cast identify and avoid racially insensitive behavior. Topics reportedly included: "How Black women are treated in larger society and the Black community," "Microaggressions," "Appropriate vs. Harmful/Offensive language," and "What to do when you say something offensive? How do you move forward in that relationship?"
Williams told Vanity Fair that during the meeting, the women discussed the stereotype that Black fathers are not present in their children's lives. Williams said Singer reportedly asked: "What if they don't have a father? Why can't I say that?" and then doubled down, adding: "Most of them don't." When the show's publicist — also a Black woman — responded that she has a father, Singer allegedly cited a study that suggested the publicist was an exception. Leah McSweeney, a former Housewife who was on the call, recalled the incident happening that way.
Speaking to Vanity Fair, Singer didn't deny asking the questions, but tried to characterize the exchange differently.  "The training included open dialogue," she said. "In that spirit, I asked a question about a statistic I had read about single-parent households, where children with single-parent households were statistically less likely to succeed than two-parent households."
Singer allegedly said that Black people would "ruin" RHONY.
In an episode during that same season, Williams recalled a group conversation in which (Countess) Luann de Lesseps described her as "an angry woman," which Williams said she interpreted as "an angry Black woman." After De Lesseps insisted that she never mentioned Williams's race, Williams left the gathering, and the scene ended. But a source who purportedly stuck around told Vanity Fair that after Williams's departure, Singer had an outburst. "This is why we didn't need Black people on the show," she reportedly exclaimed. "This is gonna ruin our show."
In an email to Vanity Fair, Singer countered that this incident "absolutely" did not happen, she said that actually, she supported diversifying the cast "well before" Williams was added.
Singer reportedly used the N-word while speaking with a Black producer.
In a subsequent incident, Singer reportedly asked Williams about her partner's race. When Williams refused to respond, Singer allegedly told Darian Edmondson, a Black producer, that the interaction reminded her of a time when her Jewish colleagues called her a "Catholic slur." The slur Singer named, according to Edmonson, was "shiksa," a Yiddish term for a non-Jewish woman. Edmondson said she didn't know it, and recalls Singer replying: "Oh, it's literally like somebody calling you a n- - - - -."
Singer told Vanity Fair that she "never" said the N-word and that Edmondson "misrepresented" the interaction. "I did describe an incident where I was called a shiksa while working in college," she wrote, "but I did not compare the the [sic] two experiences."
An NBCUniversal investigation into Singer's comments was "inconclusive," but found that she had a hard time "telling Black crew members apart."
Williams claims that in 2021, she found out that Singer had been reported to HR. Williams says that on a call with NBCU executives and an external lawyer, she learned that the subsequent investigation found Singer's remarks about the show not needing Black cast members to be "inconclusive," though it determined that Singer had said she struggled to tell Black crew members apart. Williams claims a person on the call confirmed that Singer had said the N-word, and that a lawyer tried to downplay it, arguing that Singer just said the slur, but did not use it against Edmondson. In response, NBCU's chief diversity officer, who is biracial, reportedly told the lawyer, "No, what we're not gonna do is sit here and litigate the capacity in which the N-word was used in the presence of a Black woman." (NBCU did not comment to Vanity Fair.) Williams said that was the only time she felt supported while working on the show.
As for talking about her purported difficulty differentiating between the Black people working on RHONY, Singer didn't deny it, but again claimed her comments weren't what they'd seemed. "It was a [sic] strictly a commentary on my inability to remember names," she reportedly told Vanity Fair in an email. "As an example, just last week I saw a photo with me and Travis Kelce from 2016 on Watch What Happens Live and I thought he was Jax Taylor."
Williams says she tried to quit the show because of racism on set.
Williams claims that she tried to quit the show on the same day that Singer allegedly used the N-word (though she was unaware of that alleged exchange at the time). She says that she met with producers three days later to discuss her exit, but they urged her to stay, one saying, "Listen, what you're giving us is exactly what we want. If we wanted a different Black woman, we know how to get them." Williams alleges that Lisa Shannon, senior vice president of programming and development for Shed, the subsidiary production company that works on RHONY and Real Housewives of Salt Lake City, suggested that Williams try to take the racist comments less seriously. "Eboni, this show is a comedy," Shannon reportedly said.
Producers, however, denied that Williams ever tried to quit and that they asked her to stay, though a source "with knowledge" told the magazine that a producer told Williams, "and others generally that Real Housewives is partly comedic in nature. Viewers tend to see the show as an escape."
Singer won't be participating in BravoCon this year.
On Tuesday, in response to the Vanity Fair story, Singer reportedly texted a "Page Six" reporter denying that she ever used the N-word. Her text apparently included part of the slur: "And the word I used was 'NWord' Not n-g…," she wrote, per a screenshot published by the tabloid. Soon after, "Page Six" reported that her name had been removed from the list of participants at BravoCon, which is taking place in Las Vegas this weekend.
Read the full report here.
This article has been updated.