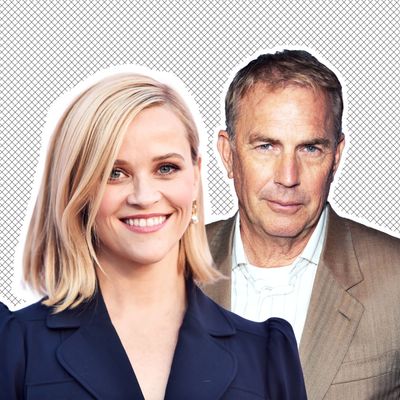 Photo-Illustration: by The Cut; Photo: Getty Images
Reese Witherspoon would like to once again clarify that she is not dating a famous divorced dad. This week, after tabloids got it into their heads that Witherspoon might be dating Kevin Costner, a rep for the actress felt compelled to set the record straight.
The rumor seems to have stemmed from one publication claiming that Costner finds Witherspoon "absolutely charming as hell." And they do have at least one thing in common: Witherspoon and Costner are both recently divorced. Witherspoon and her ex-husband Jim Toth finalized their divorce in August. Meanwhile, Costner and his ex Christine Baumgartner reached a settlement in their very messy divorce in September. For whatever reason, the dating rumors got enough traction that a rep for Witherspoon took it upon themselves to issue a statement. "This story is completely fabricated and not true," the rep told People. 
This is the second time this year that Witherspoon has had to take a stand against misinformation about her dating life. In April, there was talk of Witherspoon dating eligible bachelor Tom Brady. A source told People at the time that the two had never even met and a rep for Witherspoon said the rumors were "completely false." Maybe people should take the hint and stop trying to pair her off with other recently divorced celebrities?