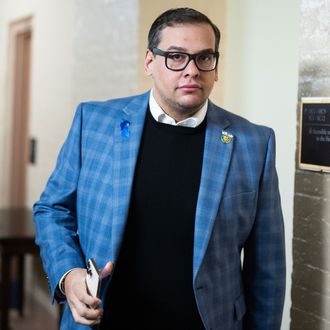 Photo: Tom Williams/CQ-Roll Call, Inc via Getty Images
Apparently, it's "illegal" to use campaign funds to look your best. That's what Representative George Santos learned today when the House Ethics Committee released its report detailing all the ways the congressman has violated federal criminal laws.
Per the report, Santos "sought to fraudulently exploit every aspect of his House candidacy for his own personal financial profit." The Long Islander's brilliant plan was simple: Wire campaign funds to a company he owned, then spend that money on whatever he wanted. How he got caught using such a foolproof scheme we'll never know. What we do know, thanks to the HEC, is how much money he got and what he spent it on.
"According to bank records, at least $200,000 was transferred from RedStone's bank accounts to Representative Santos' personal bank accounts," the report reads. What's a man to do with all that cash? Go to Sephora, of course.
Upon receiving a $50,000 deposit to his checking account, Santos hit the town. "The funds were used to, among other things: pay down personal credit card bills and other debt; make a $4,127.80 purchase at Hermès; and for smaller purchases at OnlyFans; Sephora; and for meals and for parking," the report reads.
What can you get at Hermès for $4,127.80? That's about half the price of one of the good bags, but it can definitely get you a messenger bag that screams, "I'm a classy politician." Originally, I thought he might have bought a ton of neckties, but he was pictured last year with a large Hermès shopping bag while moving into his sister's apartment. I would put good constituent-donated money on his buying a bag.
While the HEC report is a compelling read, I do wish it went into more detail. What exactly constitutes "smaller purchases" from OnlyFans and Sephora? And to be honest, I don't actually care what he was looking at on OnlyFans, but I do want to know how he gets his skin to achieve the blurry glow we see in so many photos. An itemized receipt would have been appreciated.
Some other purchases of note by Santos include $1,400 on Botox from Virtual Skin Spa in Jericho, New York (4.7 stars on Google); $1,500 on Botox at Mirza Aesthetics in Manhattan (2.6 stars on Google); $1,029.30 to an aesthetician in Rhinebeck; and $6,000 in purchases at Ferragamo stores.
Santos wrote in a statement on X that he believes this report is a "grave miscarriage of justice." It is definitely not that, but it is a warning to every politician who thinks they can class up Washington with some fine leather goods and an unmoving forehead. If you want to serve, do it on your own dime.